When a team loses a streak of consecutive games, it is difficult to pinpoint the exact problem. Many times, it is a series of issues that play into each defeat.
To blame any team's woes solely to bad luck is an excuse that avoids concrete analysis and learning from happening. But sometimes, luck does play a part.
On Sunday, luck did play a part. And for a team like Gotham FC, luck is the last thing they can afford to have against them.
Gotham Looked Set to Finally Earn a Win
Playing at home (for real this time) in Red Bull Arena for the first time since July 31st, Gotham FC sported a certain flair that had been missing for most of the season. Despite coming off a 1-2 defeat to Orlando last week, Gotham seemed inspired to continue the strong game and possession they've recently re-found.
In its last three games, Gotham's possession and connection throughout the midfield has steadily increased, culminating in a season high 63% of possession on Sunday afternoon versus Angel City. Sunday's game also marked two impressive feats for Gotham, outshooting their opponents 22 to 13 and earning more corners, 12 to 3. Both shots and corners were also season highs.
A number of lineup changes were made from the Orlando game. Midge Purce returned from a red card suspension to play on the right wing, while Nahomi Kawasumi also re-entered the starting lineup to provide a strong attacking presence on the left flank. Ali Krieger once again played a six position, but the biggest surprise was Taylor Smith's debut as a right fullback, a tactical decision that proved to be an offensive spark for the team as a whole.
With newly inspired momentum, a strong attacking lineup, and a home crowd featuring recent club owner Giant's legend Eli Manning in attendance, the game seemed ready for Gotham's taking.
So what went wrong this time?
Referee Mistake Proves Critical in Disrupting Game Energy
Gotham FC started out in the first half with incredible energy. The home team looked to score a goal early, with Krieger finding Smith with space on the right flank in the first minute. Making a strong drive from about the halfline to the goal line, Smith served a low ball into the box looking for Ifeoma Onumonu, but had it knocked away by Angel City's defender Paige Nielsen.
Gotham would continue with this offensive mindset throughout the first 15 minutes. In the 7th minute, Mewis received the ball at midfield and, recognizing the space left behind by Angel City's central defender Megan Reid, lifted a ball into space for Onumonu to run onto. Taking on Nielsen one on one, Onumonu managed to dribble past her and took a tough left footed shot that was blocked by Dijana Haračić for a corner.
Smith and Onumonu would later be the catalysts for what should have been Gotham's first goal of the match. In the 12th minute, Smith played a direct pass down the right side to Purce, who cut it back to Onumonu at the edge of the 6-yard box. Taking the shot first touch, Onumonu curved the ball towards the far post, hitting the post and bouncing into the goal.
Here's where that bad luck comes into play.
Making an egregious error, the referees did not recognize the ball crossed the line, and what's worse, somehow called a corner kick from the play. The following day, Professional Referee Organization (PRO), the organization responsible for managing the referees in the NWSL, put out a rare statement condemning the call and announcing that the referees involved would be taken off their next assignments.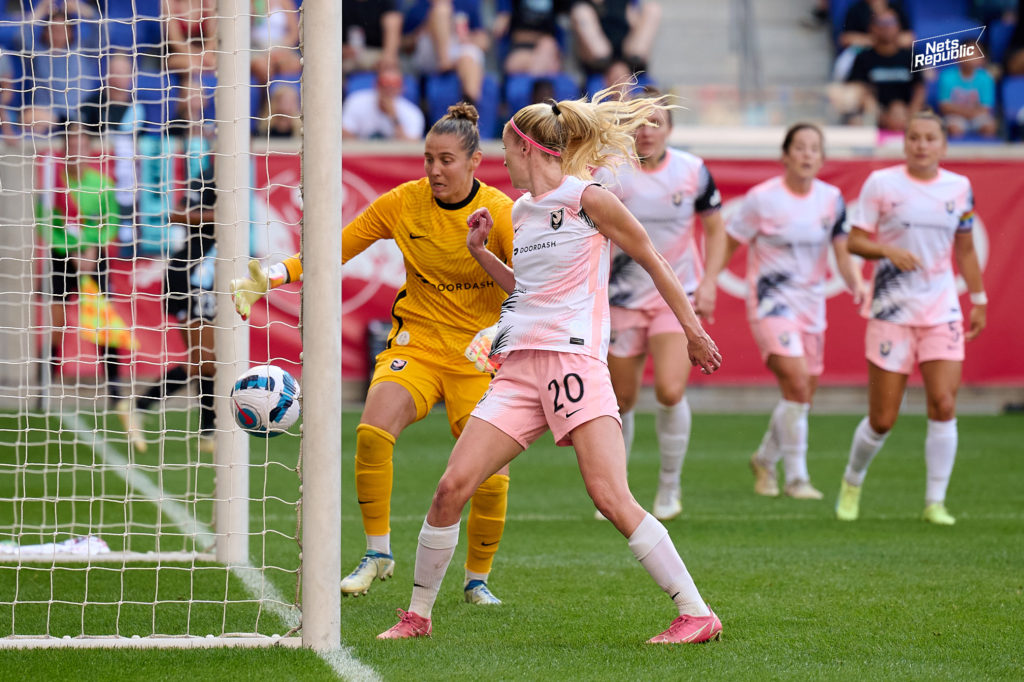 Horribly, Gotham was robbed of a goal that very much would have changed the game entirely. The team who scores first is almost always poised to protect their lead no matter what, and for a team like Gotham who struggles to maintain focus and mentally strong in games, losing a goal in this manner completely shattered their composure.
Angel City Finish Their Chances
Not even five minutes later, Angel City would take advantage. Making good combinations on the left side with Claire Emslie and Jun Endo, Savannah McCaskill found herself in a one versus one situation with McCall Zerboni. Nutmegging her and facing a narrowed angle, McCaskill took her chance and struck a powerful right footed shot past Michelle Betos and into the goal for an Angel City lead.
To Gotham's credit, they continued to fight. Imani Dorsey and Kawasumi began to add more pressure on the left, serving crosses that just could not connect with players running into the box.
Despite only having a few serious chances on goal, Angel City made these opportunities count. In the 25th minute, Endo played Simone Charley into space on the right side. Dribbling and taking on players by herself, Charley smoothly dribbled through five players in the box and took a shot that was blocked initially by Mandy Freeman, but left rebounding in front of the goal for Cari Roccaro to tap in.
Riding a wave of confidence and now in full control of the game's momentum, Angel City would slot in a third goal in the 31st minute. Slowly building up play down the right side, Angel City found Emslie. Cutting it back onto her left foot a good distance away from goal, Emslie shot a tremendous strike that Betos was not expecting, stunning the home crowd and giving LA a 3-0 lead.
Second Half Revival for Gotham Not Enough
Gotham FC came back in the second half with vengeance. Halftime substitute Paige Monaghan was able to score an early goal in the half to give Gotham some hope. Possessing the ball well and finding space down the flanks, Gotham found Kawasumi on the left who crossed a great ball into the box for Mewis to shoot. Taking a deflection, the ball was unable to be cleared by City, allowing Monaghan to step in and score for a 1-3 scoreline in just the 52nd minute of play.
At this point, it looked promising for Gotham. With plenty of time left to play, Gotham stepped into their home-field advantage and were unafraid to possess and attack City's defense. Winning several corners and continuing to provide service from crosses, Gotham was unable to make anything of these opportunities.
Victoria Pickett Makes Team Debut
A light of encouragement was new-comer Victoria Pickett's debut in the 63rd minute of play. Pickett, a former Kansas City Current player, has been highly praised by the coaching staff as someone who the team will rely on moving forward. "[Pickett]'s exactly what we're missing," coach Hue Menzies said after the game. "She gives us a different dynamic that we want. I just told her to play, just run at players, because that's what [she's] good at."
Pickett would do just this in the second half, dribbling the ball into the final third and earning a handful of set pieces for Gotham to create from. Her passing and vision would also create chances for Gotham. In the 65th minute, Pickett found Kawasumi between City's midfield line, allowing Kawasumi to slip the ball in behind to Monaghan towards goal, but was disrupted and read well by Haračić.
Gotham's best chance would come from a Monaghan play in the 84th minute. Played over the top by Freeman, Monaghan, with pressure on both sides, was able to chip the ball trying to evade Haračić, but sent it over the goal instead.
In the end, Angel City would remain connected and defended corners and set pieces well, forcing Gotham to lose 1-3.
After the game, Menzies noted that despite how dominant the team was, they still needed to score. "We have to take advantage of our opportunities…it's exciting football but we just got to get the ball in."
Gotham's next game is on Sunday, September 4th at home versus North Carolina Courage.