McCall Zerboni is back in New Jersey and ready to take on the preseason. With less than two weeks before training begins, the Gotham FC team captain spoke with Nets Republic about what fans can expect going into the 2022 season, especially following the team's quarter-final loss in the 2021 playoffs.
For Zerboni, this quick end to Gotham's postseason serves as motivation for her to be even better in this year. "When a season ends differently than you wanted or expected, you have to spend some time licking your wounds, reviewing the season, and reviewing your performances," Zerboni said. "You start to get back into the groove of what you need to improve on and where things can be better."
Where's The Schedule?
In December, the National Women's Soccer League (NWSL) announced the framework for the 2022 season, stopping short of releasing the actual schedule of games. The league's six-week preseason begins on February 1st, culminating in the third Challenge Cup which is slated to start on March 19th and end on May 7th. The regular season will start following the Challenge Cup with the twelve teams playing each other twice – once at home and once away. The NWSL Championship will be played the final weekend in October.
Holding the Challenge Cup as a preseason tournament rather than scattering the matches throughout the regular season has its challenges. According to Zerboni, many players favored spreading out the Challenge Cup over the course of the season like many European teams do.
"It's a difficult task for players to come in, have a very long preseason, and then play 6, 7, or 8 extra games in the Challenge Cup model before we even start the regular season," Zerboni said. "But it is a chance to give players some opportunities and play around with line ups, and see how the new team is shaping up."
I want to make sure that those around me are constantly improving, and if they're not, that is directly related to my leadership – I take that very seriously.
With the addition of two new teams to the league this year – Angel City FC and San Diego Wave FC – this brings the total number of NWSL teams up to twelve. The league can now craft a regular-season schedule that allows for an even amount of games to be played. With further league expansion still on the horizon, there is opportunity in the future for an even more balanced schedule. "There are a lot of markets chomping at the bit to come into the league," Zerboni noted, adding that she is excited for the future that expansion provides.
Oh Captain, My Captain
Gotham FC had a busy off-season, saying goodbye to a few players, but adding a number of seasoned veterans and rookies to their roster. One of the challenges Zerboni will face in a couple of weeks is ensuring that the new arrivals all feel welcomed and part of the team right from the start. For the captain, it doesn't matter whether the incoming player is an experienced veteran or a brand new draft pick – ensuring a smooth transition is of the utmost importance for her and her leadership style.
"I want any new faces, whether they're younger or older, to understand what we're about at Gotham – our philosophy, our personality, our character," Zerboni said. "I'm always keeping my ear to the ground, understanding what people need, and learning how they operate."
Luckily for Zerboni, she has played with most of the incoming veterans before. That familiarity will be helpful as she tries to make sure the younger players also feel comfortable even through the tough transition from college to pro. "It's important to let them know that they are bringing something to the table, and I want their confidence to stay high."
If there was anyone specifically built for this moment, to bridge the gap between veterans and newcomers for a team looking to make the final step from a playoff contender to a championship-winning side, it is McCall Zerboni. She was voted captain in 2021 after only one season with the club, demonstrating the immense trust and faith her teammates have in her to hold this role. "I was extremely honored to be selected by the player group," Zerboni said. "Having their trust is everything to me."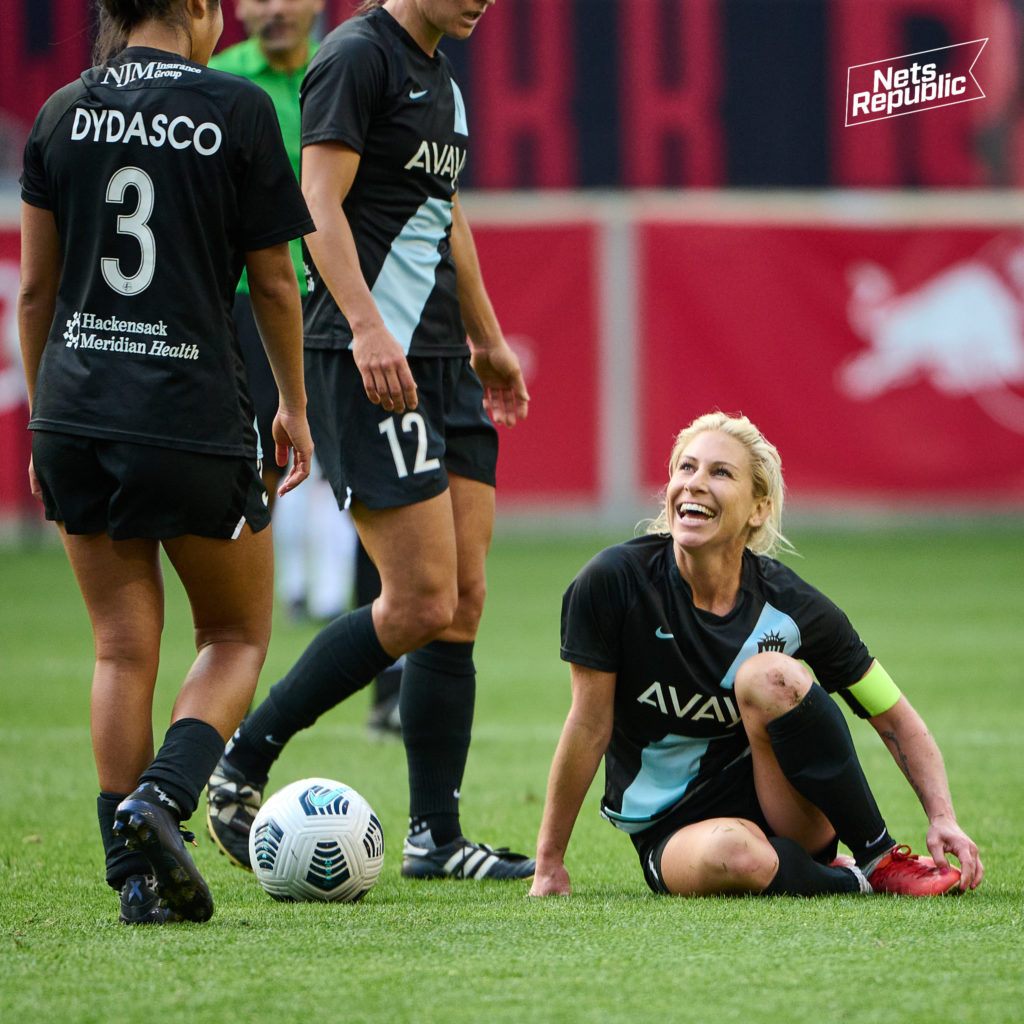 She takes her role seriously, balancing the job of being a liaison between the players and the coaching staff. Most importantly, she wants to make sure the team knows that at the end of the day, she will always stand with and for her teammates. "I'm a player, and my loyalty lies with the players," she said. "I want to constantly let them know that I'm there for them, and I'd do anything for them." For Zerboni, a team-first mentality is paramount for success, and she wants to instill that in her fellow players.
Another New Beginning
The end of the 2021 season was bittersweet for Gotham FC. Although the club made their first playoff appearance since 2013, they went out in the first round in a 1 – 0 loss to the Chicago Red Stars. "We did end on a pretty decent note, but it did sting for a lot of the players," Zerboni said. "They're hungry and they want more – so we're going to use that motivation."
Zerboni believes that the team has not come close to hitting their highest potential. That, combined with the slew of new players coming in, is sure to make Gotham FC a threat for the 2022 season. "I think we really made a name for ourselves at Gotham, and I think we're becoming a team that is feared," she said.
The opportunity is there for women's soccer, but that part is not our job. Our job is to play the game, and it's the job of the front offices to grow the business side of it.
A critical component for Gotham this year will be starting strong. "We didn't have the strongest start last year, and I think that set us behind," Zerboni explained. "I want consistency from the group, I want to be a consistent player, and that comes with discipline and training mentality." She believes the team's head coach Scott Parkinson has helped instill that necessary attention to detail that is crucial to collective success.
In order to start strong, Zerboni wants the team to use the preseason to get on the same page. Every small detail matters in a game, and getting those details right comes from working on relationships and communication in a positive training environment. "Last season, we had a lot of change and transition with a new coach coming in, so we couldn't shake up too much of our infrastructure because we didn't have enough time, but there are some things we need to solidify as a group and understand the way that we want to play as Gotham," Zerboni said. "I think Scott [Parkinson] and the leaders on the team will help us to do that."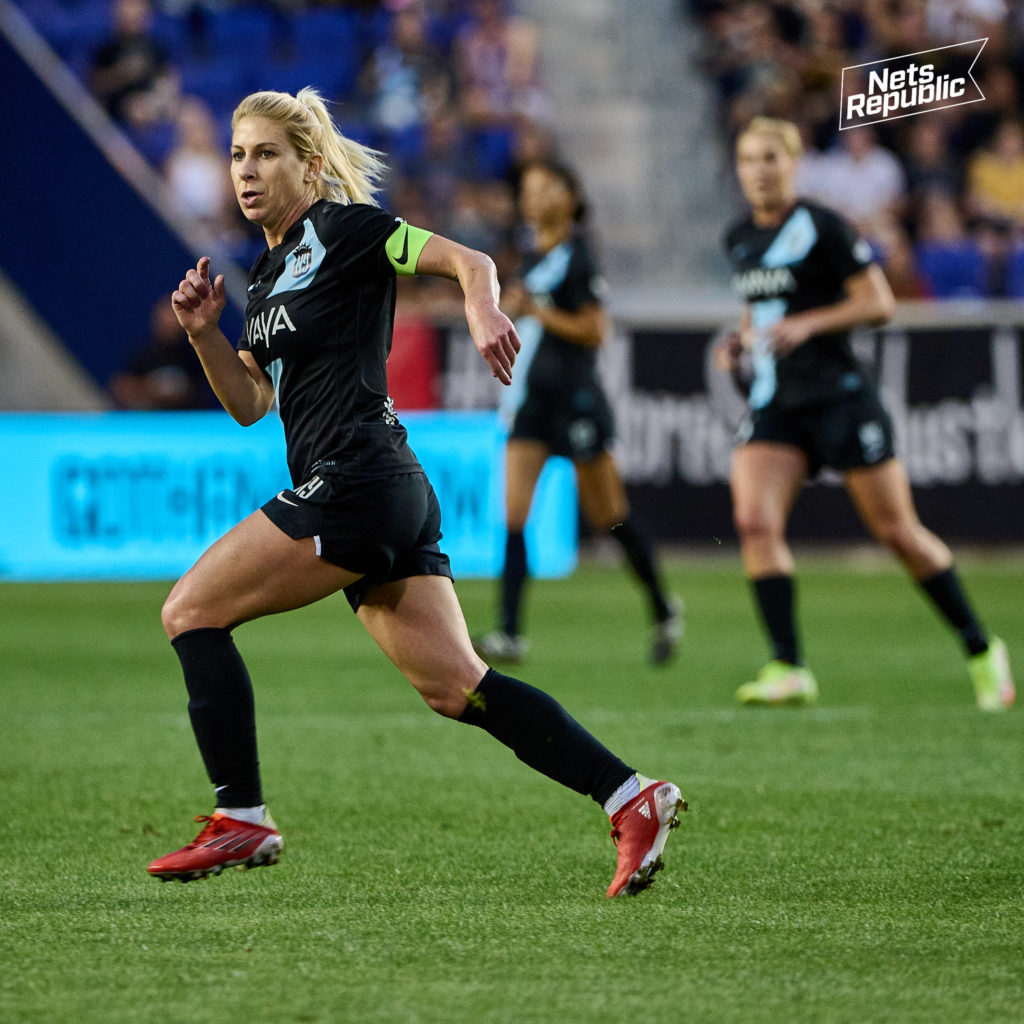 In addition to shoring up the communication and small details, Zerboni wants to see the team use their speed more and threaten in from behind. She wants the team to pick up more balls in the midfield, and even with their league-topping defense last season, there are always tweaks and improvements to be made.
With the season quickly approaching, coaching staff including Scott Parkinson and Bev Yanez will finally get a full season to impart their vision on Gotham FC. According to Zerboni, their style of coaching appeals to many of the players on the team. "The way we start, even from the first day of preseason, is really setting the tone," she said. "I think Scott and Bev are probably really excited to do that and build on the latter piece of last year." With the off-season coming to a close, Zerboni hopes the team can use that rest to shake off old habits and continue their evolution into a powerful, well-connected team with a singular philosophy.
On a personal level, Zerboni is hoping for a "normal" year. "I don't want any more unprecedented times!" She joked. But the reality of the situation is, 2021 was a very tough season for Gotham FC and the NWSL. Zerboni wants to be able to focus less on the off-field circumstances, and more on what she's there for: to win with her team.
On and Off the Pitch
This season marks the 10th year of the NWSL. Although the league has grown over that time, there is still plenty of work to be done. "The quality of the league is improving, the play is improving, and we are putting a good product out there," Zerboni said. "We hope the front offices will grow with us."
Providing more resources to the players is something Zerboni believes will help everyone put their best foot forward on the pitch. Providing more and higher quality meals, strengthening marketing endeavors to help fill the stadiums, and getting out the schedule earlier are all ways Zerboni thinks the league could improve. "The opportunity is there for women's soccer, but that part is not our job," she said. "Our job is to play the game, and it's the job of the front offices to grow the business side of it." According to Zerboni, the players around the league are all invested and want to grow the game together as partners with the league.
As for herself, Zerboni wants to build on her own personal successes of last season. Staying sharp, playing quicker, notching more assists, and logging more goals are all on her to-do list. Most importantly she wants to maintain her leadership. "I take a lot of pride in making the players around me better," she said. "I want to make sure that those around me are constantly improving, and if they're not, that is directly related to my leadership – I take that very seriously."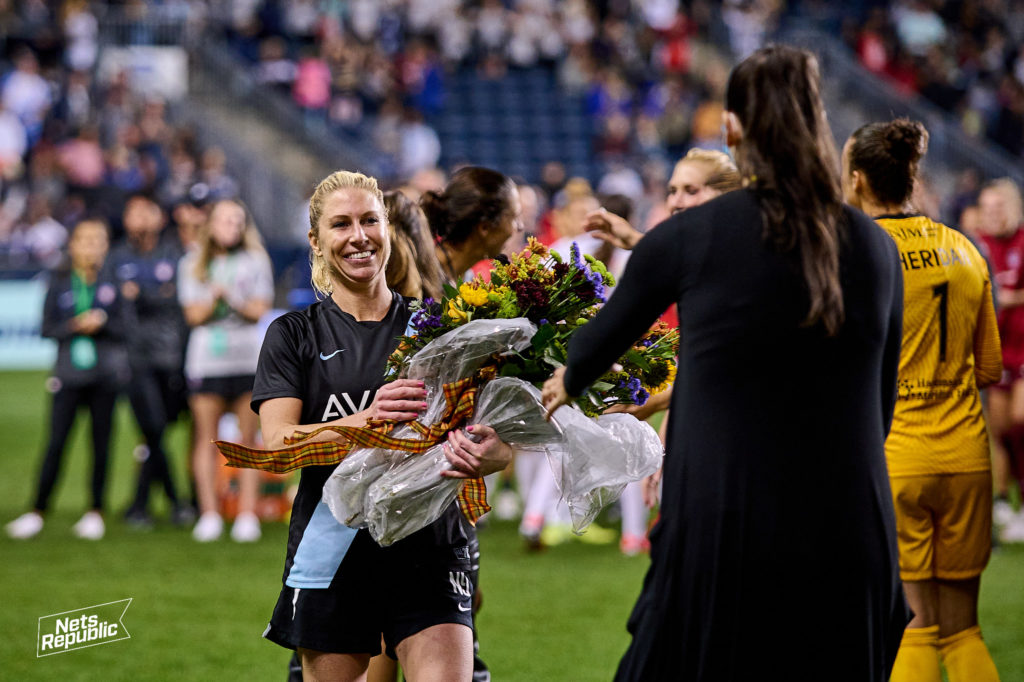 Ultimately, Zerboni hates losing and wants to win. Although Gotham had a decent season, it's not enough for the team captain. Losing and tying as many games as they did was a reminder to her that there is still room to grow. "I'm a professional soccer player, and we're hired to win," she said. "A team needs to fire on all cylinders to get those wins."
Zerboni doesn't just want to win for herself, she wants to win for the fans. "I want to thank the fans for how resilient and supportive they were," she said. "We had a really, really rough year, and we needed them – and they rose to the occasion." Zerboni feels more connected to the fans than ever before, and she appreciates the bond NWSL players have with their fan base.
As for Gotham FC, Zerboni can't wait to show fans what this exciting group has to offer. She says the players are working hard, they're excited to get back out there, and they're always ready to put on a show. "Let's party! Come check it out, and let's have a good time," Zerboni said with a smile.
Gotham FC and McCall Zerboni return to the field for the 2022 Challenge Cup on March 19th. Visit the club's website for more information including ticketing and schedule release dates.