It's hard to name a more iconic duo in women's soccer than Ashlyn Harris and Ali Krieger. The goalkeeper and defender made their mark on the international stage with the U.S. Women's National Team as both were part of the squads that won the 2015 and 2019 FIFA Women's World Cup. In December 2019, the pair got married, and earlier this year they welcomed their daughter Sloane, now nine months old.
On December 6, NJ/NY Gotham FC announced that Krieger and Harris would be joining the club as part of a trade that saw the Pride receive a 2022 NWSL Draft First Round selection, a 2023 NWSL Draft natural Third Round pick, and $50,000 in Allocation Money. Krieger, 37, had been with the Pride since the 2017 season, and Harris, 36, had been with the club since its inaugural 2016 season.
"We're thrilled to welcome Ali and Ashlyn to our Gotham FC family," said Head Coach Scott Parkinson in a press release announcing the trade. "They've played and won at the highest level and shown tremendous passion, courage, and leadership on and off the field. They're special players and, more importantly, special people who will help make this club better."
Krieger has made more than 100 appearances for the U.S. Women's National Team, including the 2011, 2015, and 2019 World Cups. She has played on a variety of club teams including Washington Freedom of Women's Professional Soccer ("WPS"), FFC Frankfurt of Germany's Fraun-Bundesliga, Tyresö FF of Sweden's Damallsvenskan, the Washington Spirit, and the Orlando Pride. In 2008, she won the UEFA Women's Championship League with FFC Frankfurt.
Harris was named NWSL Goalkeeper of the Year in 2016, making 62 saves in 15 games with the Orlando Pride. She set a new NWSL all-time career save record with her 469th save during a 1-0 win against Gotham FC at Red Bull Arena earlier this year. In addition to her time with the Pride, Harris has played for a number of clubs including Saint Louis Athletica, Washington Freedom, and Western New York Flash.
Off-season Movement
The move to add Krieger and Harris comes as part of a busy off-season, where Gotham FC announced the departures of a number of players. The team saw three goalkeepers leave the club, including starter Kailen Sheridan who was traded to San Diego Wave FC and backup goalkeeper DiDi Haracic whose rights were traded to Angel City FC. Gotham FC received Expansion Draft protection from both teams as part of these moves.
"I have tough shoes to fill," Harris said of joining Gotham FC. "I look forward to earning the trust of these fans by putting in really good performances, and that's really important to me. I'm here to help the success of my team."
In addition to the departures of Sheridan and Haracic, Gotham FC declined to exercise its contract options on goalkeeper Megan Hinz. The club also declined contract options for defender Kenie Wright and midfielder Sodam Lee. The last departure from Gotham FC this year was Gaëtane Thiney who completed a predetermined loan period and returned to her home club of Paris FC.
Although Harris indeed has big shoes to fill, the experienced goalkeeper is certainly up to the challenge. "Ali [Krieger] and I are looking forward to this opportunity," Harris said at an introductory press conference Wednesday afternoon. "We are excited to earn the respect of the players, the fans, and the staff. We look forward to every day taking a step towards that and proving ourselves both on and off the field."
"Respect isn't given, it's earned," said Ali Krieger, echoing Harris in her sentiments. "We look forward to putting in the work every single day in order to earn the respect of the club, players, and coaching staff. We want to win an NWSL Championship and build off of what is already here."
Welcome to New Jersey/New York
In addition to their winning mentality, Krieger and Harris understand their role as veteran players is to mentor the younger, up-and-coming stars already at Gotham FC. "We obviously want to build on the winning mentality of the team, but also bring a certain type of leadership that I know both [Harris] and I can bring: demanding, yet very supportive," Krieger says. "I really enjoy helping out a lot of the younger players on the field, and being that veteran player who they can come to for any questions or concerns."
"We both want to leave the game better than we found it," Krieger continued. "It's really important that we create that winning mentality, demand a lot, but be very supportive and bring in the type of leadership that can create individual success and team success."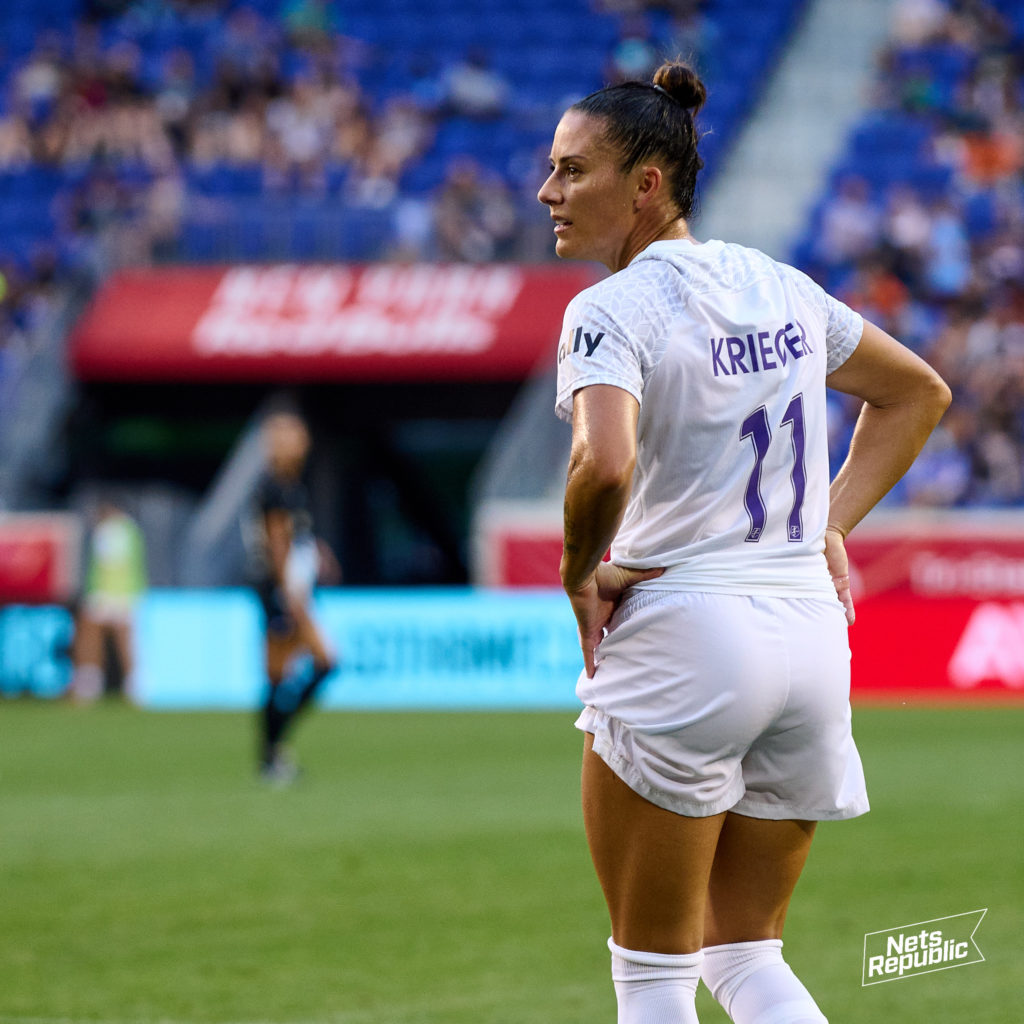 Krieger and Harris are looking forward to earning the love of the fans and community. "It's putting the work in," Harris said. "It's being involved not only as a good teammate but as someone who invests in the community and the people, that's something Ali [Krieger] and I take a lot of pride in."
In addition to the excitement of joining a new team, Krieger and Harris are looking forward to life in the metropolitan area. "Having the best environment for our daughter is very, very important to us. I hope the city takes to us and I hope they're looking forward to being our second family and adopting us because we will give them everything."
"We want to be in an environment that has like-minded individuals, where we know we are going to be taken care of, and we feel valued and appreciated for what we bring every day," Krieger said. "We ultimately want to win an NWSL Championship."
"What a great opportunity for both of us to start a new chapter, and for our child to see more diversity and see more people like us," Harris said. "You think so much about soccer, and when you have a child so much changes. You start thinking about all the things besides soccer – like what schools your child will grow up in? What type of environment? Are we safe as a family? Are we part of a community that values being inclusive? What are the political views here? All of those things are very much what Ali [Krieger] and I shift towards. It was kind of a no-brainer to focus on what's next for the family, and that's being here."
A Player-Centric Club
As the club announced the addition of Krieger and Harris to the squad, they simultaneously announced that Interim General Manager Yael Averbuch West would be dropping the "interim" from her title, and staying on full time with Gotham FC. The news of this permanent role was widely well-received. Averbuch West is a former USWNT and NWSL player, and was a founder of the NWSL Players Association. Having a former player in this role was an enticing draw for Krieger and Harris.
"That's what attracted us so much here," Harris explained. "Yael [Averbuch West] understands how to make players feel good about going somewhere, and feeling wanted and needed. She gets it, she gets both sides of the equation here. That's rare to find."
"We played with Yael [Averbuch West] on the national team, and we share that same winning mentality," Krieger said. "It's a no-brainer for us to be part of [this club]. She is doing her best to create such a successful environment, and we want to be a part of that."
Overall, the 2021 season was considered a success for Gotham FC. After re-branding from their former moniker Sky Blue, the team went on to make it into the playoffs for the first time since 2013. Although there was a bit of upheaval with a coaching change mid-way through the season, the team kept their spirits high due in part to Averbuch West's leadership.
"I know that change sometimes can be really scary," Krieger said. "But I think we are taking this head-on and we are so excited for this challenge."
"We are grateful for what we experienced at the Pride," Harris said. "We will always have Orlando, we will always have the friendships and our family that's there, that won't change. But the focus now is not necessarily on that side of things, it's on getting a fresh start and having our family feel like we're in a good, safe space to thrive in. We're just looking forward."
Gotham FC season tickets for the 2022 season are currently on sale here. More information on the club can be found on their website.