In a busy week of NWSL transactions, Gotham FC have bargained their way to full roster protection in the upcoming expansion draft — cutting deals with both incoming Angel City FC and San Diego Wave. 
The club's former No. 1 goalkeeper Kailen Sheridan will be heading to San Diego while fellow keeper DiDi Haracic, who stepped in for Sheridan during bouts of injury and international duty, will join Angel City. In respective club statements about the two trades, Gotham General Manager Yael Averbuch West noted both Sheridan and Haracic communicated that they were interested in pursuing new career opportunities and that it is the goal of the club to put a player's wishes first. 
"One of the priorities for Gotham FC this off-season was to secure protection in the upcoming expansion draft, which meant some difficult decisions had to be made," Averbuch West said at the time Sheridan's trade was announced last weekend.
And with this bit of business, Gotham have joined the growing number of clubs opting to trade away players for immunity and avoid the uncertainty of the expansion draft altogether. And while Sheridan and Haracic will be big losses in what they individually brought to the team both on and off the pitch, Gotham fans can likely feel good about what the club received for their respective rights.
The price for roster protection for any given club has ranged from astronomically high to a downright bargain. On the extreme end of the spectrum, Chicago gave up Julie Ertz and Sarah Gorden (two longtime starting players), along with two international spots, to LA just for roster protection alone.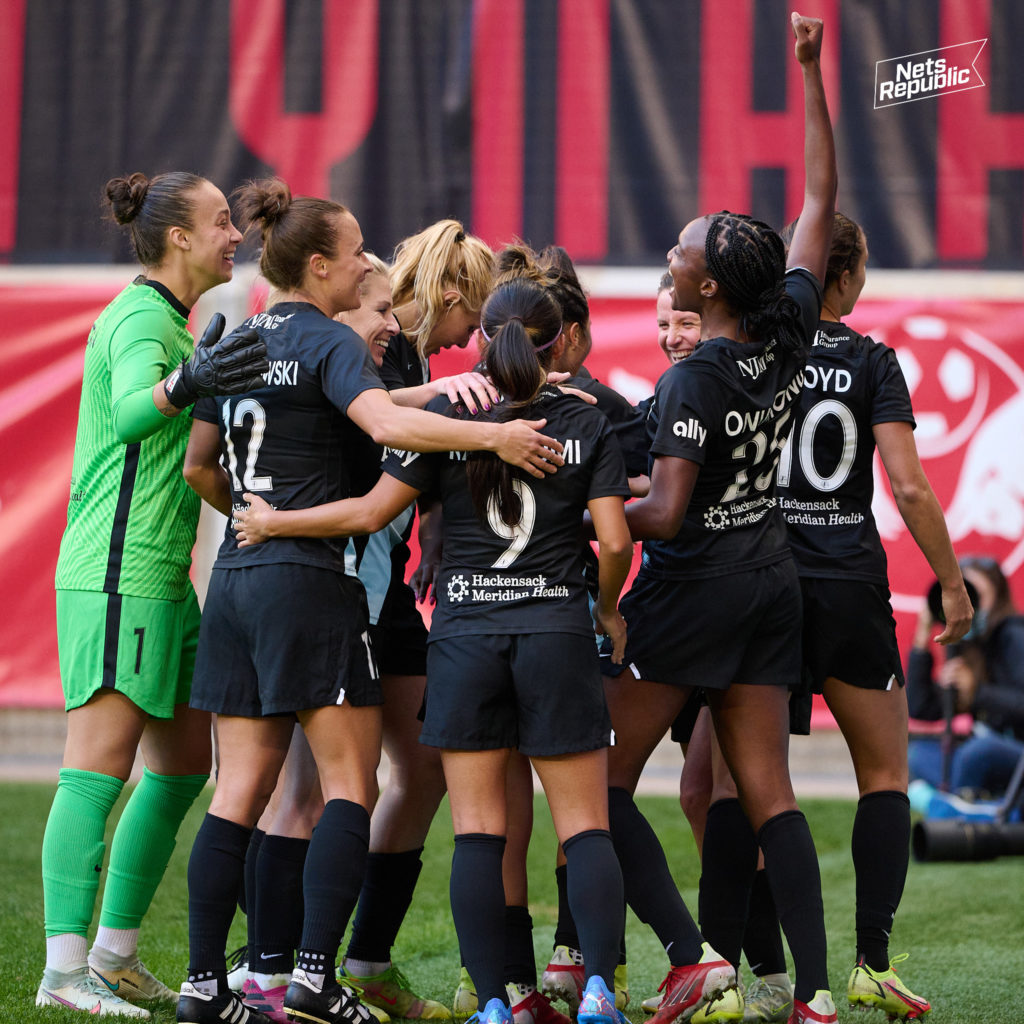 On the bargain end, you might look to the North Carolina Courage, who simply swapped a player — Angharad James to SD and Cari Roccaro to LA — to each expansion side for protection. And in a truly weird deal, OL Reign traded their 36th overall draft pick in the 2022 college draft to Angel City in exchange for $25,000 in allocational money and protection for just their forward players in the draft. 
In comparison, on top of protection, Gotham acquired $130,000 for the rights to Sheridan and $50,000 for the rights to Haracic. These numbers at least feel like a fair valuation of those players.
Trades, departures and re-signings
Roster protection wasn't the only item on Gotham's agenda in the last two weeks. A slew of departures, trades, and re-signings have also taken place. 
Here's all of the Gotham off-season business so far:
Departures
Last week, the club announced Gaëtane Thiney would return to her club, Paris FC, after a season-long loan with Gotham. Sodam Lee also will not be extending her stay as she heads back to South Korea after the conclusion of her one-year contract.
The clubs also declined to exercise the option to extend contracts for goalkeeper Megan Hinz and midfielder Kenie Wright. Both players joined the club in 2019.
Trades
After just one season with the club, Gotham traded midfielder Brianna Pinto — their No. 3 overall draft pick last year — to the North Carolina Courage in exchange for $125,000. Pinto, a Mac Hermann Trophy finalist in 2021 and U.S. Soccer's Young Female Player of the Year in 2019, came into the team with big expectations. But she found it difficult to get significant playing time under both former head coach Freya Coombe and her successor in Scott Parkinson — making just 10 appearances and playing under 200 minutes in her rookie season.
Though Pinto had another year on her contract, the club opted to send her back to her home state where she grew up and attended college at the University of North Carolina.
In another notable move, Gotham acquired the rights to goalkeeper Ashlyn Harris and defender Ali Krieger from the Orlando Pride this week. The two-time World Cup champions join Gotham's ranks in exchange for a 2022 first-round draft pick, a 2023 natural third-round draft pick, and $50,000 in allocation money. 
Re-signings
As announced last week, Gotham re-signed midfielder Allie Long to a two-year contract after her first season with the club. 
And in a release Wednesday, the club gave an update on its roster ahead of this month's college draft.
Three players will be returning on multi-year contracts for next season, including midfielders Jennifer Cudjoe, McCall Zerboni, and Delanie Sheehan, who is currently on loan with Paris FC.
Additionally, Gotham exercised its option to extend contracts for defenders Gina Lewandowski, Mandy Freeman, Sabrina Flores; midfielders Nicole Baxter and Nahomi Kawasumi; and forwards Paige Monaghan and Evelyn Viens.
The club has also extended new contract offers to eight players, including: defenders Estelle Johnson, Imani Dorsey, Caprice Dydasco, Erica Skroski, and Elizabeth Eddy; midfielder Domi Richardson; forwards Ifeoma Onumonu and Margaret Purce; and goalkeeper Mandy McGlynn. Currently, those players are all out of contract. 
It's not over yet…
Even with this latest update, this roster is certainly not set in stone. The trade window will open again at 9 a.m. ET on Dec. 17, the day after the expansion draft and preceding the college draft. We could still see some player departures, and likely more arrivals, in the next window. With the bounty of allocation money Gotham brought in with its recent business, some international signings could also be in the cards.
During a press conference to welcome Krieger and Harris to the club, Averbuch West spoke a bit on her approach to further off-season business, saying she would need to strike a "complicated balance" in her first off-season as general manager. 
"For me, I think it's about us working to maintain the balance of making sure that players feel that they are where they need to be career-wise — whether that means coming to our club or leaving it," said Averbuch West. "But at the same time, looking out to both keep what we have here intact that's really good. And we have a really, really positive feeling surrounding our team here — so doing everything possible to maintain that while elevating it at the same time."