The Nets started Bruce Brown, all 6-foot-4 of him, at center Saturday night in Golden State. The move couldn't have worked out any better for coach Steve Nash. By the third quarter, Mark Jackson was openly wondering on the ABC broadcast if the Nets were better off with this arrangement, sans DeAndre Jordan. He likely wasn't the only one; posting 18 points and 7 boards on 8-12 shooting in primetime will get people talking.
With the caveat that positional designations mean diddly, Bruce Brown has emerged as the logical back-up to Jordan. Jeff Green figures to play some minutes without DJ or Brown, as a floor-spacing 5, too. But for now, those three players constitute the center rotation in Brooklyn. Here's what Brown showed in what could be his break-out performance in that role.
On Defense
I'm really going to focus on his offensive contributions with video, so let's get the boring side of the ball out of the way. The Kevin Durant-Green-Brown front court is match-up dependent, to put it lightly. There's a reason DeAndre Jordan played 38 minutes vs. the Milwaukee Bucks but, even if he were available, would've been out of place in Golden State. Brown at the 5 allowed the Nets to switch every action without thinking. Brooklyn completely neutralized the threat of Steph Curry coming off of pin downs, denying him the ball. The Warriors playing small with Draymond Green at the five meant GSW was incapable of punishing those switches down low, including on the boards.
Additionally, the Durant-Green forward combination gives Brooklyn enough mass to protect the paint vs. a lineup like Golden State's. Adding DeAndre Jordan to the mix can transform the paint defense (just ask Indiana), but playing Bruce Brown helps the Nets to stop perimeter-oriented offenses.
On Offense
This play encapsulates much of what we're going to see from Bruce Brown. KD posts up, and the obvious double is off Brown, who in turn has a wide open lane to the front of the rim, created in part by the three-point threats in Kyrie Irving and Joe Harris. Excellent. But he misses the lay-up after a light contest. There-in lies a slight concern with playing Brown at the 5: It's hard to rely on a 6'4″ player as your interior scoring presence.
We see it again here, as Brown dives to the rim and gets swatted. It's an admittedly great play by Andrew Wiggins, but look at the roll itself. Brown turns his back to the basket, and has to secure the catch, pivot, and rise up. When you're a 6'4″ roll man, that'll happen, but it gives the defense an extra second to recover.
Of course, the Nets offense is going to be good enough on many possessions that it won't matter. Bruce Brown could've finished off this James Harden dish even if he was 4'6″:
But utilizing Bruce Brown as the roll-man/diver takes away a weapon that the Nets, and particular James Harden, have been feasting on: the lob game. There were a number of possessions vs. the Warriors where Brown's defender, mostly Draymond Green, was able to help stymie the Nets' big 3, without the threat of a lob over the top. Take the play below for instance:
Brown sets a screen for James Harden and dives to the rim, but Green hangs around that high elbow area for a second to deter Harden from driving. Green has the freedom because he doesn't have to worry about Harden throwing a feathery fade route to the front of rim: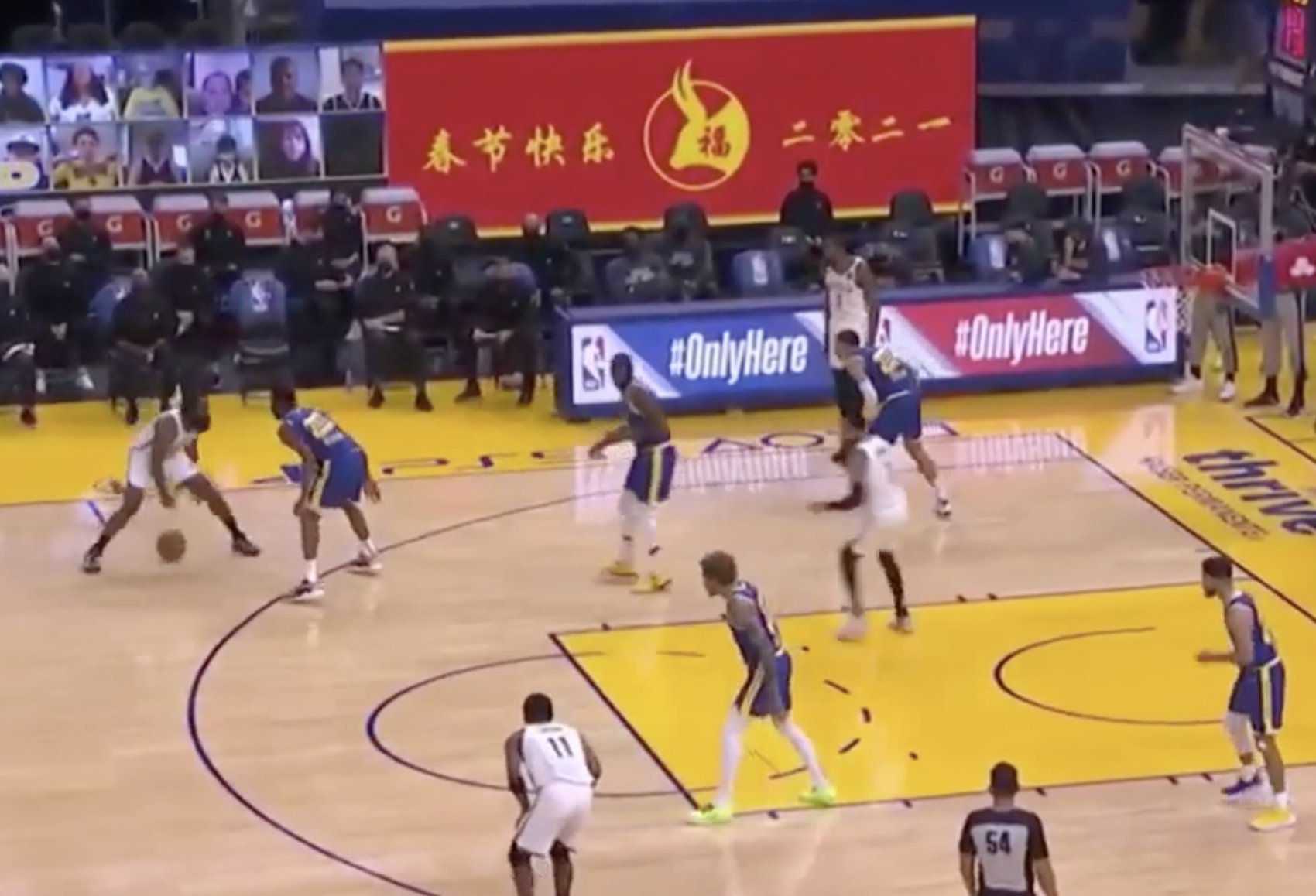 Lastly, we saw the value of Brown running in transition, instead of Jordan:
One thing's for sure: Bruce Brown is getting rim-to-rim faster than DeAndre Jordan. His speed here is admirable, and he gets a lay-up out of it. And Kevin Durant and Joe Harris in the corners paralyze the Dubs with fear. But the delivery is a bit harder than it needs to be, because the lob isn't available. And once Brown does get the ball, it's a semi-contested finished. Again, the talent on the floor means Brown will get plenty of uncontested lay-ups. I'm nit-picking, to be sure. But the lob threat and catch radius DJ provides adds another dimension to this Brooklyn offense.
I suspect there won't be a ton of shared Bruce Brown and DJ minutes with a healthy roster. Why play two non-shooters at once when you don't have to? That doesn't seem like a very Steve Nash move. Bruce Brown at, for all intents and purposes, the center position, will bear many fruits. It begets defensive versatility, and he's developing chemistry with the Big 3 as a solid cutter and roller. There's question marks, specifically against certain matchups, but the line-up Steve Nash started in Golden State is more than viable in the long term. It's fun too. And that's all thanks to one Bruce Brown, the point-guard-turned-center.