New York City has many nicknames in the basketball world, but the most prominent is "The Mecca." That nickname carries a ton of weight everywhere within the five boroughs and especially in high school basketball, where the prominent PSAL has created tons of stars. One such star resides in Staten Island, and she's hitting benchmarks never before seen in NYC high school hoops. Nicole Melious already holds PSAL's all-time leading scoring record and she's still adding to that total. A LaSalle commit, she is the fifth player in New York high school basketball history to score more than 3,000 points for her career. She hasn't just made it to that milestone: she did it in THREE years!
So as I ascend up the long elevator from the underground Atlantic Avenue subway station, I couldn't help but wonder why we were meeting at Barclays versus me taking the Staten Island Ferry and meeting Nicole on her turf? The 5'8 guard was there, her hands buried in her coat pockets, staring at the bright marquee screen. It said "Welcome Home, Breanna Stewart." I walk up to introduce myself, but she's lost in focus. "I must get back here for the city championship. We have to get back here and win it all." Melious and the Susan E. Wagner Falcons lost in that same arena the year before to South Shore, 74-50. In that game, she scored 27 points while eclipsing 2,000 points for her career. I asked her what it would mean for her to get back to this place and fix that ending. "All that matters is the City Championship. It would mean the world."
As we strolled up Atlantic Avenue, I got back into the origin of her already incredible journey in basketball, her humble beginnings and what made her fall in love with the game. "It all starts with my dad. He coached high school and I was right there with him almost every step of the way. He trained me early and in the sixth grade, that's when it kind of opened up for me."
He's not the only basketball influences she's got: Melious has built a strong relationship with the Mabrey sisters (Marina, Michaela, and Dara). "When I was younger, I trained with them a lot and I feel with that intensity they brought to the court was definitely an inspiration to get to the next level." How did that impact her own college decision and what made LaSalle the right fit after originally committing to Georgia Tech. And why not stay in Staten Island, attend Wagner College? "No," she laughed. "That is too close to home. LaSalle has a great program and it was close, yet far enough for me. I just decided that I wanted to be a little closer to home and that's why I re-opened recruitment. Nothing that Georgia Tech did [wrong], as they are incredible as far as coaching staff and school, but LaSalle just feels like the right fit and I don't think doing what's best for you should be hard."
As we doubled back, I asked about some of her favorite accomplishments from her high school career. With joy and confidence, she pointed back at the Barclays Center. "Obviously, making the City Championship and playing over there, but that's really not the only accomplishment. I have a 96 average as a senior, and to balance my academics with basketball at this rate has truly been an accomplishment for me. I also give so much credit to my teammates for putting me in great positions to be successful."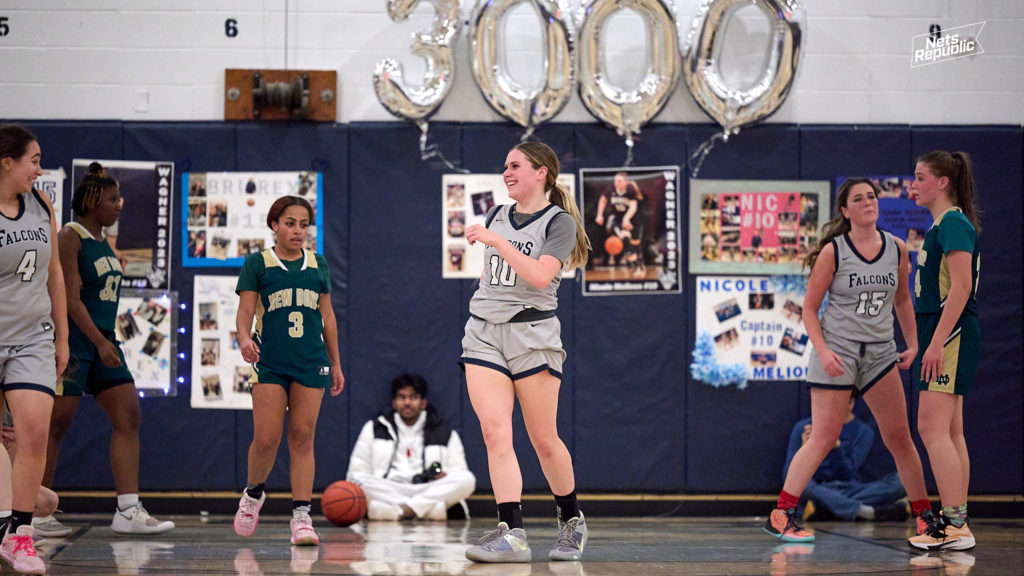 Melious also credited her family for helping her to overcoming challenges she has faced so far. "I feel like I matured a lot during the pandemic, and my family is so supportive. It gave me time to focus on myself and being with family really helped because we had to pause and just be together. I still trained a lot, but I think that is also what made me a better player."
Her father, Dan, shared similar sentiments about Nicole's progress as a player and a person. "I love my daughter and I am extremely proud. She sacrificed so much, working out three-to-four hours a day. We traveled everywhere and did everything. At some point junior year, I saw it all click… all the training kicked in with maturity. That high school season, then AAU, and into senior year, it all clicked. She can do it all: Score, pass, rebound, and be a leader. I just want thank all the people who were influences in her life. They know who they are."
As we took one last look at Barclays, I asked her what her future looks like. She said with a smile, "Definitely balling out in college and becoming pro. That is the ultimate goal. I would love to travel to Italy and Greece and play and, of course, the WNBA."
I couldn't let Melious go without giving me her top five WNBA players of all time. With a smile, she quickly rattled off names: Diana Taurasi, Sue Bird, Brittney Griner, Breanna Stewart, and Marina Mabrey. I asked her how she felt about seeing Stewie's name and face on the marquee screen. "Oh, I'll definitely be in Barclays regularly this summer," she said. "You know, after I win this City Championship."
For more on Nicole's incredible story, listen to the audio version of Nicole's interview on Keep'n It 94×50 Codename: WBB on Apple Podcasts and Spotify.