Moving on can be difficult. You get used to the rhythm you've developed over time and grow accustomed to it. It's comfortable and provides a sense of comfort as you navigate the world around you. However, change can be good as it forces you to open yourself up to new things. The Brooklyn Nets have undergone a myriad of changes over the years, and this most recent one will determine their future.

When the Nets said goodbye to Kevin Durant in February, it was especially tough. The Nets were coming off of a historic December, and KD powered the team's turnaround after a rocky start. Durant had been playing at an MVP level and it looked as if the Nets might finally break through. But as he moved west, a new star came east to replace him and lead the Nets into a new era.
Brand new
Mikal Bridges has been one of the most improved players in the NBA. Since his debut with the Phoenix Suns in 2019, he has improved each year as he's taken on more responsibilities. Bridges' scoring average has risen every season and he has been able to score efficiently while doing it. Due to extended absences by Chris Paul and Devin Booker, Bridges had to become the lead option this year and kept the Suns afloat. His stellar play kept Phoenix in playoff contention and close enough to still compete for a championship.
When the Nets traded KD, it signaled the end of their championship window. Most of the attention centered on the four unprotected first round picks the Nets got, and less on the actual players, Bridges and Cam Johnson. The trade deadline marked the start of an uncertain future. However, things are a lot sunnier than they initially appeared.
Brooklyn Bridges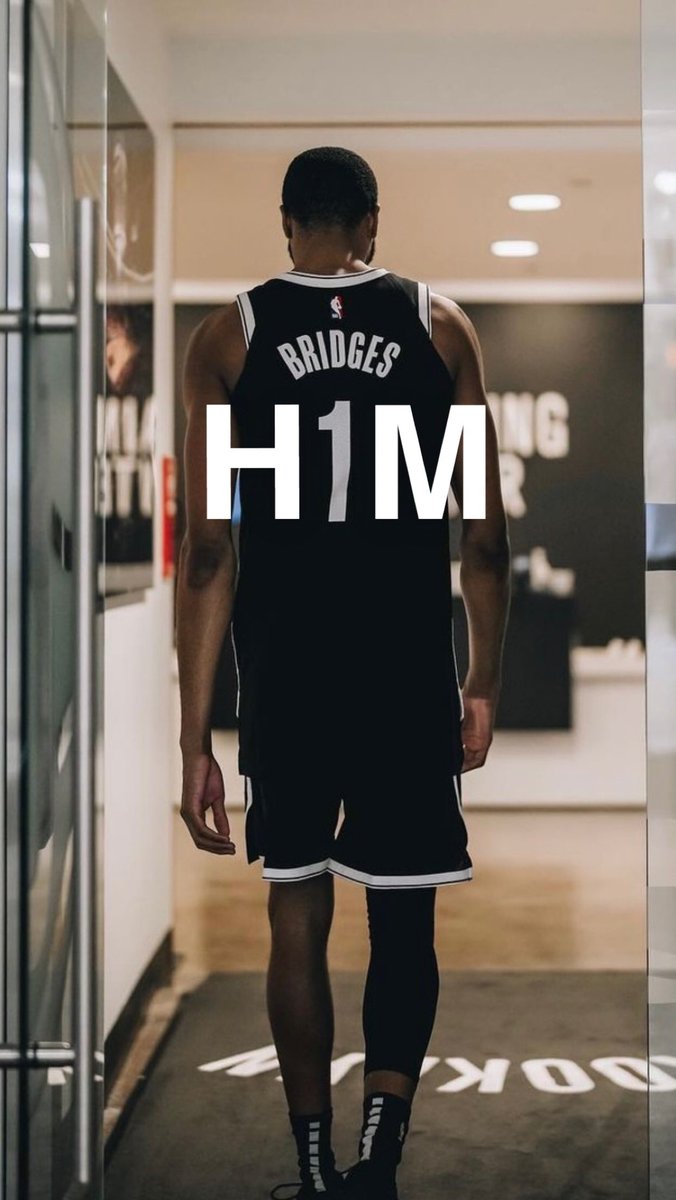 There were questions as to who would lead the Nets' offense going forward. Bridges quickly answered that and then some. Since his debut with the Nets on February 11, Bridges has averaged 25 points on .511/.491/.922 shooting splits in 33 minutes a night. He has helped keep the team in the playoff standings with a little room to spare.
Bridges has been a midrange assassin, and while the trend in the NBA has been to push the game further and further beyond the three-point line, Bridges has been able to use the entire court as his canvas.
Dating back to his days on the Suns, Bridges has been a smart, timely cutter. With this Nets possession running, he's able to take advantage of a defender's momentary lapse and cash in.
When you're shooting close to 50 percent from three-point range, defenders can't afford to leave you open from deep. As a result, you can leverage that into a great opportunity at the rim.
In watching Bridges move seamlessly within the offense, I thought back to a quote from New York Liberty head coach, Sandy Brondello. Last summer, I asked her about the Liberty's success in getting to the basket, and her answer reminds me of what Mikal is currently doing with the Nets:
"I think it's a bit of everything. It's about spacing, which is critical. Cutting, the appropriate cutting. We had to teach a lot of that when to cut, when not to cut. And creating space so we can penetrate a little bit. And then just having an aggressive mindset. How can we exploit someone going underneath us? How can we exploit someone switching us? I think we've just gotten better. And it's not just one person. It's the team understanding how the next person besides them plays. Who should be cutting? Who shouldn't be cutting?"
Since joining the Nets, Bridges has made over 70 percent of his shots inside of the restricted area. That ability to finish at the basket is essential for a Nets squad that often struggles to get to and finish at the rim. Since the trade, the Nets are:
28th in shots inside of the restricted area
24th in field goal percentage inside the restricted area
28th in shots in the paint and outside the restricted area
18th in field goal percentage on paint shots outside the restricted area
The Nets offense sometimes becomes stagnant as they try to fulfill Jacque Vaughn's goals of Brooklyn playing at a faster pace with more three-pointers attempted and fewer midrange jumpers. With Bridges, the Nets have someone who can get his own shot, get to the rim, and perhaps most importantly, bail them out when things get tight.
What's next?
As the Nets make their playoff push, Bridges' play will determine their fate. Since the trade, he has played at an All-Star level and reinvigorated the fanbase. His ability to pick up star wing players fullcourt every possession has helped turn a fledgling Nets defense around. His ability to score all over the court makes him a solid release valve on offense for his teammates. And his ability to cut makes life a million times easier for his new teammates. Put it all together, and Brooklyn has another elite small forward leading them into the future.