It's been a whirlwind season for the Brooklyn Nets. Before the start of the year, they were expected to compete for the NBA championship. After a slow start, they heated up and started to live up to their full potential. However, their championship dreams got submarined and they had to rebuild on the fly. There were some ugly moments, but the team survived the storm and made it to the playoffs. In their 11 years in Brooklyn, the Nets have made it to the postseason eight times while missing it three times. Waiting for them in the first round will be old friend James Harden and the MVP favorite, Joel Embiid. The Philadelphia 76ers enter the series as big favorites, so how can the Nets pull off the upset?
Dial 3 for victory
After the trade deadline, Jacque Vaughn had to retool the offense on the fly. Gone was the midrange mastery of Kevin Durant and in was a barrage of three-pointers. Post All-Star break, Brooklyn ranked sixth in the NBA in threes attempted with almost 38 a night. However, they only made 35 percent of them, good for 20th best in the league.
After early struggles, Cam Johnson found his rhythm from deep. In his last ten games, CJ averaged 16.6 points on 527/.449/.963 shooting splits. Johnson was able to have some success off the dribble, which is a nice wrinkle to his game. As a team, the Sixers are fifth best at defending three-pointers, holding teams to just 34.8 percent from downtown. When players like Johnson, Royce O'Neale, Seth Curry, and Joe Harris get open looks, they have to cash in at a high rate. Anything less is asking for trouble.
Striking the right balance
Someone that will need to heat up from deep is Spencer Dinwiddie. Dinwiddie is at his best attacking downhill, and he was 13th in the league in drives to the basket after the All-Star break. It helped open Brooklyn's offense up and his assists numbers went through the roof as a result. Post All-Star, Din was fourth in the league in assists, averaging almost ten per game.
If the 76ers stay home on the Nets shooters, it will force Dinwiddie into a scoring role. As a Net, his three-point shot simply wasn't there and he only made 28.9 percent of his threes in Brooklyn. The Nets only have two elite shot creators (they have a third, but the coaching staff won't play him) in the rotation, so they're going to need a huge series from Dinwiddie if they want to win.
All hands on deck
All signs point to Joel Embiid winning the Most Valuable Player award. It's been another banner year for The Process as he:
led the league in scoring (33.1 points per game on .548/.333/.857 shooting splits)
fourth (among centers) in assists (4.2 per game)
seventh in blocks (1.7 per game)
eighth in rebounding (10.2 per game)
He can score from everywhere on the court, and is a foul magnet whenever he gets the ball. He was second in the NBA in free throws attempted per game at 11.7 per game. Slowing him down is jobs one through five for the Nets, and it's going to take a total team effort to do it.
Nic Claxton will get the bulk of those responsibilities. Claxton officially broke out this year and had the best season of his young career. He was second in the NBA in blocks, 16th in rebounding, and appeared in a career-high 76 games. He played more minutes this season than he did in his entire career (regular season and postseason) combined. Clax established himself as an elite defender and should get consideration for All-Defensive team. Claxton is the second most important player on the Nets and they can't afford for him to get into foul trouble.
Look for the Nets to throw frequent doubles at Embiid when he gets the ball at the elbows or in the post. It's a risky strategy due to: Embiid's continued improvement as a passer, the 76ers leading the league in three-point shooting, and the Sixers being the best catch-and-shoot team in the league. Do you throw the kitchen sink at Embiid and force Tobias Harris, DeAnthony Melton and PJ Tucker to beat you? Or do you trust Claxton (or the switched defender) to bother Embiid enough to force him into tough shots? How Jacque Vaughn answers those questions will determine how the series plays out.
Slowing the Beard down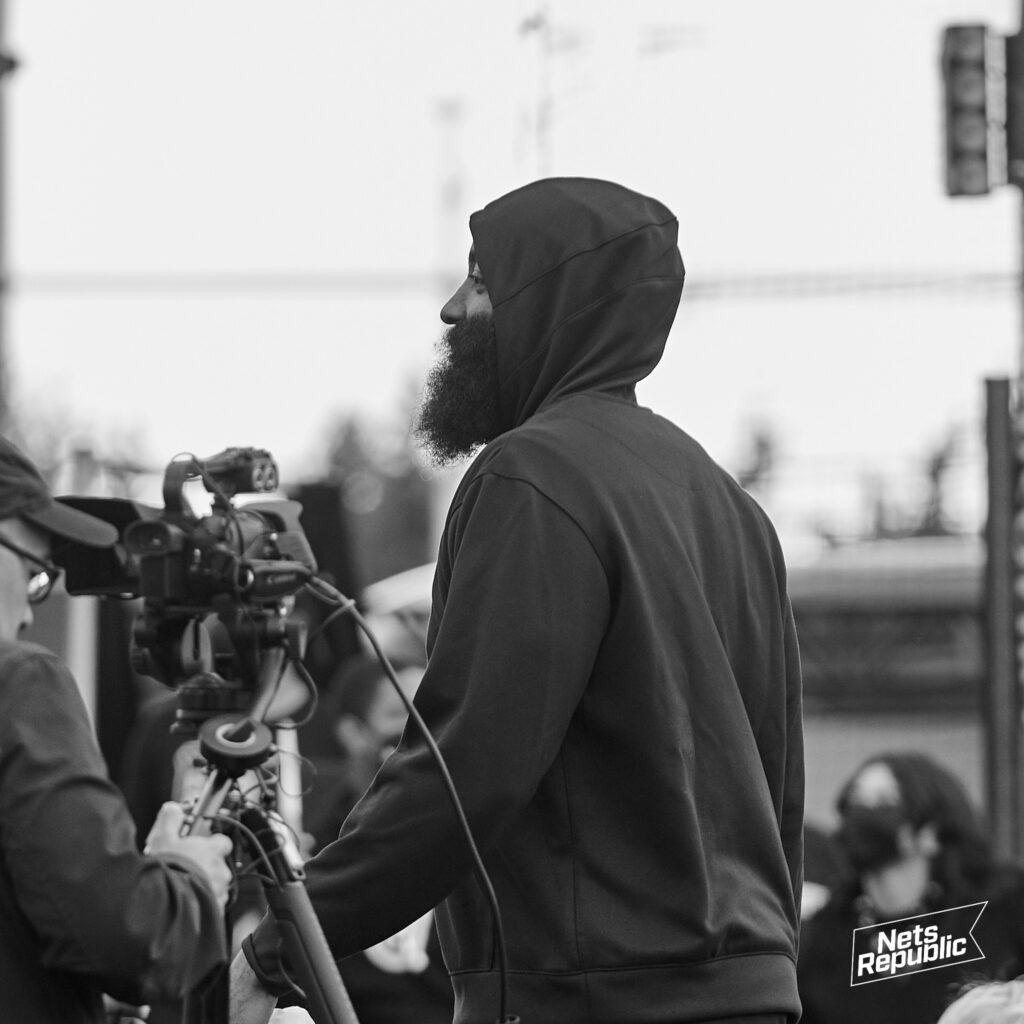 Not to be outdone, the Nets will be facing an old friend. James Harden has been bothered by nagging injuries throughout the year, but he still played at an All-Star level and led the NBA in assists. He'll go into game one with over a week of rest, which helps immensely. Despite the injuries, Harden was fourth in minutes per game at 36.8 a night. Harden's health will not only determine this series, but Philly's offseason plans.
The Nets will throw all of their rangy wing defenders at Harden. In the last meeting, Mikal Bridges often picked him up full court. Look for the Nets to try something similar again. There will also be instances where Johnson and O'Neale get turns guarding him. The Nets love to switch, and when a weaker defender gets on to Harden, you're cooked
For the Nets, they'll look to minimize the number of times weak defenders switch on Harden. If they can force him into turnovers, it'll get Brooklyn easy baskets in transition and help them speed the game up. Playing fast and forcing Harden into tough plays will help the Nets pull off the upset.
The Nets level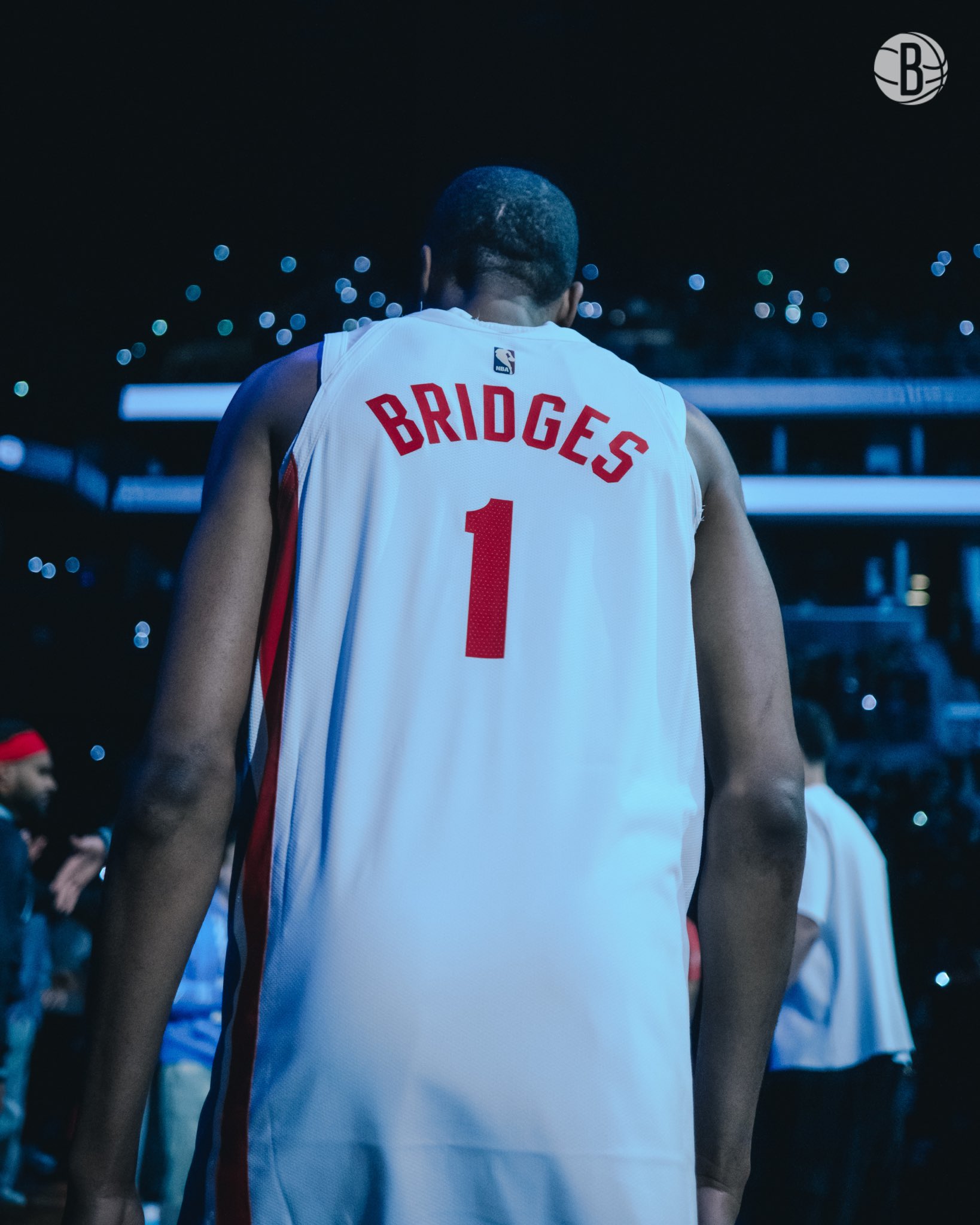 Mikal Bridges has fully embraced his role as a star and leading man. Since coming over from the Suns in the KD trade, he has played like a franchise cornerstone. In 26 games he played actual minutes, Bridges averaged 27.2 points per game on .475/.376/.894 shooting splits. One of the most impressive aspects of his game was how much offense he was able to generate through movement. He had to take on a brand new role and create shots for himself like never before in Brooklyn, but he was able to do so and become a building block for the future. He struggled from the field in his last few days, so the week of rest will do him a world of good.
Stars become superstars in the postseason, and can Bridges make another leap? Now that he's excelled in his new role, defenses will key in on him even more and look to make things harder on him. At a recent Sixers practice, Tyrese Maxey spoke about how his team will look to defend Bridges:
"He's going to be a tough out for us to stop, we're going to have to play him not just one-on-one, but five-man defense, he's got to see a crowd every time he touches the ball."
PJ Tucker will be the primary defender on Bridges. The last time Nets fans saw Tucker in the playoffs, he and Kevin Durant engaged in an epic seven-game war. Brooklyn is hoping for better luck this time around, and Bridges is key to that.
The odds are in Philadelphia's favor, but the Nets are a resilient bunch.