Caprice Dydasco is having an excellent year. The defender was named four times to the National Women's Soccer League (NWSL) Team of the Month, scored her first NWSL goal, and currently is ranked third in the league for assists, with five to her name. She can now add another accomplishment to her growing list: 100 NWSL regular season appearances.

A Monumental Milestone
"It was so surreal," Dydasco told Nets Republic about reaching this milestone. She recalled seeing other veteran players reaching the milestone during her earlier years in the league. "Watching older players reaching 100 [appearances] felt so monumental," Dydasco said. She dreamed of being able to reach that milestone herself, and when it finally happened, she felt fortunate to be able to celebrate not only with her teammates, but also her parents who were present for that match.
To get to this point, Dydasco had to overcome many obstacles. Since joining the league in 2015, she has had to fight back from various injuries including multiple ACL tears . In 2019, she was traded from the Washington Spirit to Gotham FC (then called Sky Blue FC). "Looking back, it wasn't the easiest or most glamorous," Dydasco said of her journey to this moment. "It was a special milestone, and it was great to look back on so many memories.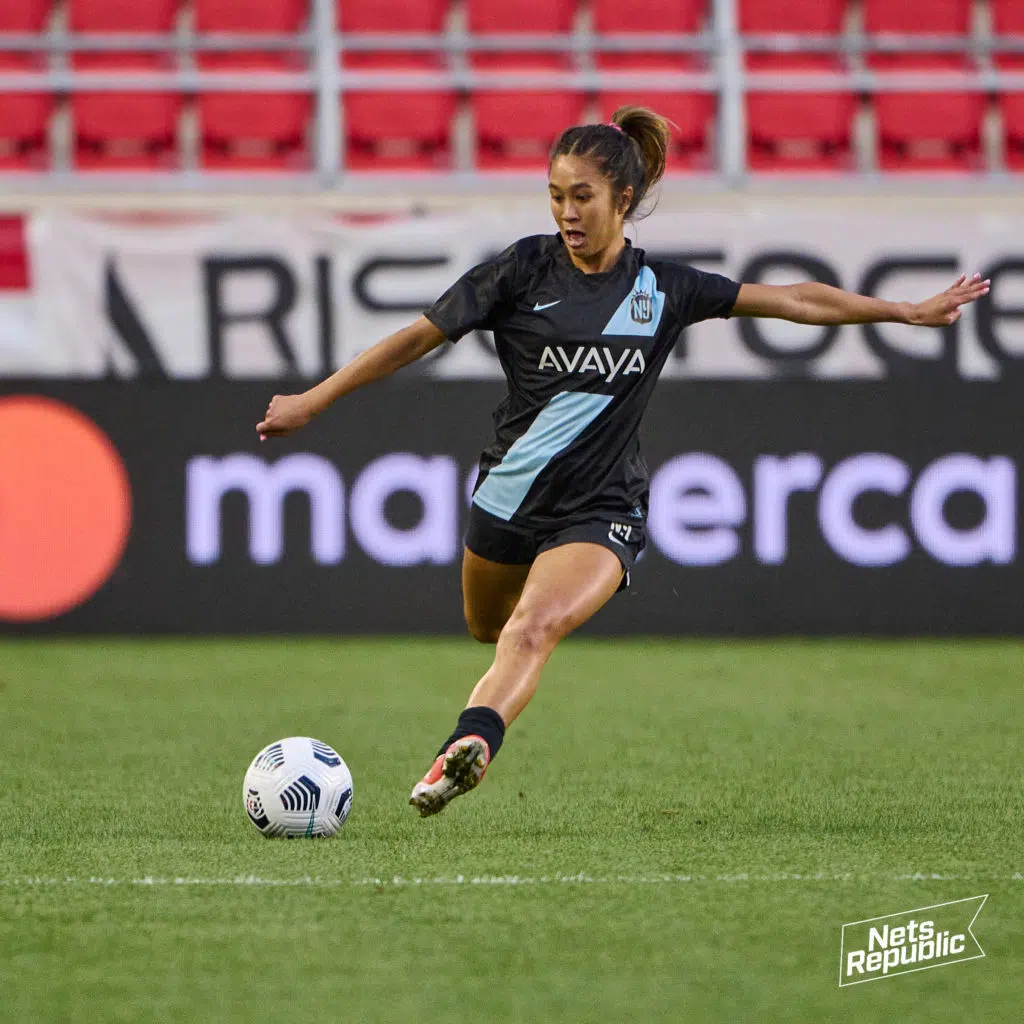 Dydasco celebrated her 100th appearance on October 6 in a home game against her former club, the Washington Spirit. "It was a night I'll never forget," she said. "I want to thank my teammates, the staff, and everyone at Gotham FC." The night coincided with U.S. soccer legend Carli Lloyd's farewell match. Lloyd, 39, is retiring from the NWSL and the U.S. Women's Soccer Team at the end of the season. To celebrate the occasion the match was moved to to Subaru Park in Chester, PA near Lloyd's hometown of Delran, NJ.
At 28, I finally feel like I know what kind of player I want to be.
Although the night was dedicated to Lloyd's retirement, the staff at Gotham strived to make Dydasco's 100th appearance celebration a memorable one. When Dydasco chatted with Lloyd about sharing the day, Lloyd insisted it was important for Dydasco to honor this momentous accomplishment. "She told me she was happy for me and that I deserved to celebrate," Dydasco said. "She's such a great teammate."
Nine Years of NWSL
As the NWSL enters its ninth year, more and more players are hitting 100 appearances, or even 150. Earlier this season, Gotham FC captain McCall Zerboni celebrated her 150th appearance in the league. Dydasco feels fortunate that she was able to join the NWSL in its earlier years without having to deal with the uncertainty of prior leagues folding.
In Dydasco's estimation, the NWSL has been more successful than its predecessors because there is a greater understanding of the value and growth of women's sports which has led to greater investments. "We don't get paid a lot, so we play because we believe that there is an investment to be made in women's soccer, and we want to carry on and sustain this league," Dydasco said of herself and her fellow players. "When I was growing up, we didn't have a league to dream about, and I hope little girls watching us at our games will one day be able to play in the NWSL."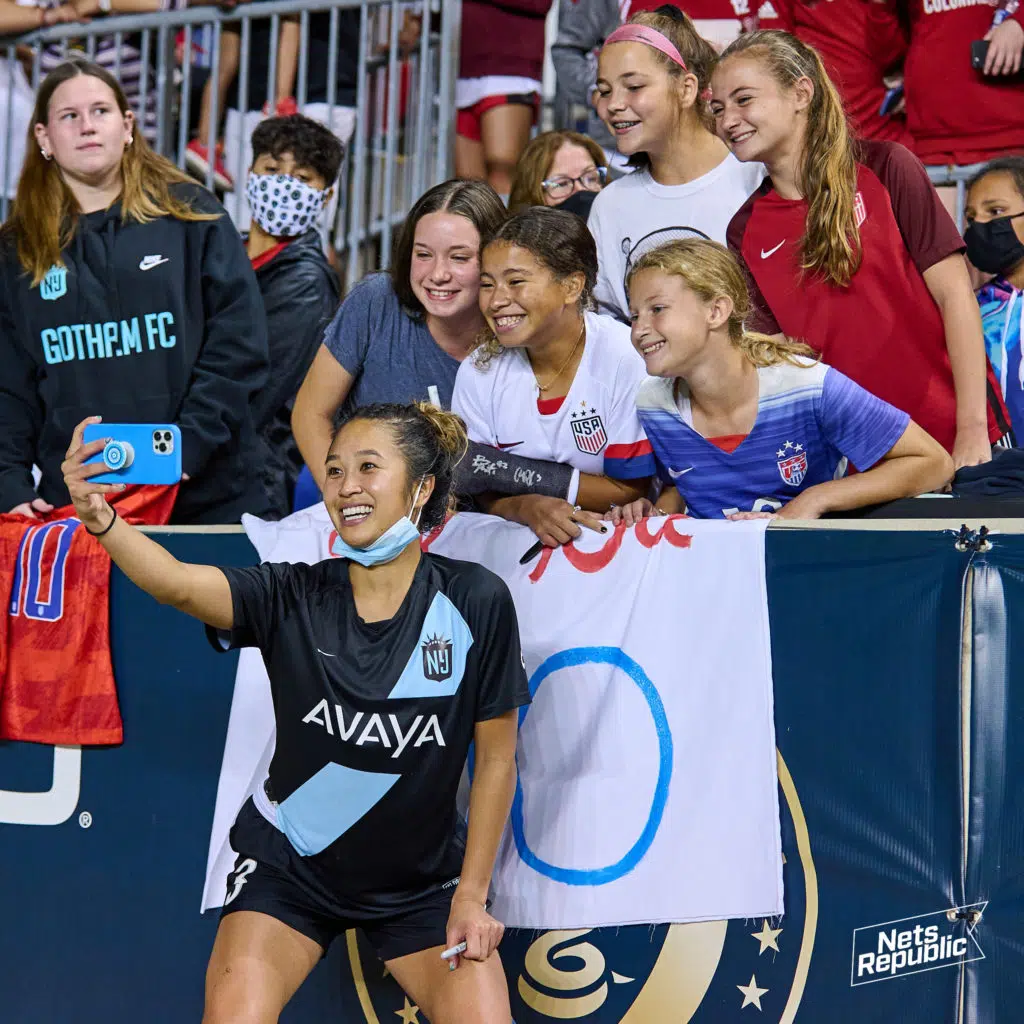 While there is more work to be done to get the league where it needs to be, Dydasco believes things are trending in the right direction. Owners are investing more, and players can start to focus solely on their careers without having to take on second jobs to make ends meet. The "No More Side Hustles" campaign started by the NWSL Players Association (NWSLPA) brought awareness to how difficult low pay has been on the players. Dydasco saw the reactions of shock from athletes in other professional leagues around the country when they learned that NWSL players often had to find other means of income to earn a living.
It's more than soccer at this point. We need to use our platform and our voices. Things need to change.
Necessary Changes
The No More Side Hustles campaign continues to be a priority for the NWSLPA, however, their immediate focus has shifted to addressing the issue of player safety. On Thursday, September 30, The Athletic broke a story detailing multiple allegations of abuse perpetrated against NWSL players by Paul Riley, the now former coach of the North Carolina Courage. Gotham FC was scheduled to play in Louisville the following day and had already traveled in preparation of the match.
The night the story broke, an emergency call was held with players throughout the entire league and their attorney. The call lasted almost three hours. "When there are so many voices going on about a serious topic like this, it can be overwhelming," Dydasco said. "But I think we gathered as a solid group and came to terms that we need to finally speak out for ourselves and fight for what's right."
The players are the center of the league, and they decided to stick together and use their voices for change. "It's more than soccer at this point," Dydasco explained. "We need to use our platform and our voices. Things need to change. People in power can't do this anymore."
The moment has been very heavy for Dydasco. She has known many of the players in the league for years, and it was difficult to learn that the people she has played with were having these experiences. "As players, we are scared – we don't have job security. If we don't play, we can get waived," Dydasco said. "There is a lot of stress and instability." She explained that people in power take advantage of the fact that the players have their housing, insurance, and livelihoods on the line, and it has to change.
From speaking with her teammates, she has come to understand that the relationship between a professional player and a coach should be collaborative. Players should not feel uncomfortable speaking up if they disagree with a coach because the players are professionals, too. This is their job.
"Coaches should treat everyone like we're all equal," Dydasco said. "You don't have to use your power to be a better coach." She pointed to a poignant quote from Gotham FC head coach Scott Parkinson in a post-game press conference on October 9 where he said, "I think us as coaches, us as leaders, us as people with power, I think we need to understand that you don't have to berate someone to make them a better footballer."
It's so fun to be around people who care about you, and do whatever it takes to make sure we're successful.
Caring Coaches Make the Difference
According to Dydasco, the addition of Scott Parkinson as head coach and Beverly Goebel Yanez as assistant coach clicked immediately for Gotham FC. "Scott [Parkinson] and Bev [Yanez] have been open and honest with us from day one," Dydasco said. "I love their communication, and I know they always have our backs no matter what."
Parkinson and Yanez have helped create a safe space where, win or lose, the players know they'll be treated as humans. Dydasco pointed to Parkinson's mindset and energy, and Yanez's brilliant soccer mind as being key components to Gotham FC's current success. "It's so fun to be around people who care about you, and do whatever it takes to make sure we're successful," she said. "Our backs were against the wall when they came in, and they were so calm and believed in us to make the playoffs."
As Dydasco pointed out, Gotham FC did not have the easiest path this season. "I'm very proud of the group," she said, describing the players and staff as "relentless." She added, "It feels like it's been three seasons in one, between the Challenge Cup and coaching changes – we've been at the top of the table, the middle, the bottom." According to Dydasco, it's been a rollercoaster of a year for Gotham FC.
I feel confident in what I can contribute to the team, and every day I'm trying to get better.
Despite the rollercoaster, Gotham FC has not given up. Dydasco attributes the team's success to their camaraderie. "Our players are so connected and we have great chemistry," she explained. "We try our best to get the job done, if it's pretty or ugly, and Scott [Parkinson] has given us a great game plan. We're all bought in and it's been great to see our hard work showing lately." Dydasco still believes Gotham FC has yet to hit their peak.
Looking to the Future
Personally, Dydasco feels like she's finally hit her stride. "It's weird because at 28, I finally feel like I know what kind of player I want to be – I feel better than I did at 23!" She said. "I feel confident in what I can contribute to the team, and every day I'm trying to get better and be the best teammate I can be." Both Parkinson and Yanez have helped her fine tune her skills and work on details that matter in the game, but she finally feels fully like herself.
When asked if a U.S. Women's National Team call-up is still on her mind, Dydasco explained that she doesn't let herself think about it too much, but it's always in the back of her head. In conversations with coach Parkinson, he told her that it's better to have that mindset but be ready for a let down rather than not have the feeling at all.
Dydasco refuses to drive herself crazy by solely focusing on a call-up, and instead wants to concentrate on doing everything she can to be the best player she can be. "I want to do well every game and make sure I can go to sleep knowing I did my best," she explained. "Whatever happens, happens. I want to concentrate on my club and be the best teammate I can for my team."
100 Down, 100 To Go
Many would say that Dydasco is already the best teammate she can be with Gotham FC. She has helped the team get to 5th place in the standings, and with three games to go, the likelihood of not only making the playoffs, but hosting a playoff match, is high.
Gotham FC will face off against Kansas City once and Racing Louisville twice before the regular season ends. "We definitely want to make the playoffs, and we know that these next three games are so important," Dydasco said. "No matter what place you're in, it's always going to be a tough game – Kansas City and Louisville both look great lately." She explained that the team is taking it game by game, and is just focused on collecting as many points as possible.
As for Dydasco's future, she is focused on staying healthy and continuing to love the game. "I will play for as long as I love it," she said. "If I retire after 100 more caps, that's great! But even if it's before, I've had a great career." She still wants to stay involved in the league or the team somehow, even after she's done being a player. "I don't know how long I'll play, but I'd love to stay involved in some way with the team," Dydasco said, adding that she doesn't see herself coaching. "Maybe [Gotham FC] can find a role for me somewhere in between."
Three More for Gotham FC
Gotham FC will play their next game against Kansas City on Friday, October 22nd. They will stay on the road and play Racing Louisville on on Thursday, October 28th. The team will return home to Red Bull Arena for their final match of the regular season against Racing Louisville on Sunday, October 31st. Complete schedule details including how to watch the games can be found at gothamfc.com.