This summer, after helping her team win the bronze medal at the Tokyo Olympics, soccer legend Carli Lloyd officially announced her retirement at age 39. Lloyd has had a long, storied career with the U.S. Women's National Team. With 134 goals in 314 appearances she recently became the third highest goal scorer in U.S. soccer history, for either the men's or the women's teams.
As Carli Lloyd enjoys her final games with the USWNT and her club team Gotham FC, she looks forward to this next chapter of her life. In a USWNT post-match interview on September 16th after winning an international friendly against Paraguay where she scored five goals, Lloyd explained that all good things eventually come to an end. "I've just been a player who's been wired to not switch off my entire career and literally be all in," Lloyd said. "Some may deem it a bit crazy, but in order for me to have gone on with the career that I've had, I needed to approach things that way. To do that for 16 straight years, you get to a point where you get tired of being away from home."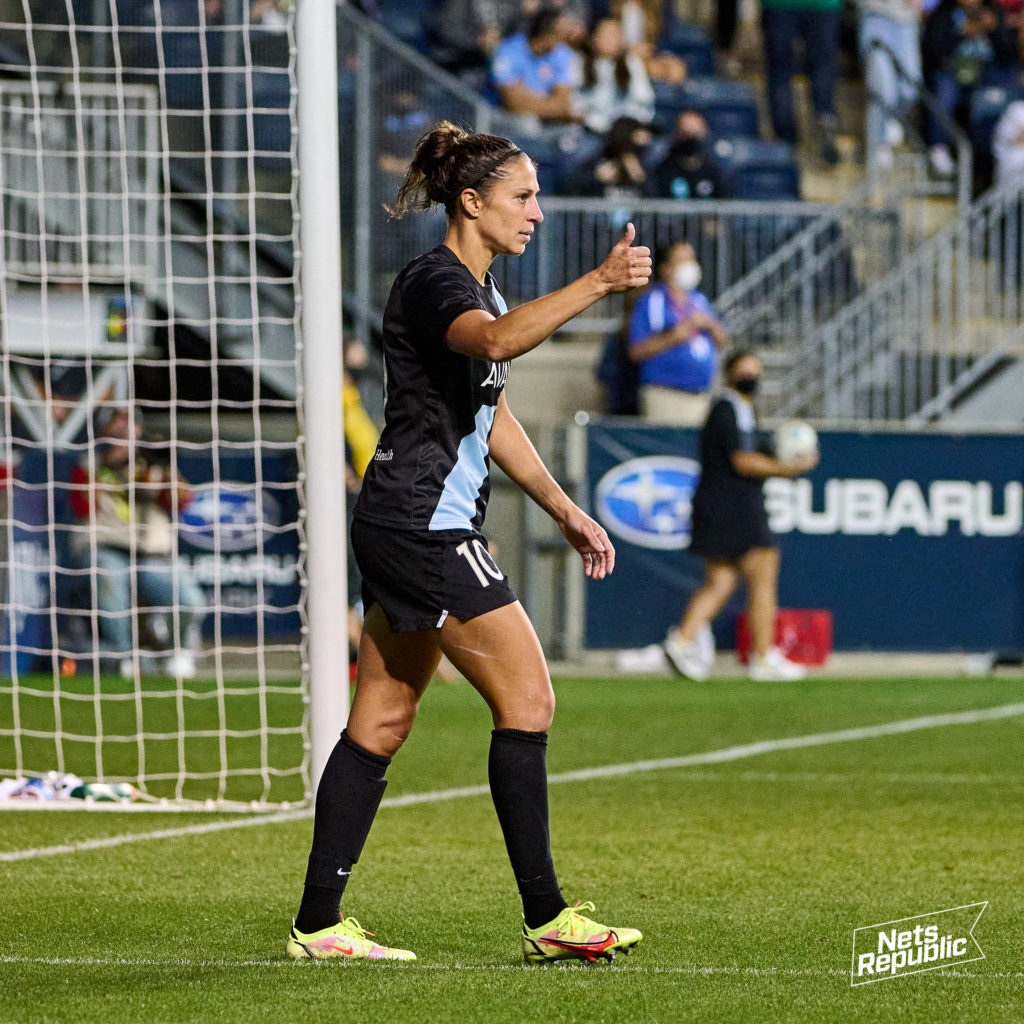 A World of Achievements
Indeed, Lloyd has spent a lot of time away from her home in New Jersey. She has traveled all around the world with the USWNT, and played for a number of clubs in the National Women's Soccer League (NWSL) including Western New York Flash and Houston Dash. She also spent a season in England playing with Manchester City. Now, Carli Lloyd finishes out her career playing for her home state club Gotham FC.
Lloyd's list of accomplishments is long and unique. She has won two FIFA Women's World Cups with the USWNT, and famously scored a hat trick in the 2015 World Cup final in Canada in only 17 minutes. That year, she won the Golden Ball, was named the U.S. Soccer Female Player of the Year, and was named the FIFA Women's Player of the Year. Lloyd also won FIFA Women's Player of the year in 2016.
Lloyd first appeared for the USWNT in July 2005, just shy of her 23rd birthday. In the years before she turned 30, where she played primarily as a midfielder, she netted 36 international goals. After turning 30, she transitioned to a striker and scored 98 goals, making her the only woman in international soccer history to score more goals after turning 30 than before.
A Homecoming and Farewell
On Wednesday, October 6th, Gotham FC played a special farewell game dedicated to Lloyd at Subaru Park in Chester, PA. Lloyd is a native of the greater Philadelphia area having grown up just across the river in Delran, New Jersey. With just over 9,500 fans at the stadium, the game broke Gotham FC's record for single-game attendance. After the game in her speech on the field, a visibly emotional Lloyd thanked the crowd for being amazing. "The crowd tonight, this is what we need at every NWSL game," Lloyd said. "We need your support, we need you to keep coming out, supporting these amazing women here."
In her post-game speech, Lloyd said in the 34 years she's been playing soccer, 16 of which were professional, she never could have dreamed of where she ended up. She highlighted all her moments, from being a young player with the Medford Strikers, to her time at Rutgers University, to playing in World Cups and Olympics. "I'm going to miss playing. I'm going to miss this – playing in front of all of you fans," Lloyd said, gesturing around the stadium that errupted into cheers. Shortly after, her Gotham FC teammates doused her in blue Gatorade.
More Than Just Soccer
Although the mood at Subaru Park was celebratory for Lloyd, it was impossible to separate the game from the current climate of the NWSL. On September 30, a report was published by The Athletic which detailed multiple accusations of sexual coercion by Paul Riley, the now-former head coach of the North Carolina Courage.
The games scheduled for that following weekend were postponed, and it was unclear at the time if the matches scheduled for this past Wednesday, including Lloyd's farewell match, would go on as planned.
Unbeknownst to fans, in the 6th minute of every game on Wednesday, the referee blew their whistle and players from both teams, including those on the bench, made their way to the center of the field to link arms in a show of solidarity with their current and former teammates who had come forward with allegations of abuse that had been ongoing for many years.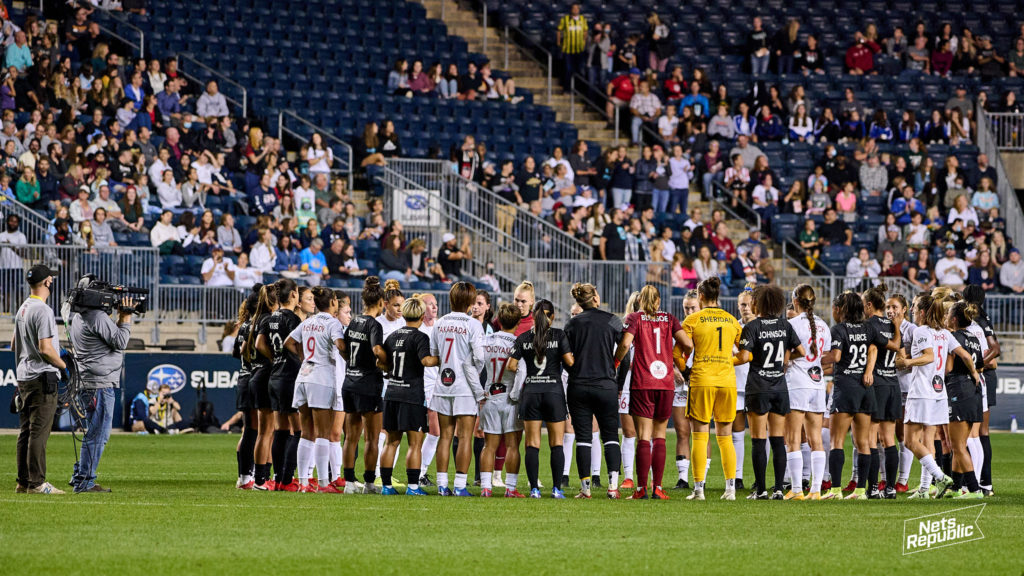 According to the NWSL Players Association, the 6th minute represented the 6 years that Mana Shim and Sinead Farrelly had to wait for their stories to be heard. Shim and Farrelly were the two players at the center of the report by The Athletic. The NWSLPA also simultaneously released a list of demands on the league, which included further transparency from the league and independent investigations.
Although she is leaving the sport, Lloyd said after the game that she hopes this can be a reset for the NWSL to make things better for players in the league. "This is a huge wake-up call," Lloyd said. She commended both her Gotham FC teammates and the Washington Spirit for coming out and playing during "probably one of the worst weeks [the NWSL] has ever seen."
Cloud 9, the affiliated Gotham FC supporters group, showed their support for both teams with banners and signs designed before the game.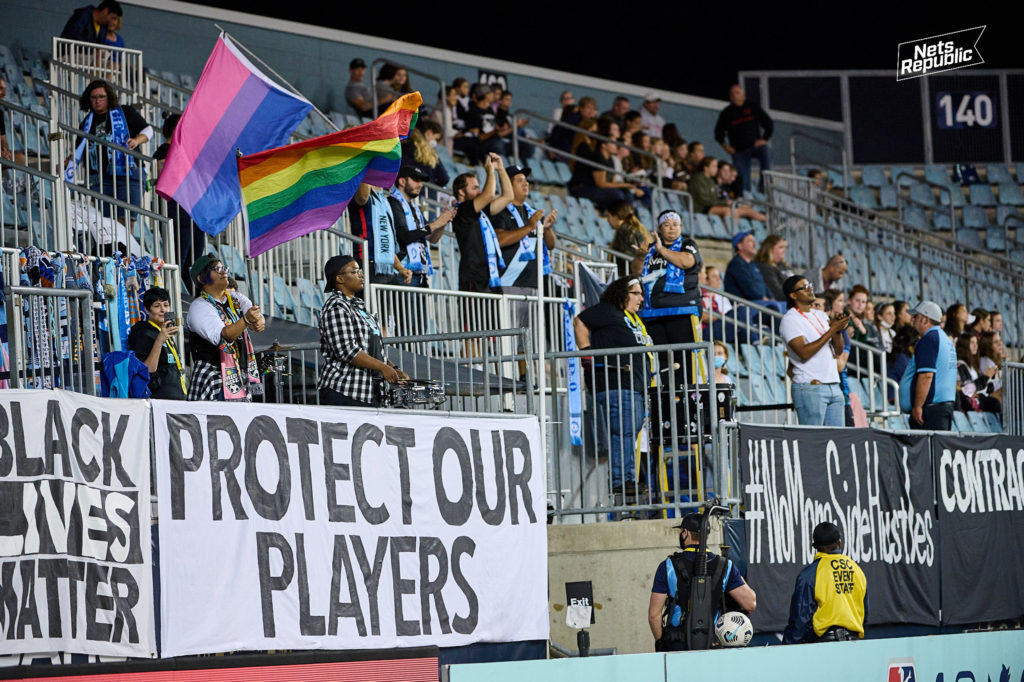 A New Chapter Begins
Lloyd, the second-most capped player in international world soccer history, will play her final two games with the USWNT this month against South Korea. The international friendlies will be held on October 21 and 26 in Kansas and Minnesota. 
In a press release from U.S. Soccer announcing her retirement, current USWNT head coach Vlatko Andonovski praised Lloyd's success. "Carli Lloyd is a true legend," Andonovski said. "Her career was unique, and her success on the field is something all current and future National Team players should aspire to achieve."Lloyd has played under four USWNT head coaches, including Jill Ellis, who is currently the president of a 2022 NWSL expansion club in San Diego, and Pia Sundhage, who is currently the head coach for the Brazilian Women's National Team.
Lloyd has been a mainstay for the USWNT in major tournaments all throughout here career. She has appeared in four FIFA Women's World Cups and four Olympic games.
"I would like to thank U.S. Soccer for helping to provide the opportunities and memories that will last a lifetime," Lloyd said in a press release from U.S. Soccer. "I am forever grateful to have represented the crest and to be able to play for my country for the last 17 years. I will continue to support and cheer this team on and continue to find ways to help grow the game and inspire the next generation."
One Last Challenge
The one trophy Carli Lloyd does not have is an NWSL Championship. She will join her Gotham FC teammates in their final stretch of games as the team makes the push for a postseason spot. Five games remain in the season, with the next scheduled away at Orlando on Saturday October 9th at 7pm ET. Gotham FC will stay on the road and play the North Carolina Courage on the 17th, Kansas City on the 22nd, and Racing Louisville on the 28th.
Your last chance to see Carli Lloyd play at home will be against Racing Louisville on October 31st at Red Bull Arena with kickoff at 3pm ET. Visit gothamfc.com for ticket information. Check NWSL Soccer for the full league schedule and information on where to stream the matches.