Tonight, NJ/NY Gotham FC will play their first game of 2022. The NWSL Challenge Cup kicked off last night, and the complete rules of competition can be found here.
Nets Republic got an exclusive first look at a preseason training session, and got to chat with defenders Caprice Dydasco and Mandy Freeman about the lead up to the 2022 season.
Freeman, a vital center back option for Gotham FC, suffered an injury last summer which saw her sidelined for much of the 2021 season.
After a successful recovery, she re-entered the game day roster in October, and was a vital part of Gotham FC's ability to stave off goals and ensure the team made it to the post-season for the first time since 2013.
"I think the biggest thing for me to bring into this season coming off of an injury is being confident," the 26-year-old defender told Nets Republic. "That's one thing you kind of struggle with – losing your confidence, spending time off and seeing other players who are fit and strong. You second guess if you can jump back in and be the same player you were."
For Freeman, it was important to acknowledge that she might not be that same player she was before her injury. Whether that means she plays better in some areas and differently in others, she is going into 2022 with the confidence that she can handle whatever comes her way.
Last season's NWSL Defensive Player of the Year Caprice Dydasco hopes to continue the momentum she had from 2021 into another successful year for Gotham FC.
"Last year was very unique coming off an injury and having the season that I had, I felt very fortunate" Dydasco explained, referring to the ACL tear she suffered in 2020. "I think it's just about building off of how I ended last year and bringing that confidence with me to help my team. "
For Gotham FC, this year is all about working cohesively as a unit.
"We're all going to need each other in different parts of the season – so leaning on each other is going to be really important for us to be successful," Dydasco said. "We all go in and out of form. I think as long as we stay solid as a defense and our forwards score goals I think we'll do a really good job this year."
Gotham FC touted a strong defensive performance in 2021, allowing only 21 goals during the season, the second-lowest in the league. The team added defensive depth in the 2021 off-season, including outside back Ellie Jean and veteran defender Ali Krieger. For Freeman and Dydasco, these additions strengthen an already solid and unified backline.
"Defense brings mentality," Freeman explained. "We are tough, we are aggressive, and we have our principles that help us when we do get broken down. But I think it's just being strong individually and knowing that we have each other's backs – that's the biggest thing about our backline. We're strong individually but together it's very hard to break us down. We try to lean on each other."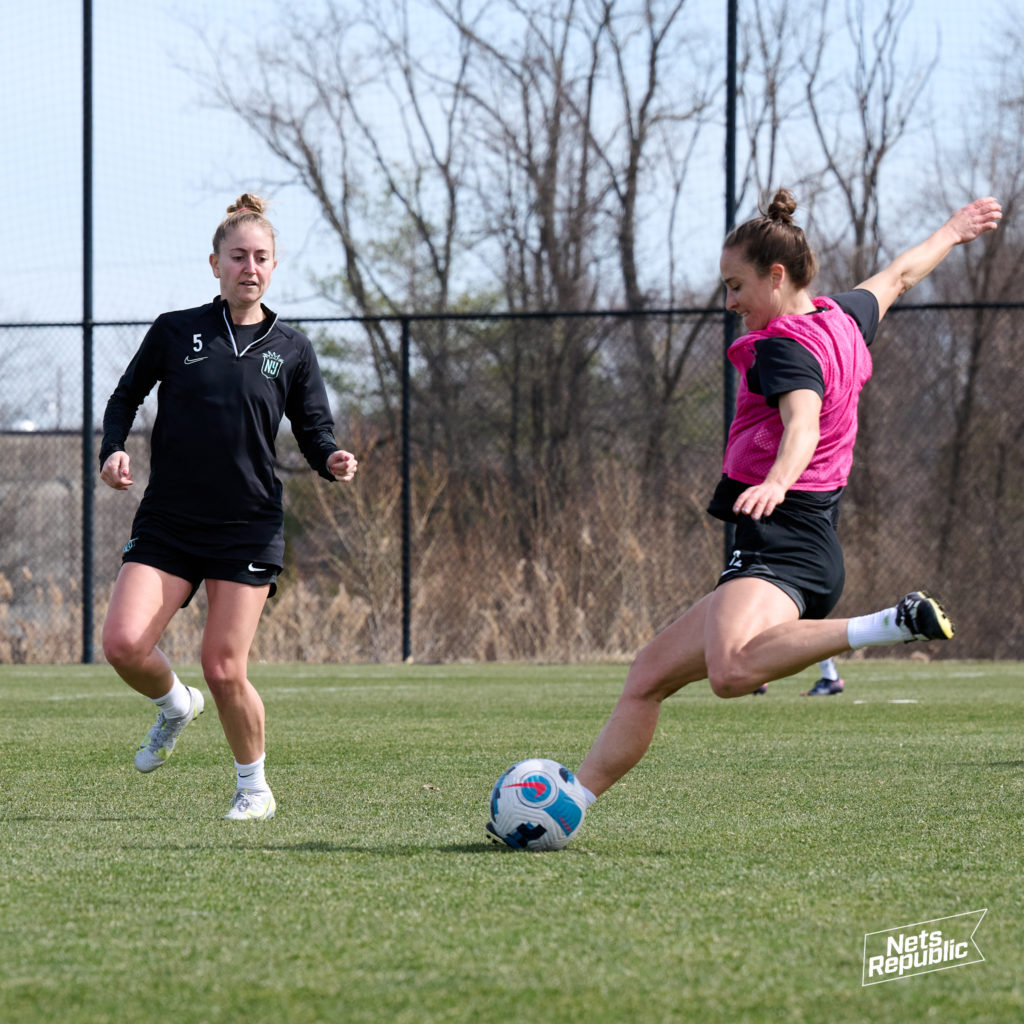 "We're very proud of our defense at Gotham," Dydasco said. "We really work as a unit. It starts in the back, but we're really working on defending from the front. I think working on our attack and scoring a lot of goals this year will take the pressure off."
As Gotham FC looks forward to their first Challenge Cup game tonight, the two defenders feel that the squad is ready.
"The vibes are always good here! It's always positive, always competitive," Freeman said. "Every day coming out to training you know that the session is going to be good. We're going to work our brains as well as our bodies, and we're just grinding it out every day. Preseason is ending and now we're getting into the real stuff!"
Part of that positive environment has come from the addition of head coach Scott Parkinson who joined the team mid-way through the 2021 season following the departure of Freya Coombe who took a position with expansion side Angel City FC.
"I think it's good that we had a whole preseason with Scott [Parkinson] and the staff this year to really put down a good foundation for the start of the season instead of having a coach come in midseason and trying to catch up," Dydasco said. "We've had five weeks to really put in the work and know what our identity is and our values are, and what we want to be as a team. I think this year you'll see a really fun and exciting Gotham team!"
With the Challenge Cup just hours away for Gotham FC, the squad feels prepared. "We're ready to bring some exciting, technical, aggressive, and attacking-minded soccer," Freeman said.
"…And hopefully a lot of goals!" Dydasco added. "We can't wait to see our fans ."