Spencer Dinwiddie has transformed into a fan favorite and one of this season's feel-good stories. Should the Brooklyn Nets sell-high on him before the trade deadline?
We all knew back in October. By the dawn of 2018, the name on lips of every basketball fan from San Francisco to Shanghai would be Spencer Dinwiddie.
I'm being hyperbolic, of course, but Dinwiddie's unlikely success remains one of the most compelling stories of the season. Drafted by Detroit in 2014, Dinwiddie had trouble finding his footing in the NBA. The Piston's cluttered backcourt limited opportunities during his rookie and sophomore campaigns. Dinwiddie seemed to log more time in the D-League (as it was known then) than with the Pistons.
Traded by the Pistons in the summer of 2016 (before being waived twice by the Chicago Bulls), Dinwiddie arrived with the Brooklyn Nets in December of 2016. Starved for talent and picks after their disastrous deal with resident NBA trade-shyster Danny Ainge, the Nets were willing to roll the dice on just about anybody with upside.
Dinwiddie was worth the roll. The point guard has upped his per-game averages to 13.5 points and 6.5 assists per game. He currently sits at 18th in ESPN's offensive real plus-minus (ORPM), and is a massive reason why the friskier-than-expected Nets are 22nd in the league instead of in the bowels where many expected.
Still, the team is bereft of assets. Swinging for high-upside talents who've struggled to make their mark elsewhere is the best route back to competitiveness. This strategy was the impetus behind the team acquiring D'Angelo Russell and Allen Crabbe (and at least part of the rationale of taking on Jahlil Okafor).
The Nets' cap room has withered away to almost nothing. The team's one remaining chip is Dinwiddie. Russell's return (as well as Jeremy Lin next season) makes Dinwiddie as expendable as a really good player can be. It might be difficult for the Nets' faithful to swallow, but the smart move is to move him now.
Point guard is a loaded position league-wide, but there are a few destinations Dinwiddie would make sense. First up is the Phoenix Suns.
NOTE: I want these trades to be realistic. The trade has to make sense for both sides.
Trade Number One
Brooklyn Nets Recieve:
Dragan Bender, Suns' 2018 2nd rounder (via the Bucks)
Phoenix Suns Recieve:
Spencer Dinwiddie, Tyler Zeller
Why It Makes Sense For The Nets
A cursory glance at Dragan Bender's basketball-reference page is uninspiring. The "Croation Sensation" is averaging 5.4 points in 22.3 minutes-per-game. The fourth-overall pick in the 2016 draft struggled through an injury-plagued rookie season, suiting up for just 43 games. Efficiency and confidence continue to be a problem for Bender in his second year. Why in the world would the Nets want him?
Talent and Upside
Bender just turned twenty. The Suns' coaching staff and organizational culture has been rotten for his entire tenure; it's hardly fair to label him a bust. Bender is a skilled and potentially dynamic player who could thrive under a developmental coach like Kenny Atkinson.
Bender is already a league-average three-point-shooter. The big man puts up 5.7 attempts per 36 minutes, converting them at a 36.6 percent clip. Bender is particularly effective at shooting corner threes, nailing over 40 percent of his attempts this season. Bender's shot is smooth and quick, launched from a height most defenders can't deal with even if they are in range: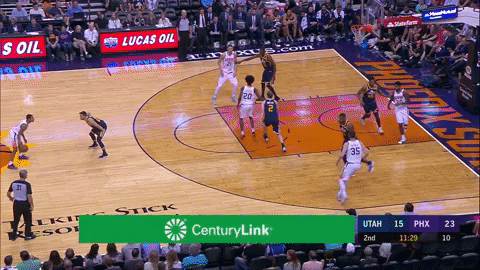 The Nets are second in the league in three-point-attempts per 100 possessions (at 33.2 per-game). Bender would fit in well with Atkinson's three-centric offense. While he's mostly a four, Bender can play the five in certain line-ups.
Five-out line-ups (such as the Warriors fabled "death" line-up with Draymond Green at center) are deadly in today's NBA. Bender's ability to drag power-forwards and centers out to the perimeter will open up space for Russell and Lin to attack the basket.
Bender's passing is also an enticing attribute. Knowing when and where to move the ball is almost as important as being able to make the pass. Bender makes crisp outlet passes, and he understands the value of the simple pass. Defensively, he's a bit of a mess. His defensive real plus-minus (ESPN's metric which attempts to quantify defensive impact) is a pretty unsightly minus 1.14 (88th of 98 ranked power forwards). The physical tools are there. Bender is mobile and long (seven-foot-two wingspan). There's no reason he shouldn't be able to become at least an average defender. Effort and focus can be coached to a certain degree. Bender will need a lot of coaching on that end.
The lack of forcefulness and purpose, particularly around the basket, is cause for concern. Sloppiness is another. Sometimes it takes guys a while to get it. Nikola Mirotić was painfully inconsistent his first few years in the league. He's only just bringing it together this season (though the catalyst may have been his teammate's fist). Why am I bringing up a bearded-Bull who just got shipped to the Pelicans? Because seven-footers* who can put the ball on the floor, pass and shoot are probably the rarest beasts on the market.
Trading for Bender is a risk, but it's a risk worth taking.
*I realize Mirotić is six-ten, but come on people. I'm trying to make a point here.
Why It Makes Sense For The Suns
Devin Booker is a much better passer than his detractors would have you believe, but the Suns need another ball-handler and play-maker to relieve the pressure on their star guard. Eric Bledsoe's departure left a gaping, sullen hole at point guard which Dinwiddie can fill. Dinwiddie has proven he can handle starter-level minutes at the one, but he and Booker would be very interchangeable. Dinwiddie (six-foot-six) and Booker (six-foot-six) would form one of the biggest backcourts in the league. Staggering the pair would help shore up the Suns' offense when Booker sits.
Dinwiddie's struggles with consistency on his three-ball are mostly due to shot-selection. He shoots 41.7 percent on catch-and-shoot threes, but just 28.3 percent on pull-ups. Dinwiddie would get a lot more quality looks from three playing next to Booker, and vice-versa.
Most importantly, the Suns' don't need Bender. The team has a 29.1 percent chance of landing a top-three pick according to Tankathon.com, in a draft full of amazing frontcourt prospects
Alex Len is reportedly being shopped at the trade deadline. Len seems certain to walk in free agency if he makes it that far. Tyler Zeller is a nice, cheap back-up for Tyson Chandler.