The New York Liberty returned to Brooklyn in style, quelling the defending champion Seattle Storm in dramatic fashion.
Faced with a two-game set against the most recent hoisters of the WNBA Finals trophy, the New York Liberty needed a championship performance on Wednesday night in their first game in Brooklyn since the end of the Tokyo Olympics. They'd find it in part one through a comeback effort.
A late make from Betnijah Laney served as the difference, as her banked jumper with 17.6 seconds was the finishing touch of an 83-79 victory over the Storm. New York (11-12) ended a three-game losing streak and erased a deficit that summitted at 15 through the victory and trailed by 10 at the start of the final quarter. Laney fell respectfully short of a triple-double, tying for the team lead in scoring with 17 points (united with Bec Allen). She also tallied eight assists and seven rebounds.
"They're just a really, really mentally tough group, and they want to do things the right way. They don't want to let each other down," head coach Walt Hopkins said of his team following the crucial victory. "Going into that fourth quarter one of the things we talked about was getting three stops in a row defensively and that we'd only had two (to that point) and they were both in the first half. Going into the fourth quarter we said that we needed to get, you know, one or more of those and ended up getting two in that fourth quarter."
The Liberty earned their first win over Seattle (16-7) since July 2019 and the first in New York since June 2017.
DiDi Swish-ards
Though Laney's shot will be the lasting image of Wednesday's instant classic, Hopkins knew the contest would've been quickly forgotten from a New York standpoint if not for one heroine off the bench.
"Didi Richards was integral in this," Hopkins declared. "We don't win this game without DiDi, there's no question about that."
Richards had contributed to the Liberty's cause in several ways during the pre-Olympic slate, but her scoring left something to be desired. Entering Wednesday, she had not entered a scoresheet since June 24.
The second-round choice made up for lost time and then some on a grand stage. She sank all three of her attempts from the field (including two triples) en route to an infantile career-best nine points. Richards' efforts allowed her to be one of the final seafoam-clad women on the floor during the fourth quarter, and she rewarded the team's faith with ironclad defense that allowed the Liberty to escape with a victory.
Richards attributed her newfound fearless shooting to the confidence her teammates have bestowed in her.
"Over the break I think that (confidence) shined a huge light. It's easy to hit shots in practice, but in practice they kind of make it seen to where 'this is the best shot, we're going to give it to you to take that'."
"(I) was literally just trying to be that player that my teammates can count on off the bench," Richards continued. "I think the whole team can attest that we know that our starting five was going to do what they do. It's just about getting your bench to come out and kind of hold their own while (the five is) getting the rest basically and I was just trying to be that player for them."
To Richards' point, the Liberty's bench came up big despite only working with an eight-woman rotation (Jazmine Jones was out with a foot injury while Reshanda Gray and Leaonna Odom were held out), outscoring Seattle's bench by a 30-12 margin.
Loyd…and the Liberty…Totally Redeem Themselves
Jewell Loyd had a diamond performance for Seattle, coming through big after shooting 7-for-30 from the field in the Storm's narrow, nationally televised loss to Chicago on Sunday. She more than redeemed herself through a takeover of Brooklyn, needing only three periods to tie her career-best 35 points. Loyd's takeover came with Seattle superstars Sue Bird and Breanna Stewart taking the night off after victorious treks to an Olympic gold medal with Team USA and the inaugural Commissioner's Cup with their Pacific Northwest compatriots.
But Richards, well-regarded for her defense both in Waco and on Atlantic Avenue, introduced Seattle to a whole new legion of boom. Covered primarily by Richards, Loyd struggled with the new challenge, missing her final seven shots over the last ten minutes.
"I don't think Jewell scored in the entire fourth quarter, and DiDi, I think, guarded her for the entirety," Hopkins correctly noted. "In addition to that the work she's been putting in on her shot to go 3-for-3 and hit a couple of threes, and have the confidence to do that, I mean, she's just, she's a really really special kid. She's versatile, she's going to be one heck of a player, and then tonight was kind of her first real coming-out party.
"So I can't say (enough) how proud I am of DiDi and I would say that the best way to talk about the fourth quarter is to talk about her."
Loyd wasn't the only one left sleepless in Seattle: the Storm scored only seven points (a Liberty low for points allowed in a period this season) and turned the ball over five times in the last segment.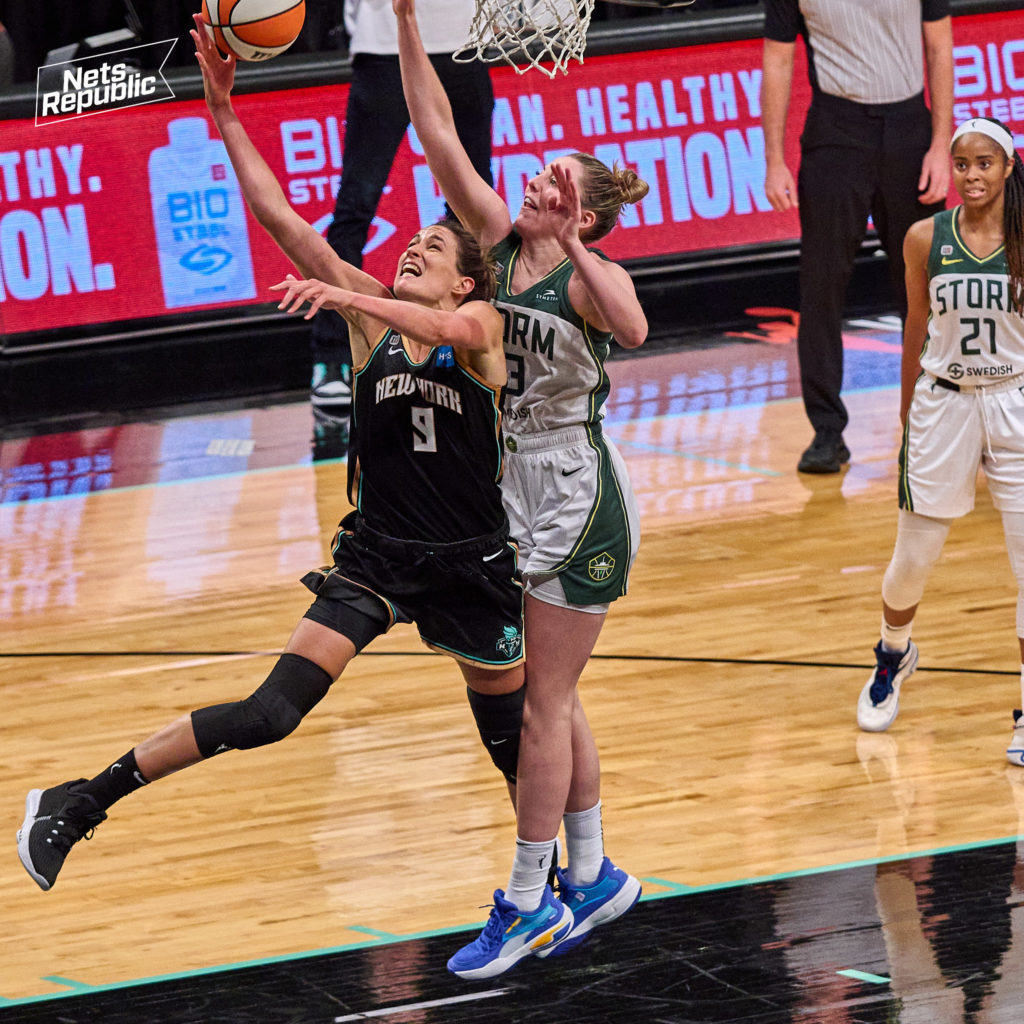 Tokyo Lift
Fresh off making her Olympic debut for the famous Opals of her native Australia, Allen needed a game to find her footing but was a major spark off the bench alongside Richards. She rediscovered her three-point stroke (sinking five-of-six from triples range) and, perhaps more importantly, raised the heat on defense.
As the Liberty forced Seattle into unsavory shooting opportunities in the final minutes, Allen made sure they had no chance to redeem themselves through a haul of four rebounds in the last frame. Her last three shots, coming against Seattle's taller lineup (featuring her Tokyo teammate Ezi Magbegor), helped narrow the Liberty's deficit before Laney's heroics sealed the deal.
"(The fourth quarter) was a really good time to get Bec involved offensively," Hopkins said. "That's an advantage for Bec to be out on the perimeter against a bigger player. But defensively, she fought. She was so hard to play against. They tried to go inside to Ezi multiple times and she'd fight around, she'd get an arm around. She played behind and pulled the chair and then got back in front. She just was really cagey."
Allen was amused by the adjective as she spoke to reporters after Hopkins.
"I feel like defense has been something that I've been working on every single year and it's something that I can't just let up on, it's a daily thing it's every single game you've got to have that mindset," she said. "I know I need to have a way of being aggressive defensively. I definitely am trying to have that (mindset) in each game."
Save the Best for the Last
Laney's late-game heroics…alas, she did not call bank…capped off an unusual victorious possession. Hopkins and the Liberty opted to not go for a two-for-one with circa 40 seconds to go. The shot clock remained lit as Sabrina Ionescu lingered at the top of the key as the precious tallies ticked away.
Fortunately for New York, Ionescu found Laney, who launched her immortal jumper that permanently gave the Liberty the lead. One last stop on defense, as Laney forced Loyd into a bad pass, led to Sami Whitcomb free throws that sealed the deal.
Hopkins defended the choice not to go two-for-one, calling the situation particularly "dangerous" against a team like Seattle.
"We decided to let him play as we've done a lot this year," Hopkins said. "It doesn't allow the defense to get set, that's something that we really like." Hopkins also said that Ionescu's stalling was somewhat intentional, introducing the basketball world to a drill entitled the "live grenade". He said that the experiment partly stemmed from the shot clock violations the Liberty endured during Sunday's loss in Minnesota.
"(The Sunday turnovers) were because people were passing up shots to try to create for someone else, it wasn't like they didn't want to (shoot)," Hopkins said. "It's like they're trying to create for each other and they don't realize the time is dwindling."
"So I thought that, in terms of time and score management, late game, it's scary to go two-for-one in those situations. I wanted us to execute. I wanted us to run down some clock and get a good look at the basket…we did one of those two things."
How Shook!
The return of Natasha Howard to the starting five has pushed Kylee Shook back to the bench. But the Liberty have made it clear that Howard's return doesn't mean they're going to cast Shook and her continued development aside.
Howard impressed with a 30-point return on Sunday but probably could've used a rest after playing 23 minutes in her first game back. Shook was thus called upon in an expanded role after appearing in only four minutes against the Lynx. She earned 17 minutes of action on Wednesday and impressed Hopkins through a four-point, two-rebound showing. The head coach was particularly pleased with her defense on Mercedes Russell and a third quarter offensive rebound and putback that helped New York keep pace.
"Kylee just turned it on, she wasn't going to get pushed, she wasn't going to get bullied," Hopkins said of her interior work. "She really did a good job being physical and that's really Kylee's big step. She's skilled, she's smart, but she needs to get more physical and that's something that we've been, you know, really trying to instill in her all year."
Howard's contributions were more subdued this time around (10 points over 22 minutes) but her teammates admitted that her on-court presence is invaluable.
"Tash adds a really good experienced post player," Laney said. "She adds a lot of depth to our team, just being able to finish around the rim, defend, hit jump shots, whether it's a three or two, just make tough shots and she just brings an extra bit of toughness that we need. We're so honored to have her back. It's really good for us and she's been great."
Talk About…Playoffs?
Hopkins and his players are rarely ones to get nostalgic about the past or be fortune-tellers of the future. The head coach has made it clear that he's not willing to sacrifice player development for the golden goose of a Finals or bust postseason endeavor.
But there was no denying the implications of Wednesday's game. The powers that be pushed all of the Liberty's matchups with the Storm over the final 11 games. That trio is one of six scheduled contests with residents of the WNBA's penthouse…visits to Minnesota and Connecticut also linger.
It's probably still too early to label most WNBA contests as "must-wins", but if the Liberty had any intentions on leaving their mark on the 2021 playoff picture…i.e. hosting their first postseason contest since 2017…Wednesday was as probably as close as they'll get, especially with Bird and Stewart going the load management route.
"This would have been tough to recover from," Hopkins said. "There are very few times where you have a legitimate chance to steal one from Seattle, as good as they are with their experience and their continuity. We had to win this one because of the outcomes of the last few games for us."
"It was something of a shot in the arm to find out that we didn't have to play against Stewie and Sue. I thought for our team's morale, and for our momentum, that this was a must-win game for us. I think now it keeps us alive in terms of the playoff race, it puts us in a much better position than we would have been had we dropped this one."
Yet, much like the Independence Day weekend comeback with Tina Charles as a witness, it's quite possible to see this game as a landmark on the Liberty's hybrid rebuild timeline. Even with Seattle missing two of its legends, the Storm still rank as one of the league's more dangerous. Two years ago, Seattle lost Bird and Stewart for an entire season and still emerged with 19 wins, including a playoff triumph. To put it into context, that Storm team (which, admittedly, was still armed with the services of current New York contributors Howard and Whitcomb) easily handled the Liberty in the first-ever WNBA regular-season game at Barclays Center.
Now, the Liberty have a solid landmark on their road back to respectability.
"I think we all knew how big a win this was for us (and) honestly just for the growth of our team as well," Ionescu said. "I think we're just continuing to learn to play together, learn what is helping us win games, what we're doing to lose games and how it's affected us through this long season."

Up Next: The Liberty will welcome back the Storm for the second half of a Brooklyn doubleheader on Friday night (7 p.m. ET, YES/Amazon Prime). New York heads to the Pacific Northwest to battle the Storm at Angel of the Winds Arena in Everett on September 2.