Rondae Hollis-Jefferson has flown mostly under the radar since coming into the league. Whereas other young guys like Jayson Tatum and Donovan Mitchell became instant phenoms and are regularly pegged for superstardom, Hollis-Jefferson has been almost forgotten despite arguably being in the same tier. When you take a step back, it kind of makes senses why.
The Brooklyn Nets have been toiling in the NBA's basement since 2014, rarely garnering any attention from even the most die-hard fans and even then it feels more like token appreciation more than anything, and Hollis-Jefferson's production isn't necessarily attention-grabbing in and of itself.
Sure, he can hold his own as a scorer but he's not the traditional weapon in that regard and never does it with much flash. He's a sneakily good playmaker with the ball in his hands, but he's not quite natural enough to be a real point forward. The only notable aspect of his game that is near-elite is his defense, but unless you're a big man or a superstar wing you'll never command much attention there. However, it's that same versatility that's made him such a valuable player to the Brooklyn Nets.
For the past few years, they've had one of the worst defenses in the league — routinely finishing in the bottom five in terms of defensive rating but the problem would have been significantly worse had Hollis-Jefferson not been on the team. Because of his physicality, athletic tools, and overall build he's been able to act as a sort of Flex Seal for the Nets, capable of filling basically any hole they have defensively. Whether it was containing quick guards driving to the rim or holding his own against bigs, he could do it all. The team's defense only improved marginally when he was in the game, but the .1 point improvement was good for a top four mark among everyday rotation players.
He still has momentary lapses in attention and is in the process of learning how to play team defense, but the good far outweighs the bad with him. Like in the possession below where he stifles Serge Ibaka off the dribble and forces him into a tough fade-away: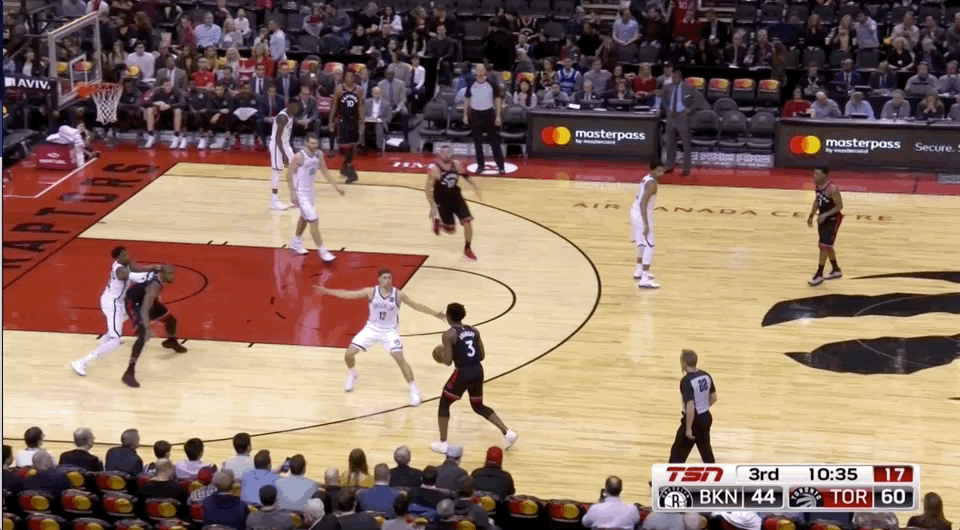 Ibaka ends up hitting the shot, but the defense was perfect right up until that point. Sure, Ibaka isn't known for his off-the-dribble prowess, but the fact that Hollis-Jefferson still held his own is an achievement in and of itself. His defense isn't just limited to big guys who move at glacial pace either. Just watch the possession below where Hollis-Jefferson gets right by the screen and sticks with Delon Wright for long enough to force a bad shot: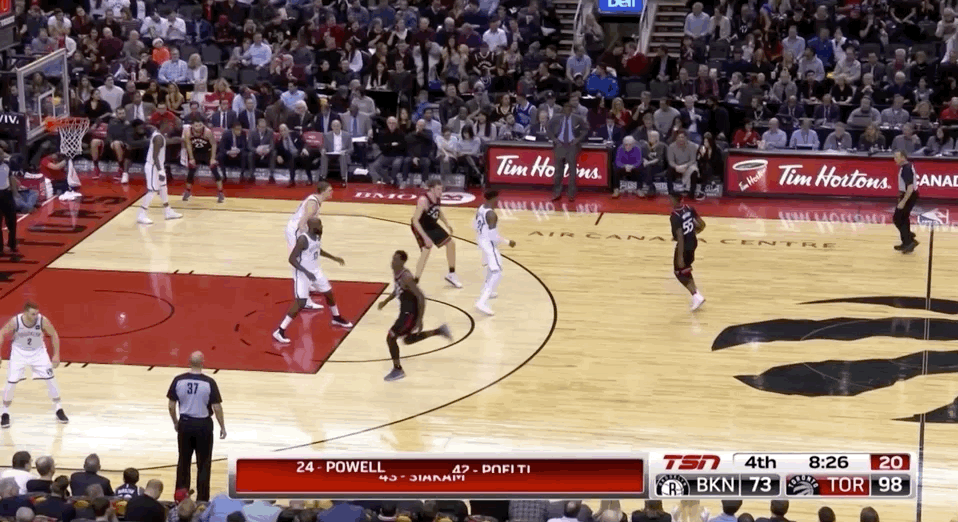 All throughout last year, he found ways to contain whomever he needed to defensively and, even better, force them into tough situations. The Nets haven't really had a player like that in years. He still has a ways to go in terms of team defense before he's a clear top-shelf defender, but he's already there in his one-on-one defense.
As for his offense, he's made huge strides every year and could potentially make yet another leap in 2018-2019. Because his unorthodox mechanics most likely preclude him from ever becoming a reliable shooter from the perimeter, he's had to figure out other ways to be effective offensively. That need to adapt has made him one of the more versatile offensive players in the NBA.
So far in his career, he's shown the ability to adequately fill every offensive role under the sun. Whether as a screener in the pick-and-roll (1.23 points per possession, 79.2 percentile), an option on the block (.93 PPP, 63.7 percentile), or a weapon in isolation (.89 PPP, 57.8 percentile), he's been good everywhere.
Perhaps the biggest reason that he's been able to fill so many rolls so effectively is the development of his pull-up jumper. He shot a career-high 43.7 percent off the bounce last year on 2.4 attempts per game and for the first time since he came into the NBA, he looked confident shooting it. Watch in the sequence below as he dribbles past Jakob Poeltl before stepping back and nailing a tough fadeaway jumper: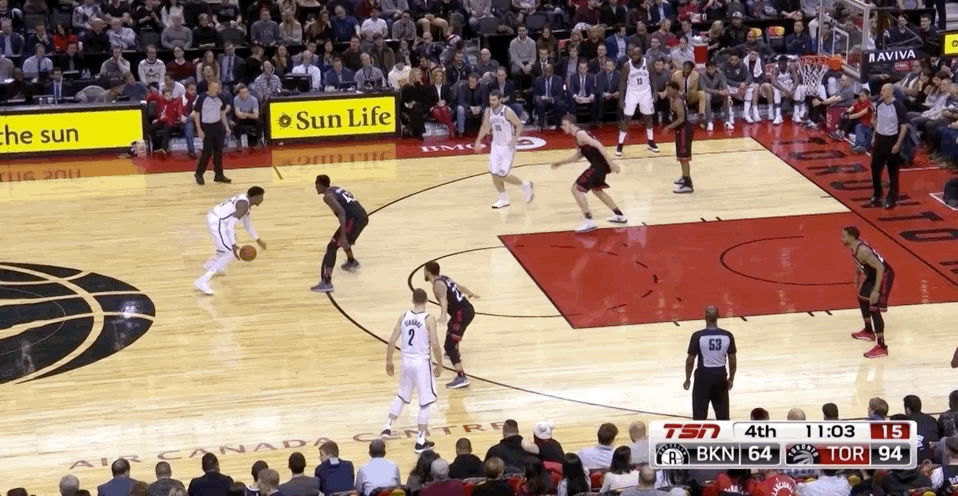 That play wouldn't have happened in years past — and it wasn't an isolated occurrence. There were countless of examples of him taking guys off the dribble and improvising for just long enough to create the separation necessary to drain a jumper in their face: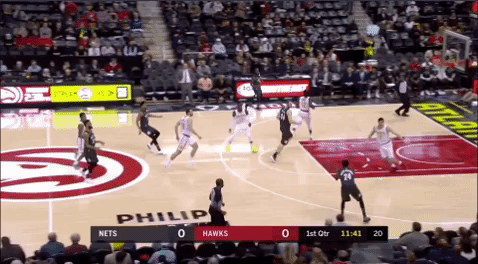 His development in that arena opened up the rest of the floor for him and he was unstoppable from 17 feet out for most guards who weren't strong enough to stop him and most forwards who weren't fast enough to stay in front of him. Just look how he exploits the distance between Ibaka and himself in the possession below to get his way to the rim and finish with a unique blend of touch and force: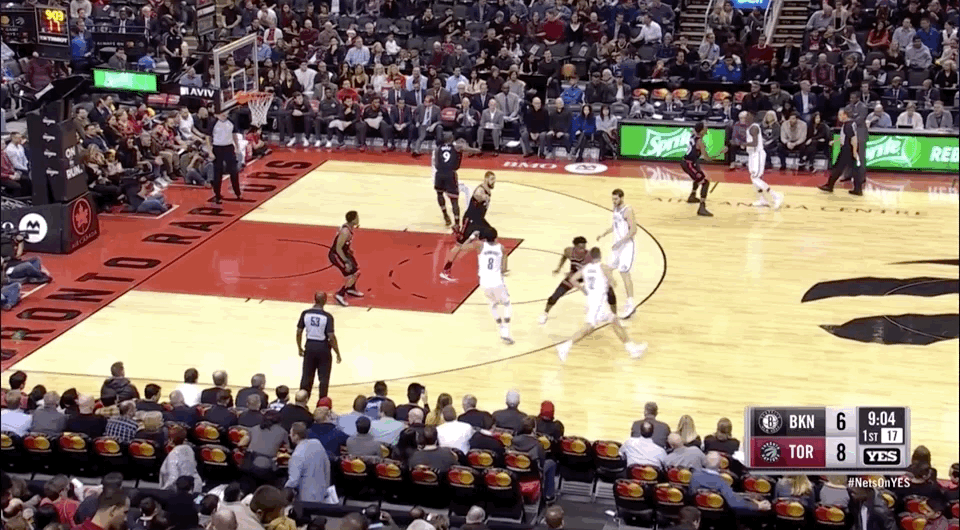 He made huge strides with his passing last year as well and looked far more comfortable as a secondary playmaker than he ever had before. Hollis-Jefferson averaged a career-high 2.5 assists per game last year and showed at least some vision with the ball in his hands. He isn't necessarily a special playmaker but he makes the right reads and can sometimes generate good shots for his teammates. Like in the play below where he makes the easy pass to a cutting Tyler Zeller and creates a shot for him: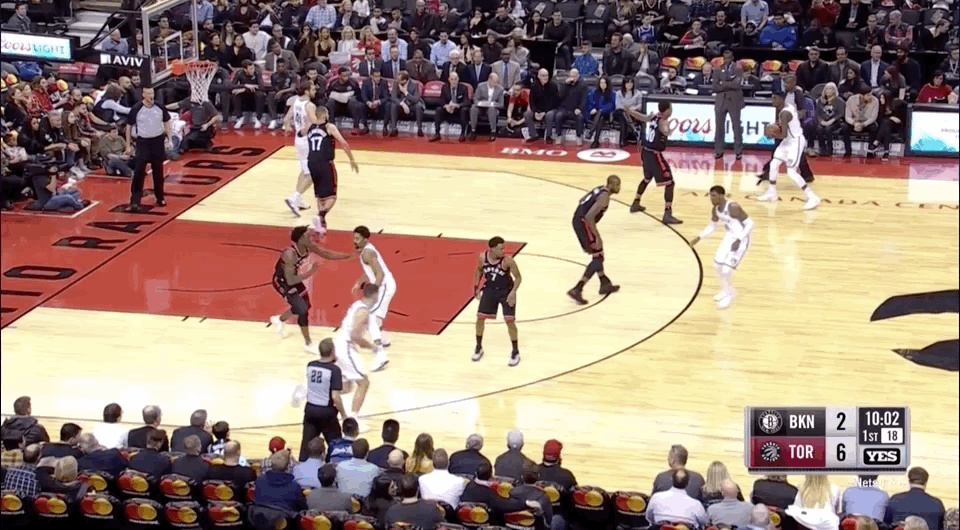 Zeller misses, but Hollis-Jefferson saves the day with the put-back layup. Hollis-Jefferson is too turnover-prone to function as the number one option, but he showed the potential to be an elite number two last year.
There aren't many players in the league who can wear as many hats as Hollis-Jefferson can offensively, let alone at the level he does — and the Nets desperately need someone like him in order to succeed in the coming years. Outside of Spencer Dinwiddie and occasionally D'Angelo Russell, they don't have anybody who can create their own shot nor create shots for others like Hollis-Jefferson.
They don't have anyone who can do what he can on the other side either. DeMarre Carroll can still be a versatile and effective defender in spurts, but he's wholly out of his athletic prime and isn't very reliable at this stage. Jarrett Allen has the potential to alter the game as a classic rim protector but is still two years away from making that big of an impact. And their two best defensive guards, Dinwiddie and Caris Levert, can't hang with big guys nearly as well as Hollis-Jefferson can.
All of which is why Rondae Hollis-Jefferson is clearly the best player that Brooklyn has. He doesn't have the gaudy counting stats or the acclaim of some of his teammates, but he impacts the game in so many different ways and plugs such a variety of holes that he's made himself an invaluable piece to this team. Hollix-Jefferson is easily the best player on the Nets and they'd have more holes than Spongebob Squarepants without him.