Good luck trying to get past Estelle Johnson. The Gotham FC center back, affectionately known as the Slide Tackle Queen, has been pivotal to the team's on-field success and defensive prowess.
That success did not come overnight for the 33-year-old. It took many years as a professional athlete, refining her skills both physically and mentally. Using both her experience and education, Johnson is now taking on clients through her new venture Mad Dog Leadership to help others unlock their own winning mentality through one-on-one coaching.
"I truly believe that this is the part that's been missing in American athletics," Johnson told Nets Republic. "I can't speak for what goes on elsewhere, but here there's been a lack of focus on the mental side of training and performance."
As there continues to be a shift toward understanding the importance of the mental aspect in sports, Johnson is hopeful that she can contribute to the success of others by utilizing the skills she has developed both in her education and as a professional athlete.
Never Can Say Goodbye
In 2014, Johnson made a difficult choice. She decided to retire from soccer and finish pursuing her Master of Business Administration. She was done with the beautiful game.
After finishing her MBA and spending some time as a college coach, Johnson had a realization. She wanted to be a pro again. She was able to rejoin the National Women's Soccer League in 2015 with the Washington Spirit and even competed in the 2019 Women's World Cup with Cameroon.
After returning to the pitch, Johnson felt like there was more she could be doing off the pitch. Earlier this year she officially became a certified mental coach, a program she had been working on since pre-season of 2021.
"I've always been intrigued by the mental side of the game," Johnson said. "When I was in DC, I did one-on-one coaching, very technical soccer stuff. I was blown away by the fact that the mental aspect of the game is what I saw coming up over and over again with the kids I was training."
At the time, Johnson mostly worked with high school students who were just heading off to college. Now, she wants to use her experience and education to take on clients in a professional setting – no matter what their goals might be.
"The beautiful thing for me is that I work with different types of people of all ages, including athletes and business leaders," Johnson explained. "This is all so applicable to life in general, and it's great to be able to help people out in applying that mentality to everyday life."
I've been around the game for so long and I've seen so many people leave due to stress, pressure, lack of confidence, or other things that take away from the joy of the sport – and I just couldn't stand it.
Johnson uses athletics as a way to teach life skills and has personally utilized these skills in much of her own life – both on and off the pitch.
"Skills like confidence, goal setting, and communication are all super applicable to everyday life," she said. "It is my passion to use the sport, my experience, and now my coaching education to educate others."
The Importance of Accountability
It starts with a conversation. When Johnson takes on a new client, it is important to identify their personal pain points and act as an accountability partner in goal setting.
"Some people struggle with effectively communicating, while others struggle with on-field pressures. It's very unique to each individual" she explained. "Anything that you're trying to change takes time and commitment, and it's a lot easier when you have someone there who holds you accountable, helps you plan, and gives you a strategic plan to set things into action."
To achieve this, Johnson uses sports as an avenue to teach real-life skills that are impactful both on and off the field. She leans on her on-field examples, even with people who aren't athletes, and aims to connect with clients on a human level.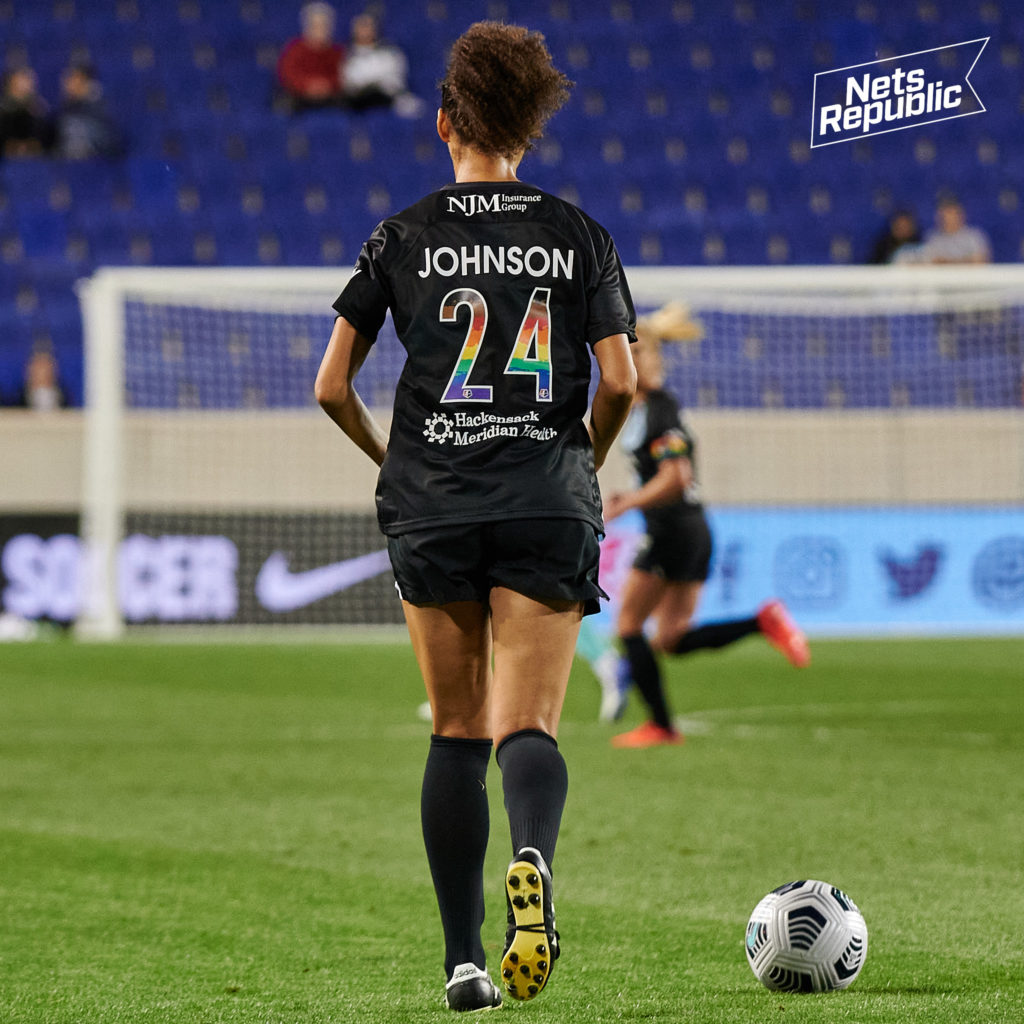 "I'm a big sharer," Johnson said with a laugh. "When you work with me, you'll get to know me deeply as a person as well – and I think that's really important in a coaching relationship. Building trust and rapport are necessary to feel comfortable sharing your fears and goals. All those things I'm asking people to share with me, I feel it's only fair that I share the same."
For Passion and Purpose
Although this new venture was born out of passion, Johnson is not without her credentials. She honed her skills through a certificate program and became an Associate Certified Coach (ACC) earlier this year in an effort that did not come without sacrifice.
"I actually started working on it during the 2021 pre-season," she said, explaining how she would often ask her then-coach Freya Coombe to take zoom sessions in her car in and around practice sessions. "It was really a team effort for Gotham allowing me the flexibility to miss some parts of training to get it done, but I think they really saw how important it was to me!"
I've been playing in this league forever, so I've seen the lows – and they were low. But with Gotham, the change from Sky Blue is night and day.
Finishing up the ACC accreditation marked the final step in a journey that Johnson has been passionate about for a long time, but did not always know how exactly to pursue.
"I've been around the game for so long and I've seen so many people leave due to stress, pressure, lack of confidence, or other things that take away from the joy of the sport – and I just couldn't stand it," she said. "I've seen so many talented players leave the game and I've thought to myself, imagine how much more talent could be in this league if we just kept everyone playing."
It's not just in the NWSL. Johnson has seen people leave the game at all levels including high school and college.
"I've worked with kids that went to school to play and after a year didn't want to do it anymore," she explained. "I've seen players at the pro level play a couple of years and seen it become too heavy and walk away."
In particular, Johnson has seen women struggle with the pressures of the game in a way that is unique.
"I don't want to make it all about money, but it's a huge burden. If we could spend our off-seasons just recharging, if we could spend our time away from the field just relaxing, if we could spend significant money on recovery, that would help our mental health. But it's just not that way," Johnson said. "We're constantly grinding and being asked to work several jobs while committing our hearts and souls to this sport – it's a lot."
A Personal Touch
In her new role as a leadership coach, Johnson is uniquely aware of how important it is to pull from her own experiences to help others. In fact, it is the foundation of what she's trying to do. The life lessons that she has learned over her years as a professional athlete have given her the tools she has needed. In particular, Johnson looks back on her first couple of years going pro after college.
"That transition is tough. Everyone is going from being the star of their college team, starting every game, setting records at their schools, to now competing with people who also did all those things," she said. "It's a big jump, and that's definitely a time where I had to work on my mindset and teach myself how to shift perspective."
Even now, after over a decade as a professional soccer player, Johnson continues to utilize the lessons she has learned, including at Gotham FC.
"I've been playing in this league forever, so I've seen the lows – and they were low," Johnson said. "But with Gotham, the change from Sky Blue is night and day."
Seeing big changes at both Gotham FC and in the NWSL in general, has given Johnson even more insight into how she can help people be leaders, no matter what their role is.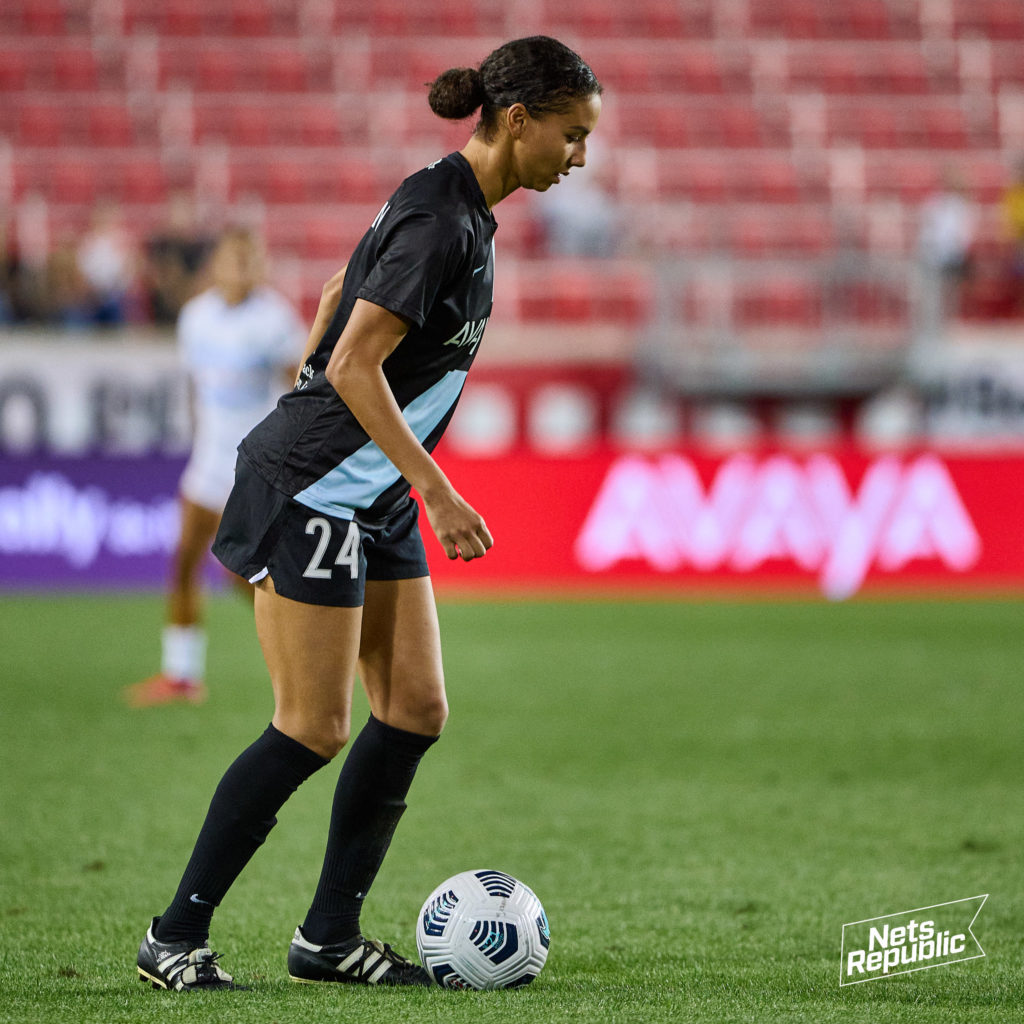 "We as a team at Gotham have been presented with so many changes in leadership that there were times when we didn't really have anyone consistently to rely on, and that was a challenge for all of us," she explained, "That experience really taught me how important it is to find that within myself, and shift my perspective onto me and what I can handle."
Johnson also sees how the focus on improving her mindset and communication style has helped her achieve success on the field, especially when learning how to communicate with her teammates during games.
"At Gotham, we have so many people from all over the world. In communication, on the field, we don't have time to think about how to say things in a way that will be received in the right way and yield the result that we need quickly," Johnson explained. "I've learned what to do so that when gameday does come I know how to communicate to my teammates, how they'll receive it, and what wording to use. It becomes automatic."
Another Season with Gotham FC
Now that the 2022 NWSL Regular Season is underway, Johnson is looking forward to working with her team and chasing another playoff spot this year. After a disappointing Challenge Cup run, the club is looking forward, and won their first regular season game 3-0 away at Orlando.
"Moving on from the Challenge Cup and starting off the new season gave us a new spark," she said. "We were very vocal about throwing that behind us, having a new start, and this is the one that matters. We want to go to the championship this year."
Shifting their mindset away from the Challenge Cup was paramount to the team's strong performance against Orlando, and the fact that the team's mentality played such a strong part is not lost on Johnson.
"It was time to shift what was happening and make the changes we need to make," she said. "I think we're well on our way!"
Gotham FC travels to the west coast to take on San Diego Wave FC on Saturday, May 7th at 10 PM ET. The match will stream on Paramount +. For more information on the team and their schedule, visit their website.