This is the first of my prospect profiles for my Brooklyn Nets NBA Draft guide, this time at the up-and-coming Brook-Lin website. Here's the first two pieces in my Nets-wide coverage/guide/musings about Next Thursday's draft.
Nets Draft Needs – Hashtag Basketball
Nets Draft History, Trends and Assets – NetsDaily
(I wanted to call this piece "Guards of the Galaxy" but that may turn some people off. And it's not that clickbaity too.)
This year's NBA Draft features potential game-changing guards. Markelle Fultz, Lonzo Ball, De'Aaron Fox, Malik Monk, and others have potential to be long-term NBA starters. Unfortunately, the Nets aren't slated to acquire those players.
Outside of the lottery, in which 8 out of 14 players are point or shooting guards, the crop is relatively thin this year. That's especially true for point guards, where DraftExpress' latest mock draft has no first round point guard drafted outside the lottery.
Even with a shallow crop, the Nets could look for a guard with their 22nd or 27th pick. Outside of Jeremy Lin, the Nets are lacking playmakers. Spencer Dinwiddie and Isaiah Whitehead are solid young players, but they project as combo guards rather than point guards.
At the shooting guard spot, the Brooklyn Nets may want perimeter threats. Brooklyn ranked 26th in the league in three-point percentage in 2016-2017. Judging from their previous signings, they'll look for taller guards that can defend multiple positions and create off the dribble.
Let's get started!
High Hopes for the Brooklyn Nets
Donovan Mitchell and Luke Kennard are two guard prospects currently slated in the latter portion of the lottery, jumping up draft boards recently. Previous mock drafts had both ranked in the 20's, right in the Nets' range, but now they seem out of reach.
Donovan Mitchell is an explosive shooting guard out of Louisville. Mitchell's stock rose after the Draft Combine, where he posted eye-opening physical measurements. While Mitchell stands at 6'3", he boasts a 6'10" wingspan with ideal quickness and verticality. Mitchell delivers highlight dunks, along with an improving jump shot. Mitchell also has great defensive upside, due to his length and motor. After Avery Bradley's success this season, many NBA GM's could be salivating over Mitchell's upside. DraftExpress and The Ringer both have Mitchell slated at the 12th pick.
Luke Kennard is a cold-blooded scorer, likely the best pure shooter in the draft (don't tell Malik Monk.) But Kennard is more than just a shooter. He's creative off the ball as a cutter, and attacks off the dribble fluidly. Kennard's ballhandling lends well to a secondary ballhandler role. The Duke product may struggle on defense, but his offensive upside would fit any team scheme. At worst, Kennard will be a bench shooting assassin. DraftExpress pegs Kennard at pick 11 while The Ringer has him ranked at pick 15.
The Brooklyn Nets Sweet Spot
Terrance Ferguson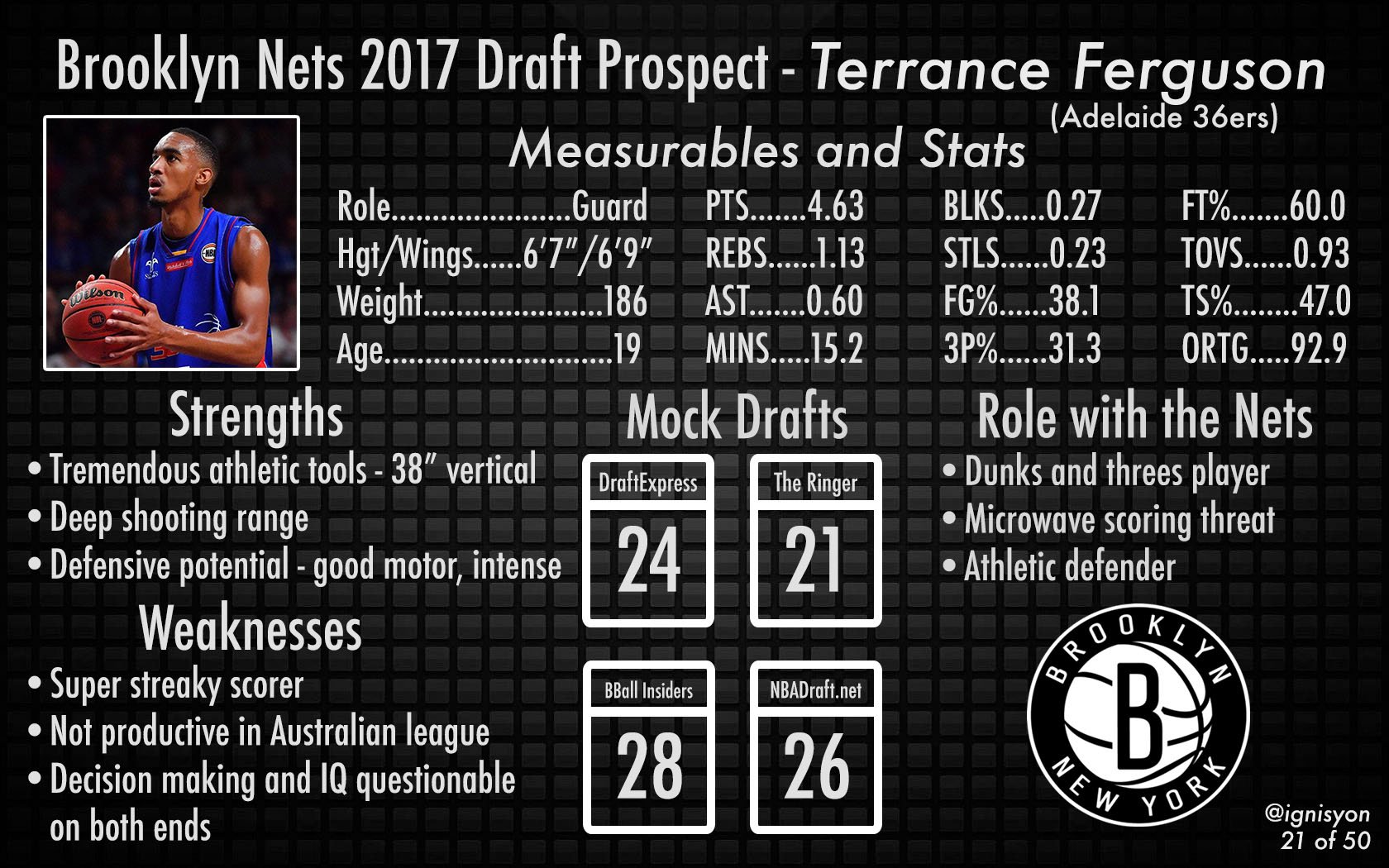 Originally an Alabama, then Arizona commit, Ferguson spent his one-and-done year abroad in Australia. (Insert joke about "gap year to find who I really am" here.) At this point, Ferguson is all upside after an uninspiring year for the Adelaide 36ers. The Dallas native was ESPN's 11th ranked player out of high school, above other notable prospects T.J. Leaf, Jonathan Isaac and Jarrett Allen.
Ferguson is an above the rim player with deep NBA range. His YouTube search results include video titles featuring the words "assassin with UNREAL bounce," LIGHTS OUT," and "windmill from the FT line." Ferguson has ridiculous athleticism, with a 38-inch max vertical leap. His jumper is a bit unconventional – he gets high elevation and almost shoots it on the way down – but he was successful as an amateur. Ferguson's athleticism, motor and length lend well to his defensive upside.
However, the 19-year old has several areas of need. Ferguson's poor performance in the Australian league was discouraging, simply outmatched by larger, veteran Australian pros. Ferguson's frame is a skinny 186 pounds at 6'7". He is RAW. He looked the part of a 19-year old player playing his first pro ball at times, making questionable decisions offensively, and seeing some lapses defensively. Ferguson is the definition of streaky as a shooter, and will need to work on his consistency.
For the Brooklyn Nets, Ferguson fits the team's "long and athletic" archetype. He's still a bit underdeveloped as a prospect, but the tools are there. Ferguson also had a draft workout with the Nets recently. If he can grow over the next few years and improve upon his overall feel, he could be a solid "dunks and threes" player in the NBA.
Derrick White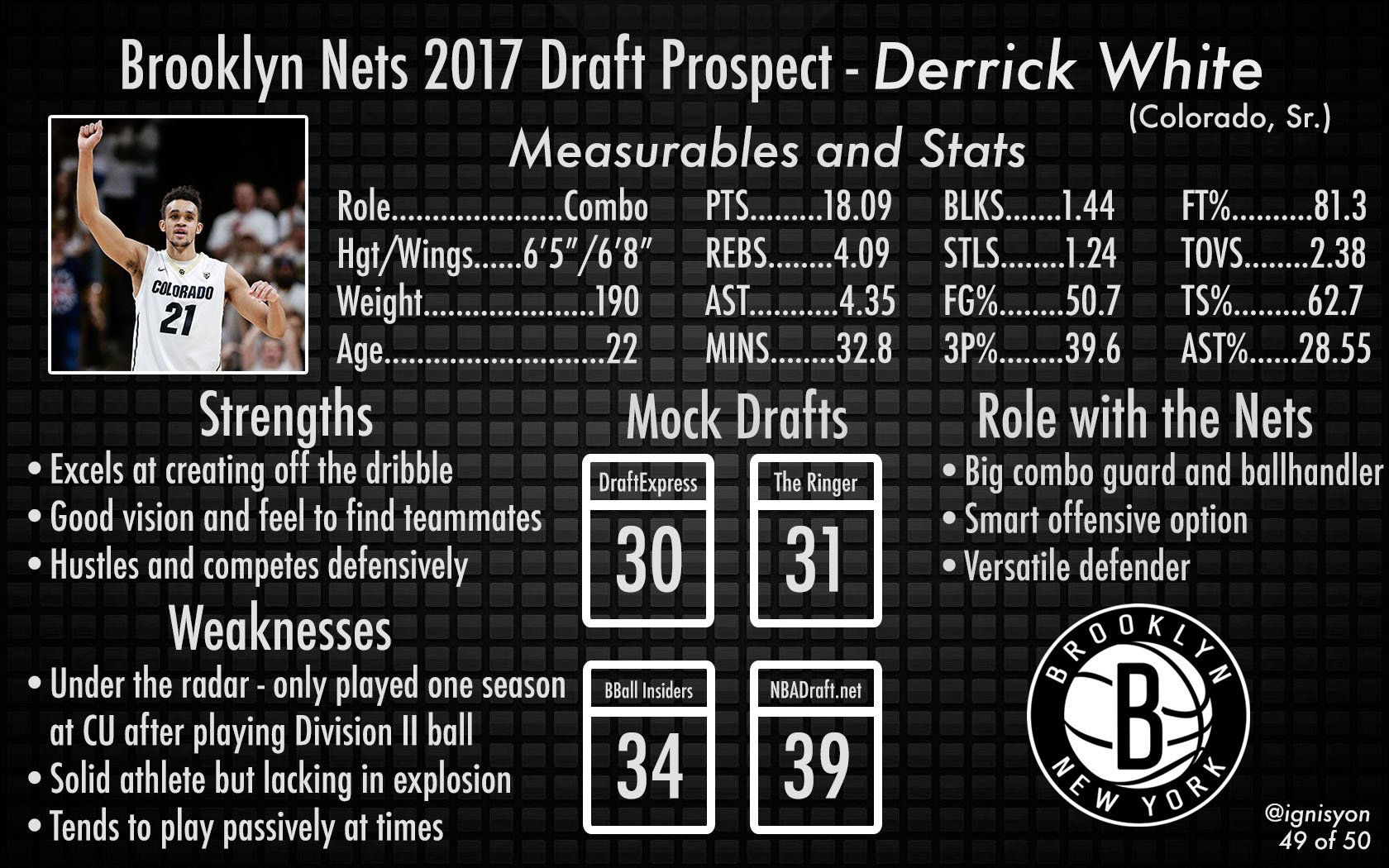 Derrick White is a fast-rising sleeper (does that make him a morning person?) White's story is incredible, as inspiring a story as Jeremy Lin's (I had to, sorry.) The then-6-foot guard received no interest from Division I schools. He enrolled at the University of Colorado-Colorado Springs, a Division II School. White hit a late grow spurt, then dominated the Division II level. Later, he transferred to Colorado-Boulder for his senior campaign, sitting out a year.
At Colorado, White's all around guard game was a revelation. He was productive in the Pac-12, a conference full of basketball powerhouses. White showed a tremendous knack for making the right play, not losing a step (or point guard instincts) after a five-inch growth spurt. He showed a tremendous feel for the game and a solid jumper to boot.
A fifth year senior, White is still a bit of an unknown. He performed well at the Portsmouth Invitational, but questions still arise. While White did impress at Colorado, he was a hit-or-miss defender, more of a smooth athlete rather than an explosive one. That could project him as more of a shooting guard than a point. White also has a tendency to dial back on both ends a bit.
Derrick White is an intriguing prospect. His harrowing rise from DII afterthought to NBA first round selection fits the Nets' emphasis on culture and blue-collar effort. The Brooklyn Nets have White on their radar, bringing him in for a draft workout. He could play a role as a solid secondary ballhandler, almost like Spencer Dinwiddie, another Colorado product. Unlike other older prospects, White may not be a finished product. He could be another calculated Nets risk.
Jawun Evans
Oklahoma State sophomore Jawun Evans runs a mile a minute. Evans may be the best pure point among the non-lottery crop. Jonathan Tjarks of The Ringer sang the praises of Evans in the High Upside podcast, projecting Evans' ceiling higher than Yogi Ferrell's.
Evans is more than just a great athlete. He uses his speed to find crevices in the pick and roll and off mismatches. Evans is particularly adept at scoring off the dribble, a skill that could be at a premium in today's NBA. As a playmaker, Evans has solid vision, never forcing the issue. Defensively, Evans, like Ferrell, is undersized but annoying. He swiped a few steals using his 6'5" wingspan at OSU.
Being an undersized point guard in the NBA is rough. The 6'0" Evans may struggle against the NBA's power point guards defensively. That could cap his ceiling as a reserve. Additionally, Evans isn't particularly efficient around the basket. He shot well below average at the rim this past season. He can get to the rim, but has trouble finishing amongst the trees, lacking a bit in verticality.
Truthfully, Jawun Evans doesn't fit the Nets' guard ideals. His smaller stature hurts his NBA upside. But he does possess elite speed and solid shooting, so he could carve a role as a bench sparkplug. Evans is a playmaker, a role the Brooklyn Nets sorely need. Rather than looking to free agency, the Nets could look to the draft for a playmaker.
Josh Hart
Villanova senior Josh Hart is a winner. He was part of the Wildcats' 2016 NCAA Championship team, and a major player in their 129-17 record in his four seasons. Hart is a proven, solid commodity, exactly what teams want in a non-lotto pick. He excels as a ballhandler, with nice vision and IQ for a non-point guard. He shot efficiently everywhere, specifically as a spot up shooter and at the rim. Hart was the Big East Defensive Player of the Year this past season, solidifying his effort and reputation as a rock solid defender.
Hart has been slated as a fringe first rounder, and that could be due to his predictability as a four-year player. While he shot effectively as a Wildcat, scouts have questioned his mechanics. Lots of NBA scouting resorts to projecting a player's talents, rather than what a player is. Hart does struggle creating off the dribble, lacking in pure athleticism and length. His ceiling may rest as a solid reserve.
Last season, the Brooklyn Nets shocked many by selecting fourth-year player Caris LeVert early in the second round. Choosing Hart could be in a similar vein as the LeVert selection, another productive, winning player that has seemingly gotten lost amidst the thresh of youngsters. He was even brought in early on for a workout in the Nets' draft process. Hart is a winner, and could be a solid contributor in the NBA immediately.
High Upside Second Rounders
Frank Jackson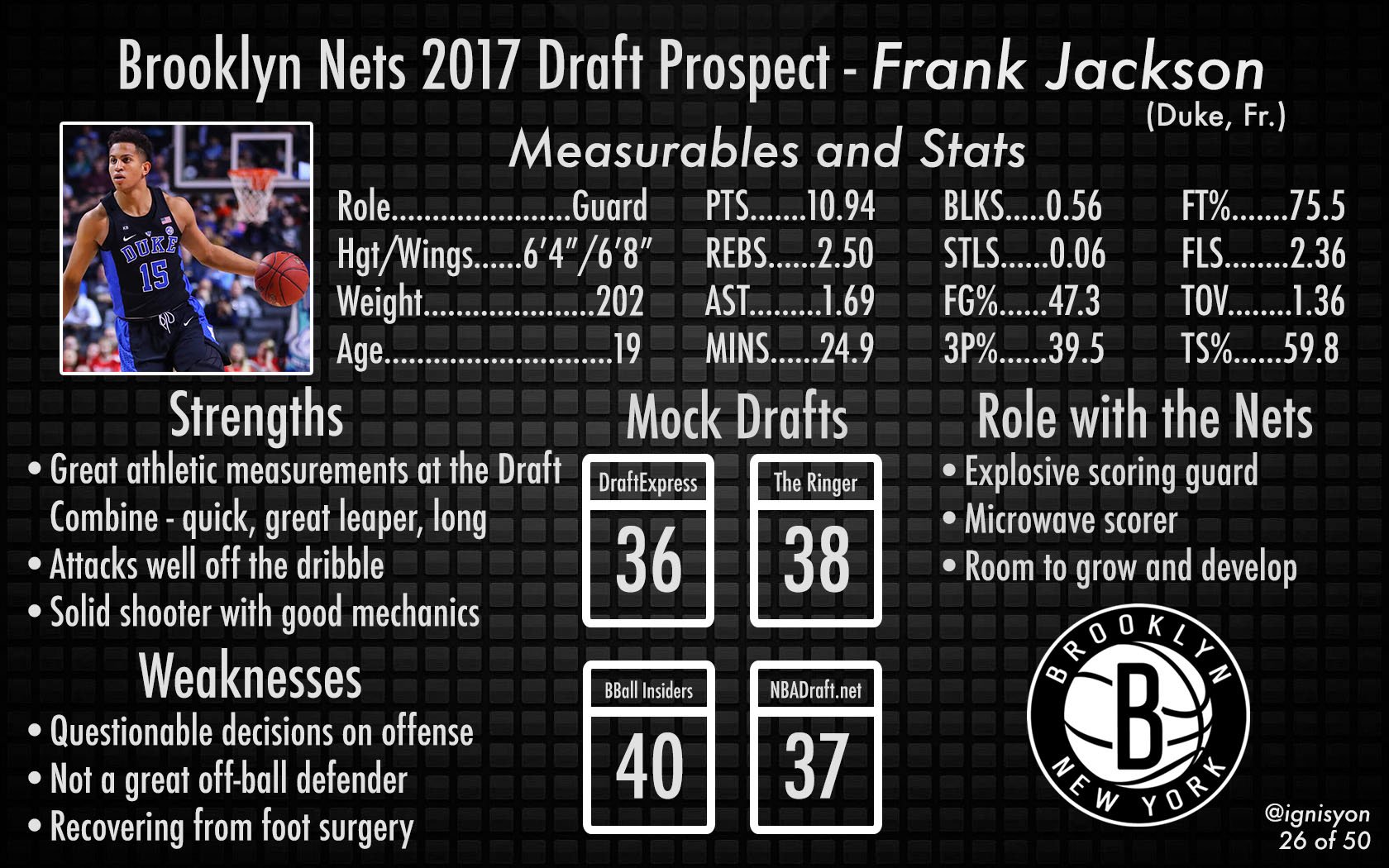 A bit of a surprise draft entrant, Frank Jackson is an intriguing late first/early second round prospect. He played behind two great collegiate players in Grayson Allen and Luke Kennard, yet still showed enough promise to enter the NBA draft. Jackson is a scorer's scorer with microwave sixth man potential. He projects as a combo guard in the NBA, possessing super impressive speed, and a nice 6'8" wingspan with a 6'4" frame. He finishes well at the rim, finding solid angles off the glass. He was an athletic scorer at Duke, exploding to the rim at times or using a nice jumper pulling or spotting up.
Jackson may struggle with a lack of versatility. He could be pinned to the shooting guard spot, not tall enough to slide to forward and not a strong enough playmaker to be a full-time point guard. That limits his upside greatly. Jackson also is inconsistent as a defender, looking great when locked in, but lackadaisical at other times. His game may depend on how he develops his defensive and playmaking skills. Jackson is also recovering from foot surgery, performed after he committed to the draft.
With the Brooklyn Nets, Jackson could be a super scoring sixth man. He's one of the youngest players in the draft, still with lots of room to grow after limited minutes at Duke. If Kenny Atkinson can work his point guard magic and mold Jackson into a better playmaker, he could be deadly. But for now, he projects as just a flash scorer.
Tyler Dorsey
Oregon's Tyler Dorsey is a knockdown shooter. In his two seasons at Oregon, Dorsey showed DEEP range, scoring off of spot ups or off the dribble. The Greek citizen fits a reliable, consistent shooting role. He hade huge three-point shooting games, including 8-of-12 against Markelle Fultz's Washington Huskies, 6-of-10 against Kansas in the NCAA Tournament, and a perfect 6-of-6 against Arizona's athletic backcourt. Dorsey was a consistent scorer, also showing some semblance of an in-between game as well.
Despite Dorsey's hot shooting, he's slated as a mid-second round prospect. That could be due to his slight frame at 180 pounds and neutral wingspan – 6'5" for a 6'5" player. That hinders his defensive upside. He also wasn't that great of a playmaker. Despite playing often on-ball, Dorsey wasn't much of a passing threat – more of a pure scorer. Dorsey, much like Frank Jackson, could suffer from a lack of defensive versatility and underdeveloped playmaking.
Tyler Dorsey is a Brooklyn Nets draft sleeper. He fits the Nets' shooting craving, and potentially could diversify his scoring as well. That shooting craving may be fulfilled, as the Nets brought him in for a workout. Dorsey's standout skill could keep him in the league, possibly a solid reserve in the mold of Allen Crabbe. Along with his shooting, Dorsey still has a bit of upside on both ends of the floor.
P.J. Dozier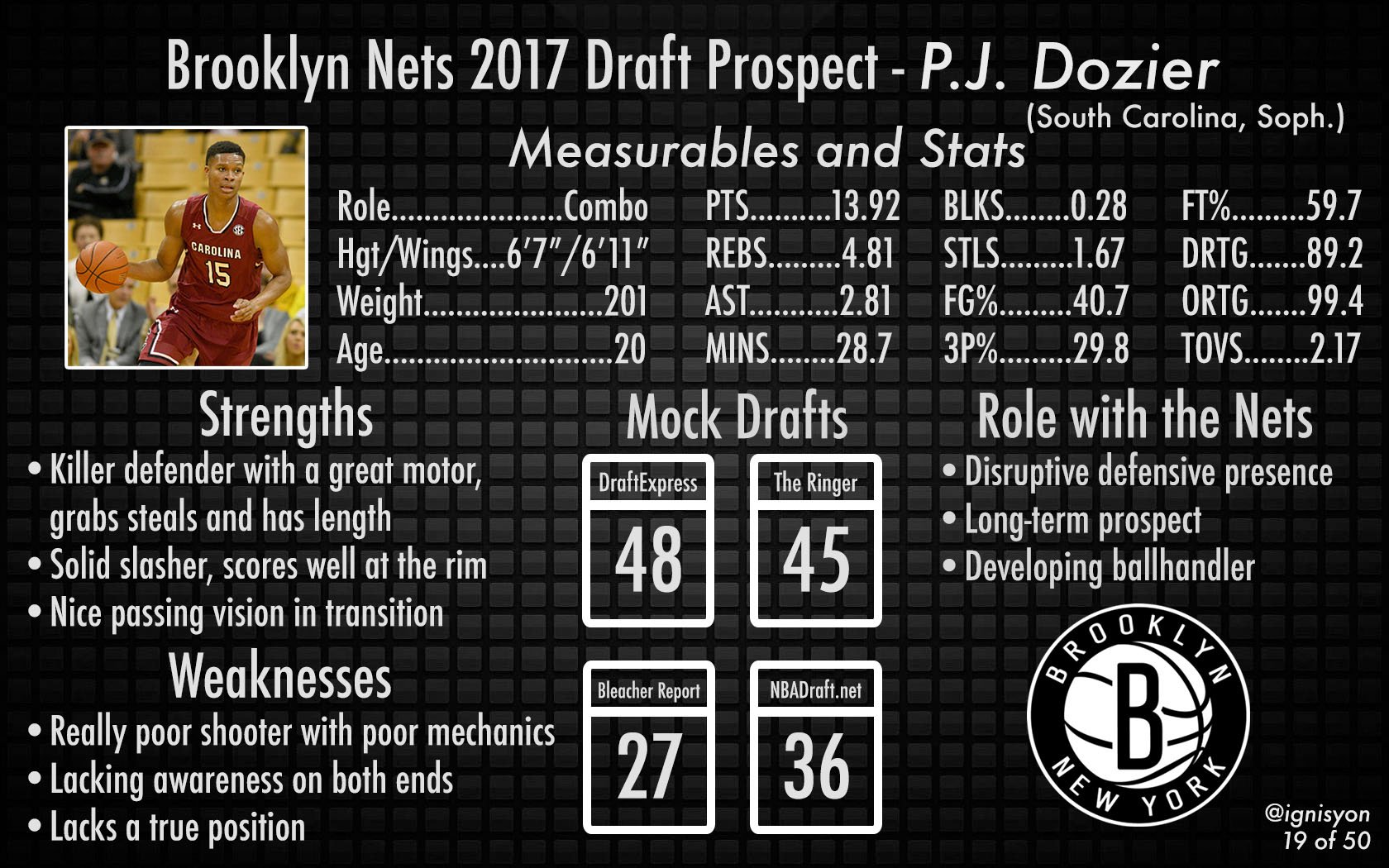 P.J. Dozier may be the biggest wildcard of the bunch in this group of players. At South Carolina, Dozier was a point guard by name, in a system where no player averaged more than three assists. Dozier possesses an amazing physical profile, standing at 6'7" with a 6'11" wingspan – he's a guard, mind you. That ridiculous length lends well to huge defensive versatility – a point guard that could potentially guard power forwards. Dozier's length also helped him get his shot off over smaller opponents, and his athleticism leads to solid finishing at the rim. As a distributor, Dozier has solid fundamentals and is able to find the right player in transition or on the pick and roll.
However, Dozier has some key deficiencies in his game. He was a non-factor as a shooter, shooting 40% overall and 30% from deep. His spot-up jumper is a slingshot that really lacks touch. Many of his misses were ugly. As a point guard, Dozier left a lot of room for improvement, often committing careless turnovers with the ball in his hands, or throwing the ball away on simple deliveries. Additionally, Dozier fouls quite a bit, often relying too much on his athletic gifts, rather than IQ.
For a second round pick, P.J. Dozier has big upside, but has a long way to go to be a productive NBA player. If the Brooklyn Nets decide to select Dozier, he could spend the bulk of his early career in the Nets' D-League affiliate in (sorry, ON) Long Island. Dozier is raw, but his length, athleticism and ballhandling could be refined. Kenny Atkinson, a development guru, will have his work cut out for him if the Nets choose Dozier. But the SC guard's potential is super enticing.
Brooklyn Nets Nuance
So far, the Brooklyn Nets have worked out five of the seven prospects detailed here, excluding Jackson (still recovering from surgery) and Dozier. It may not be a surprise if the Nets draft one of those players, reaching in the first or trading for a second round selection.
For more on the Nets' guard interests, check out the latest episode of the Brook-Lin.com podcast!
Up next: Top Wings in the NBA Draft on The Brooklyn Game