The New York Liberty went 2-0 last week, bringing their record over the past two weeks to 3-1. The schedule will get harder soon, but New York has a chance to earn a couple more wins this week and really entrench itself in the playoff hunt.
So, what happened last week for the Liberty? And what's to come?
New York beats Connecticut 81-77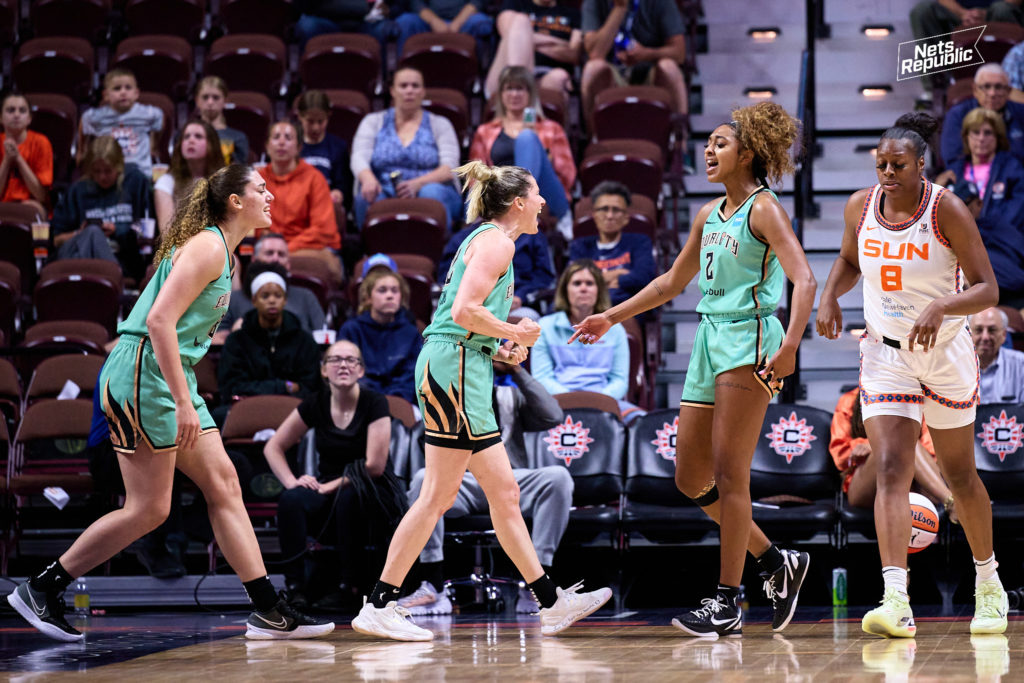 Last Wednesday, the Liberty went on the road to face the Connecticut Sun. The Sun currently sit third in the WNBA standings.
But New York took down Connecticut. Again.
New York is now 2-1 against the Sun and while that one loss was a bad one—92-65 back on May 17—it's clear that New York has figured something out about how to play against Connecticut.
But what is that?
New York showed the energy from the start, winning the first quarter by 10 points. The starting lineup of Dolson, Howard, Ionescu, Johannès, and Dangerfield got an early jump on Connecticut, with the Liberty up 15-11 at the time of the first substitution. The team then went small for a bit and switched to an immediate zone, with Onyenwere coming in for Dolson and Howard sliding down to the five.
New York used speed and shooting to create mismatches against a team that's built for size. With Han Xu unavailable, the team didn't have the bench depth to go with a big Dolson/Han lineup, and I think in this particular scenario, that worked. It's hard to beat Connecticut by trying to match up with them size-wise. Instead, New York played a lot of Ionescu and Johannès with Sami Whitcomb and the team attempted 32 threes. They made 13 of them, while Connecticut only attempted 15 threes in the whole game.
New York survives the AD revenge game
I don't want to talk about what New York did against the Dream.
Instead, I want to talk about what AD did against the Liberty.
New York beat Atlanta 89-77, which shouldn't be a surprise. The Dream were dealing with a lot of injuries, so Maya Caldwell ended up starting and Beatrice Mompremier played 14 minutes. I don't think we really need to address how the Liberty won, other than to note that Sabrina Ionescu had a 21/9/8 game. So close to that third career triple-double, a day after Candace Parker became the first player in WNBA history to notch three.
But, for me, the story of the game was AD.
In 29 minutes off the bench, the former Liberty lottery pick scored a team-high 23 points on 8-for-13 shooting, including 4-for-6 from deep. They also added three rebounds, one assist, and two steals.
AD has been revitalized in Atlanta. Maybe it's just because they're able to get consistent minutes now, but even their shot looks different. Better. More confident.
That shot looks like rookie year AD. It felt like there was a hesitance this season with AD. That they weren't getting shots up quick enough. That's gone in Atlanta. And maybe it's as simple as getting on the floor more, which helps with their conditioning and gets them into the rhythm of things. Maybe it's about having the green light to score, which didn't really seem like it was the case in New York. AD felt like the fifth-option whenever they were on the floor.
In Atlanta, injuries and just the general depth issues there mean that they're one of the primary scoring options. And that's resulted in a new-look AD.
None of this is to say that New York was wrong to trade AD. The team needed the roster spot for Johannès and AD would still be languishing on the bench in New York. The team also would have had to move on from Lorela Cubaj to make that Johannès roster spot happen in that scenario and then would likely still be in a position where they'd have to move AD soon to bring back Crystal Dangerfield.
So, hey—that move was a win-win for both sides. AD gets to play. New York adds Johannès. Everyone comes out ahead.
Next Week in Seafoam
New York's schedule is going to get tough soon. But not quite yet.
Thursday, 6/30: vs Atlanta
Sunday, 7/3: at Sparks
These are winnable games. Atlanta will be healthier than they were in the first meeting, which makes things together, but I'd still expect New York to be favored in that one. Erica Wheeler and Nia Coffey are good players, but they won't make so much of a difference that the Libs would suddenly find themselves as the underdogs.
As for the Sparks, Los Angeles has been feisty lately, including in an 85-77 win over the Storm. They've played a tough schedule and are probably a little better than their 7-11 record indicates. But the team has missed consistency from everyone not named Nneka Ogwumike and the guard rotation is still one of the most confusing things in the league.
So, this could be another good week for New York. Which is good, because after that, the team plays the Aces three times in a four-game stretch. 😬😬😬