Let's set the scene. It's January 2012, a 13-year-old boy with long flowing hair is en route to his first NBA game. He walks into the Prudential Center with his dad, mom, and brother, and impatiently scrambles to his lower-level seat that was purchased through a Groupon deal his dad found. Each ticket package cost just $45 and included a $12 food voucher. He is ready to watch the New Jersey Nets, a team headlined by NBA superstar Deron Williams, rebounding machine Kris Humphries, and sharpshooter Anthony Morrow.
The arena was nowhere near sold out but the fans who were present were passionate and distinct. The Nets would go on to lose that game 94–73 (which would sound like an unheralded final score with the pace of play in today's NBA), but a new love blossomed that day.
The boy had closely followed the NBA the year prior but felt a sense of belonging and happiness when he was in that arena. The red and white jerseys, the intimacy of the team and the community, the fact this team represented his home state of New Jersey, but most importantly the fans. Even though he didn't know any of the fans personally, they really took pride in their Nets even throughout the loss. Down double digits most of the game and yet the fans were still thunderous and enthusiastic. That strongly resonated with him.
That boy is named Joe…yes, that boy was me. What started off as a cheap family night out when I was a mere tween blossomed into a new family, a new brotherhood, a lifelong love and passion.
Now over 10 years after my first game in New Jersey, the Nets have established their niche in Brooklyn, but that first game feeling has never altered. You walk around Barclays Center and it doesn't feel overwhelming. While the arena is crowded and buzzing, it is also intimate and relaxed. If you plan on meeting up with a friend in another section, it isn't a daunting task to navigate your way to them unlike at a football or baseball stadium.
That's one of many beautiful aspects of the Nets fanbase, there is a close sense of family and belonging that you feel when you enter the arena. Of course, there are the Barclays Center regulars who I encounter and chat with on a consistent basis. Then there are some fans I interact with on Twitter whom I've never met personally, they'll ask me "are you Joe?" Then we proceed to have a 15-minute conversation about life and the state of our beloved Nets.
The Nets fanbase is truly one of the most unique in all of sports. This isn't hyperbole, the fanbase is the most diverse fanbase in all professional sports.
Let's dive into a few aspects of the Nets family or fan-mily as I like to call it.
The Broadcast Team
I have had the pleasure of meeting and interacting with every member of the Nets on YES Network broadcast team. That list includes Ian Eagle, Ryan Ruocco, Sarah Kustok, Michael Grady, and former Net Richard Jefferson.
I recall the first time I met my favorite broadcaster and the Nets primary play-by-play announcer Ian Eagle when I was at a Nets game back in early 2019. As someone who did play-by-play for college basketball, I found myself attempting to mimic a lot of Ian's on-air broadcast habits and tendencies. On the inside, I was elated to meet him for the first time, but I wanted to remain calm and composed.
I introduced myself and told him "I'm in a sports broadcasting class at my college and on our first day the professor went around the classroom and asked everyone to tell the class their favorite sports announcer, I said you."
Ian was humbled and responded to me with a joke. "And you got a C in the class for saying that, right?" I shed a genuine laugh then he proceeded to ask me my name.
"Joe" I told him.
He replied, "that'll be easy to remember, you're like Joey Buckets" (Joe Harris).
I had become so familiar with Ian through all my years of watching the Nets on YES Network and NFL Football on Sundays. But on that day, I learned that with Ian, not everything you see on television is an act. He is as genuine and comedic in person as he is when you watch him at home .
Most recently, I had the pleasure of meeting multi-sport broadcaster Ryan Ruocco. If you heard the famous call of the Aaron Hicks diving catch against the Twins, if you're a fan of WNBA basketball, or if you stayed up to watch the Nets 28-point comeback win in Sacramento, you're certainly familiar with the thrilling broadcast voice of Ryan Ruocco.
Ryan found a tweet of mine where I mentioned that he was the last member of the Nets broadcast crew I had to meet. He replied with "let's make it happen Joe!"
After finding a common game that he would be calling and I would be attending, we exchanged a few messages and made the meetup happen. My realistic expectation was that we would get a quick picture together and he would return to prepare for the game. I was pleasantly surprised and jubilant when Ryan walked up to my section and took the time to talk to me as if I was a family friend he had known for years.
We talked about the environment at Barclays Center that season, about his Yankees podcast R2C2, and I even had a chance to ask him a few questions about being a professional broadcaster. I was ecstatic that day because Ryan didn't have to go out of his way to do all that for me. Just goes to show that the admiration and respect the fans have for the Nets on YES broadcast team is wholeheartedly reciprocated.
The Blooming Fanbase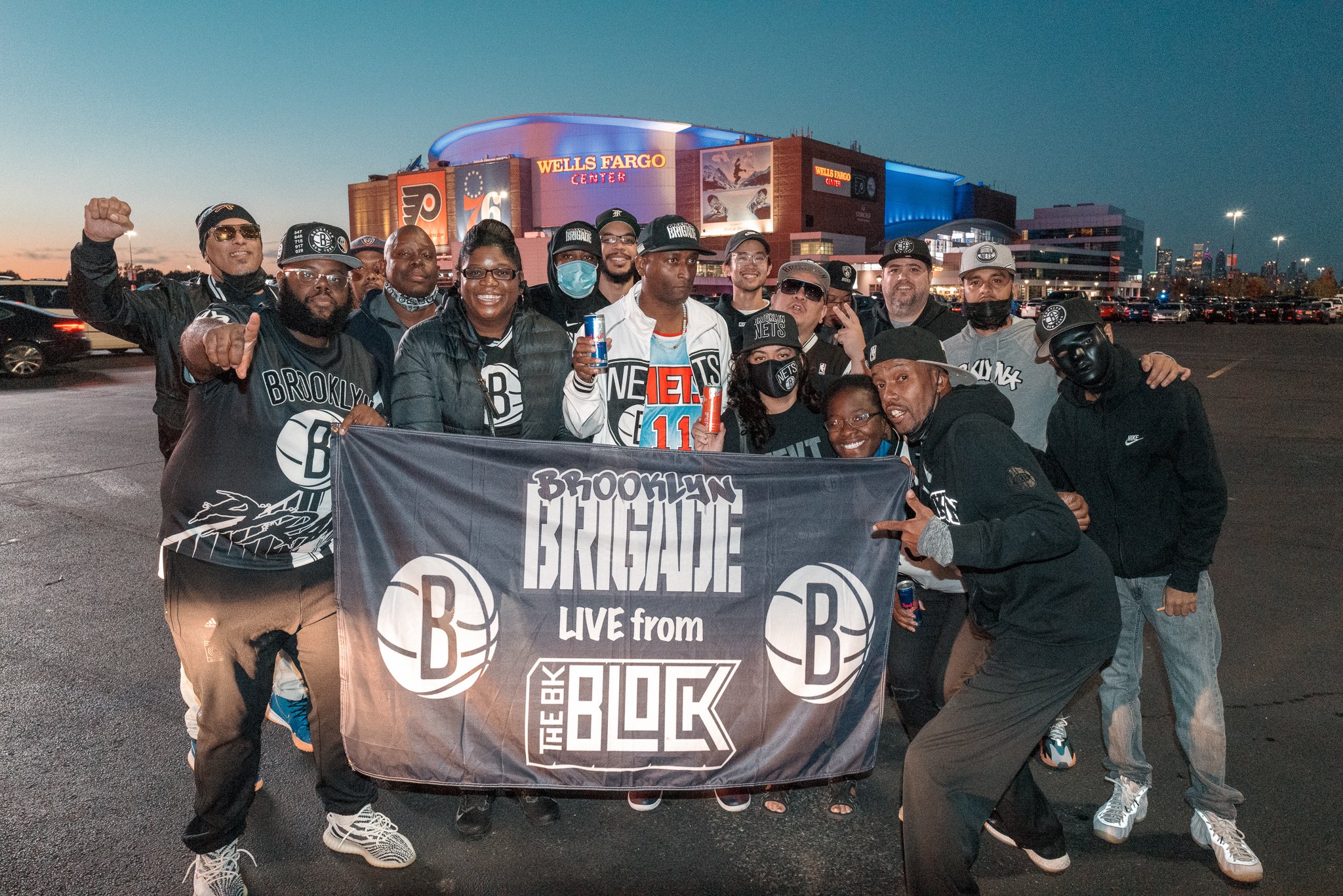 Next, we have arguably the most critical aspect of the Nets family, none other than the passionate and energetic fans. I reached out to a small handful of devoted Nets fans of various demographics to ask them about the origin of their Nets fandom and why they believe the Nets fanbase is unique.
Dawn Risueño: "I became a Nets fan the 90-91 season. My ex-boyfriend was a fan and he took me to my first game. I got to see Petro (Drazen Petrovic) play in person, and I was a huge fan of him and DC3! (Derrick Coleman). I instantly fell in love."
Peter Bishop: "For me being a Nets fan is all about family. I was born in Brooklyn in the 80's. The reason I became a Nets fan is because my mom took me to my first NBA game at Izod because the tickets were affordable, we went with a church group. I got to see players like Drazen Petrovic, Derrick Coleman, Jayson Williams, and Kenny Anderson. I fell in love with the team and the jerseys. The theme of family continued with me as I would take my then girlfriend now wife to many Nets games on dates. The family has now extended to my kids with me taking my son (nine-years-old) and daughter (six-years-old) to as many Friday night and weekend games as I can, they love it."
Jac Manuell: "I became a Nets fan on one of my first trips to America. My brother and I were hanging out at the Nike shop in New York and I was drawn to Brooklyn because of my love for the area, Jay-Z, and the black and white aesthetic. I love the Nets because of my relationships and moments I've experienced with the team. I've had birthdays, formulated a podcast, had endless conversations on Twitter, all in the name of my beloved Brooklyn."
Doug Bearak: "I became a Nets fan the summer they moved to Brooklyn. The idea that my home would have its own team won me over. Brooklyn has been my home for almost 30 years and it means everything to me. To be part of the Brigade is an experience like no other. We stand, chant, and laugh quite a bit during the games. I just love being a Nets fan. Nets fans are so unique because we're everywhere. Our Big three strongholds are in Brooklyn, Long Island, and New Jersey but we're international as well. Welcome to Kings County, home of the Nets!"
International Fandom
With any New York sports team there are bound to be millions of fans outside of the United States. Nets World is more than the team's official hashtag, it's reality.
Jac Manuell is from Australia and even though he loves his Nets as much as the next fan, he doesn't have the opportunity to go to games often or share the same experiences that the typical fan in the New York/New Jersey area does. There is no denying his fandom, a 7 p.m. EST start time means that Jac is watching at 11 a.m. in Australia.
When Nets guard Patty Mills signed with the Nets in free agency last summer, none were more ecstatic than Jac. He is a larger-than-life fan of Mills who also represents his native Australia in the Olympics. J (@JfromBK on Twitter) recognized an opportunity for a kind gesture during the Nets annual practice in the park event in October, an event where the Nets players, coaches, team hype, and fans all show out to Brooklyn Bridge Park and enjoy an open practice free to the fans.
As Patty approached the fans, J was seated in the first row. He took out his phone and asked Patty if he could say hi to Jac Manuell from Australia. Patty being the vibrant personality he is, did just so.
"Jac Manuell, how you doing buddy?"
Jac posted a reaction video on Twitter and appeared as if he was ready to cry tears of joy. A seemingly minor action like a hello from one of his favorite players went a long way for Jac, he was certainly grateful.
Jac made the lengthy trip from Australia to New York back in April to catch a few Nets games and the tourism New York has to offer. I was delighted to finally meet him in person. To a fan like myself who makes it out to many games, it tends to become routine. It was fulfilling to see Jac experience watching Kevin Durant and Kyrie Irving in person for the first time.
Elliott (@NLootin on Twitter) is a Nets fan from Manchester, England. I've known Elliott simply from interactions through Twitter and leaped at the opportunity to meet him when I found out he was coming to New York for a week in December.
Upon talking to Elliott, I was blown away by his story, his devotion to his Nets, and his love for the city. Elliott (35-years old) flew to Brooklyn last winter and was in America for the first time since he was seven. He spent his week walking around New York sightseeing, visiting museums, trying new food spots, and of course going to a few Nets games, both Long Island and Brooklyn.
He had the biggest smile when I was talking to him about his time here. He told me that week was arguably the greatest week of his life. It's truly remarkable how sports and social media bring people together and how the game of basketball is an evolving and global phenomenon.
That's what this family is about. Giving back to the community, reciprocating love to others, and making our home Barclays Center a place where others feel a sense of belonging, no matter if they're season ticket members or visit once in a decade. It spreads as far as the players who even dedicate their free time participating in food drives and community events, most recently Ben Simmons who surprised the Stockton Elementary school by showing up to their field day at Brooklyn Bridge Park.
A Universal Culture Change
The culture of the Nets franchise has changed from top to bottom. The once struggling and bleak Nets are now headlined by superstars Kevin Durant, Kyrie Irving, and Ben Simmons. They are not the cute underdog story they once were.
Part of that culture change has been the fans. On December 18, 2021, the Nets hosted the Orlando Magic. Both teams were completely decimated due to the league's COVID health and safety protocol. The Nets were missing their big three as well as most of their rotational players. They had just the league minimum eight players available needed to play the game. Three of which were rookies (Cam Thomas, Kessler Edwards, and David Duke Jr.) and three of which were just signed to 10-day contracts (Langston Galloway, Shaquille Harrison, and James Ennis III). The team was headlined by Blake Griffin and Patty Mills, both solid veterans, but neither scream "box office headliner" in the year 2021 (now 2022).
The Magic were missing most of their key players as well. The two teams were both so shorthanded that as I was walking into Barclays Center, one of the comedic arena workers was yelling to the incoming fans "hope you all enjoy tonight's matchup between the Long Island Nets and the Lakeland Magic."
Many fans could have sold their tickets and decided to spend their Saturday night elsewhere, but the fans showed up and showed out. As expected, the Nets struggled this night, but the energy in the arena was astonishingly boisterous. David Duke Jr. buried a game tying three late in the fourth quarter of the close contest and the crowd erupted.
While there are a handful of fans who started following the Nets after the "clean sweep," aka the day Durant and Irving arrived in Brooklyn, it was this night when I realized that while we all would prefer to watch the stars flaunt their wizardry, these fans are genuine. They just want to watch an exciting fast-paced game of basketball. As a longtime follower of the team, it was truly a pleasant sight to behold.
Where Brooklyn at Now?
The Nets are not yet the same brand the Knicks are, and that's perfectly fine. Don't hover past the special creation being formed on Flatbush and Atlantic Avenue though. The entire organization from the in-arena workers to the broadcast team to the players to the fans, that's the Nets family or fan-mily I previously mentioned. It starts with the fans but extends to everyone associated with the team in some capacity.
While there is currently uncertainty regarding how long Kevin Durant and Kyrie Irving will remain Nets, one thing remains certain: The organization and their fans share a common goal , to assemble a basketball team that can achieve sustainable success.
The Nets have undergone an abundance of change in the past decade, most notably the move from Newark to Brooklyn. This fall will mark the 10-year anniversary of the Brooklyn Nets. The organization that once struggled to find their footing in the larger-than-life New York market has now established their brand and continues to do so.
Through community and fan events such as practice in the park, the Nets season ticket member party where the team spends time with the fans, local watch parties where fans can gather and watch away games together, and the genuine heart of the players in the area they call home, the Nets have shown themselves to be an organization that cherishes the community of fans who always show up and show out.
That's a claim that both the 23-year-old superfan writing this and the 13-year-old with long flowing hair at Prudential Center who knew little about the Nets could both advocate.