Over Veteran's Day weekend, the hometown kid took over Columbia, South Carolina. Reigning WNBA MVP A'ja Wilson came back to where it all started for her to give back to the community she grew up around. Throughout the weekend, the A'ja Wilson Basketball Camp hosted an array of events for campers ranging from grades 3 through 12.
During this camp, Wilson's foundation, which she runs alongside her graceful parents, Roscoe and Eva, promoted awareness to the struggles of dyslexia, a learning disorder that creates difficulty reading due to problems identifying speech sounds and learning how they relate to letters, numbers, and words. Wilson herself has been open with her own diagnosis, penning a piece back in 2018 in The Player's Tribune where she detailed her journey. "Some people get nervous playing in front of big opposing crowds," she wrote, "but I'd always be terrified by the thought of having to recite a pregame Psalm." In the years since, she's used her platform to help combat the stigmas that she internalized for so long.
The weekend's festivities included the revealing of a refurbished basketball court in Columbia's Hyland Park, a Sneaker and Glitter Gala held at the University of South Carolina's Pastides Alumni Center, and, finally, the basketball camp (held at Wilson's alma mater, Heathwood Hall Episcopal, where she earned Player of the Year Honors and a state championship in 2013).
The basketball camp brought tons of excitement to the kids involved, with no bigger moment than when they first saw the two-time MVP, 2022 Defensive Player of the Year, and WNBA champion walk into the gym to greet them. The campers were awed to see their idol in the flesh, but there was more: she brought some special guests with her to help run the camp. Gold medalist and Dallas Wings star Alisha Gray aka, "Gold Medal Lish." Former South Carolina standouts, Khadijah Sessions and Markeshia Grant, also assisted.
One other prominent figure that doesn't seek a lot of attention, but deserves all of the flowers, is Wilson and Gray's agent, Jade-Li English of Klutch Sports Group. When asked about the importance of representation to both stellar athletes in basketball and business, she eloquently responded. "It's why I do it. It's more so trying to help allow the athlete to use their platform in the best way possible and affect their communities. It brings us purpose and I think that means when it comes to representing A'ja, she's always been someone who's very, very tied to her roots and always giving back to her community. As you know, she is a family girl, so she stayed home for college and brought a national championship and now bringing home a WNBA championship, she is being that representation for all these young girls here in her hometown of Columbia, South Carolina."
While A'ja has done so many things already in her young WNBA career, her goals far exceed just being the greatest basketball player in the game.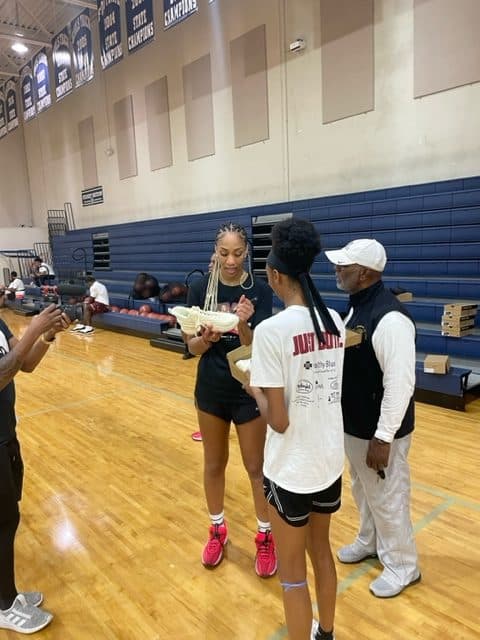 The A'ja Wilson Foundation's mission statement reiterates its goals: to serve as a resource for children and their families who struggle with dyslexia to empower them to reach their full potential through educational programming, workshops, camps, and grant opportunities. I've got just one degree of separation from Wilson, because my aunt, who tutored her during her sophomore and junior years of high school, was one of the people that helped her overcome her struggles. Wilson's face lit up when I told her that, and I asked about how important is it was that her foundation empowered kids to not be afraid in speaking up, to ask for help.
"That's really what it's all about," Wilson said. "I remember growing up, and it was hard to grasp things, and I realized that I wouldn't be where I am if I didn't have the resources, but I also realized that a lot of people aren't blessed enough to to have the resources that I had. So I've always wanted to to use my platform and my force, whatever it may be, to help give these young people the resources that I received, so they can know that it's okay. So they can know that they can still be successful in their fields, whatever that may be. Like you said, it's bringing awareness to everything. I think people don't understand that in some cases, but the little things like this, where we start at the root and planting that seed and watch it grow is definitely been special to watch for us."
Overall, the basketball camp was a complete success. From the camp coaches teaching the fundamentals of passing, dribbling, and shooting, to doing the "Cuff It" challenge as the DJ played "Cuff It" by Beyoncé, which led to the viral dance you've seen on every social media platform. The kids had fun, believe me. That enthusiasm and joy spread throughout the gym. Wilson even pulled her mom, whom we all know as "Mrs. Eva," into the dance. Each camper left with some gifts, including a pair of Cosmic Unity 2s, a high performance sneaker and Wilson's signature PE with Nike. As the event wrapped up, Wilson signed autographs, capping a memorable weekend for all involved.