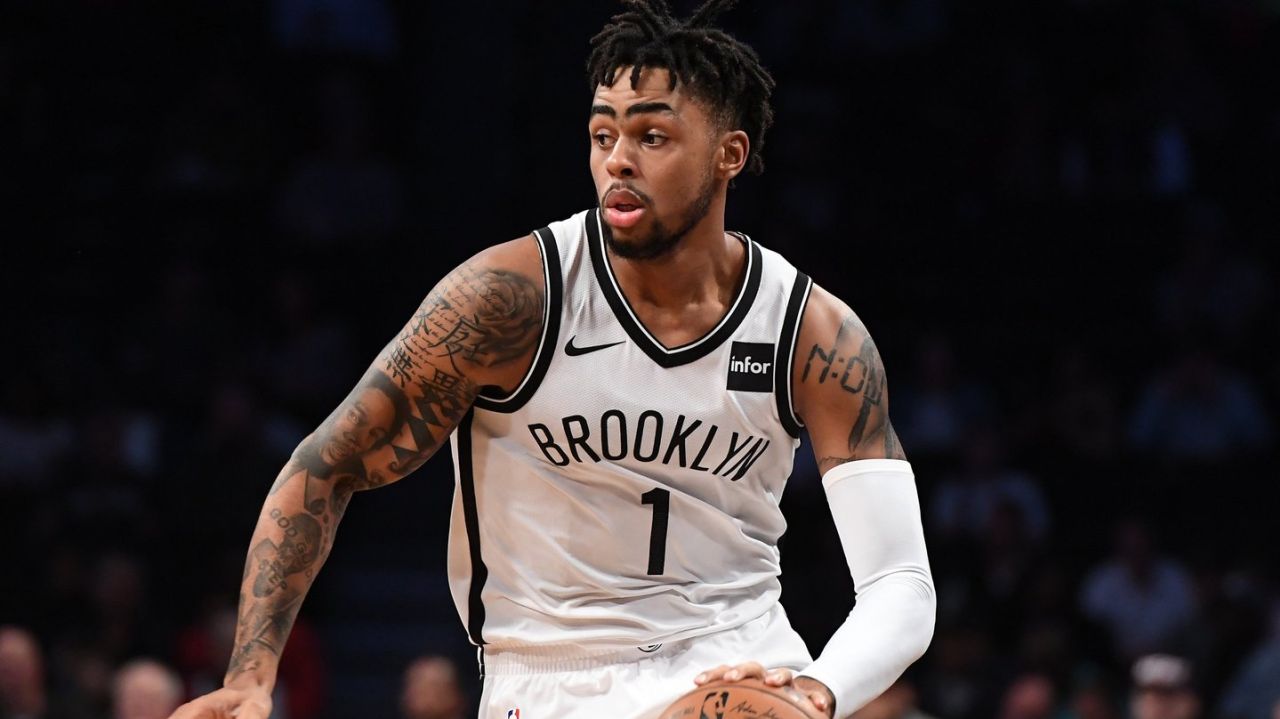 The Brooklyn Nets immediate future is one of the more ambiguous situations in the NBA.
Without their first round pick until 2019, and stuck with a losing roster and no true blue chip talent, it's unclear what they will be in three years. Here are the three most interesting scenarios:
**Due to the fact the Nets don't have a lottery pick until 2019, only players currently in the NBA will be available in this simulation. Also this is just for fun, don't take it too seriously.**
2021-2022 Starters:
Point Guard: D'Angelo Russell Wings: Rondae Hollis-Jefferson, Caris LeVert, Allen Crabbe Big: Jarrett Allen
Best Case Scenario: 54-28, 3rd Seed in the East
Close your eyes and imagine this: 2021 All-Star, D'Angelo Russell grabbing the rebound from another Jarrett Allen block, and sprinting down the court before hitting Rondae Hollis-Jefferson for an alley-pop slam, while Nets' new co-owners Jay-Z and LeBron James lose their minds on the sidelines, for the Nets have just won their first playoff game in nearly 7 years.
Now, open your eyes again. These are your 2021-2022 Brooklyn Nets.
Led by bona fide All-Star and legitimate lead guard, D'Angelo Russell, the Nets are now one of the best teams in the Eastern Conference, and only keep getting better.
Rondae Hollis-Jefferson has finally become an adequate three-point shooter and embodies the model of the do-it-all wing of the future. Ditto for Caris LeVert. Allen Crabbe has also developed into an efficient scorer and serviceable defender on the wings.
Jarrett Allen is a hyper modern big man, capable of terrorizing opponents defensively while shooting threes and diving to the rack offensively. D'Angelo Russell has finally begun living up to the James Harden pre-draft comparisons.
But there's still something missing. While these young players have developed into an elite unit, the Nets are pushing deep into the luxury tax and with Jarrett Allen up for restricted free agency (and a huge payday), it's fair to wonder how stable this team is.
The Nets absolutely have a bright future, but likely won't have enough firepower to put them over the top.
Worst Case Scenario: 25-57, 12th in the East
You don't have to close your eyes for this scenario, because this is who they were just two years ago. Life has gotten bleak in Brooklyn, and their consistent failure to climb out of the basement of the East is starting to frustrate NBA commissioner, Bill Simmons.
D'Angelo Russell flamed out of Brooklyn after a promising first year. Their supposed building blocks like Jarrett Allen, Rondae Hollis-Jefferson, and Caris LeVert proved to be little more than bench pieces. Allen Crabbe has somehow become their leading scorer which has gone exactly as well as their record says.
While in the middle of the 2010's it seemed that Brooklyn might be able to become a quintessential modern NBA team. Yet, reality has fallen woefully short of expectations and Brooklyn's run at the bottom of the NBA standings has even outlasted the Orlando Magic's recent occupancy in that spot.
There's even talk of relocation to cities like Mexico City and Louisville and Nets' fans are disturbingly unopposed. Notably, Orlando and Dallas moved to Seattle and Vancouver, respectively in 2020.
Perchance Brooklyn avoid relocation and finally exit the seemingly-perpetual rebuild. But unless they completely clear house, it's unlikely this franchise lasts until the 2030's.
Most Realistic Scenario: 44-38, 5th in the East
This is easily the least fun option prediction. Yet, on the spectrum from near title-contender owned by LeBron and Jay-Z, to apocalyptic team with imminent relocation plans, this is the most likely scenario.
Piloted by elite coach Kenny Atkinson the Nets have made themselves a viable Eastern conference playoff threat. Moreover with lead guard D'Angelo Russell the Nets become one of the most interesting teams in the league.
Rondae Hollis-Jefferson and Caris LeVert form a terrifying two-way tandem on the wings. Jarrett Allen anchors the team on the less glamorous end, and is effective on the other side.
Brooklyn has modest cap room, lucking out by signing their starting five for now-below market deals and letting go of expensive players like DeMarre Carroll and Timofey Mozgov.
What they lack in secondary stars behind D'Angelo Russell, they make up for in complimentary pieces and that's just fine. They're now consistently in the middle of the pack, and with some more development could have a brighter future than said standing suggests.
If I were a bettin' man (or legally old enough to be), I'd put my money on the 2021-2022 Nets getting to 44 wins with relative ease.