Even if you were not paying much attention to the NBA regular season, even if you just happen to be a casual basketball fan that tunes in for the playoffs, or even if you are here only for the big games and the Golden State-versus-whoever Finals, you must have heard of this.
This story has been around for a few days already. It is probably the most talked-about thing of Round 1 this postseason. It is not that big, yet we all know how the media works and how these feuds sell. Yet, it doesn't even involve two prominent players.
No, I'm not talking about Kevin Durant and Patrick Beverly going against each other from Game 1 of their series. Those two names bear too much weight to be part of this story. Ours are lower than those.
And yes, the title of this article gave you the biggest of clues. This is about Ben Simmons (and lately Joel Embiid too) versus Jared Dudley. More than anything, it is about Dudley though, because those other two merit not many words in these Nets-centric parts.
The Jared Dudley/Ben Simmons Feud
Just in case you've been traveling in outer space and have missed what has happened during the past few days and first four games of the 76ers/Nets Round 1 series, here is a quick summary:
Game 1: Brooklyn goes to Philly and obliterates the 76ers, winning 111-102 with Jared Dudley scoring four points from the bench and dishing four assists.
Game 2: The 76ers tie the series smashing Brooklyn 145-123. Coincidentally, Jared Dudley missed the game with a calf injury, cutting the Nets' chances short.
Game 3: Simmons get mad at Dudley's comments on him being an "average in the half court" player. He scores 31 points without attempting a three-pointer. The Sixers win 131-115.
Game 4: Philadelphia barely wins a controversial game by four points, 112-108. Both Simmons and Dudley (and Embiid) are named starters for the game. Ben scores 15 points in 38 minutes, while Dudley puts up 8 in 19, defends his teammate Jarrett Allen after he's hit by Embiid and exits the game ejected as a hero.
That's basically it. The 76ers lead the series 3-1 and are on top of the Nets, one game from clinching a place on Round 2, as almost everybody expected. Hooray (I guess) for fulfilling expectations!
The most interesting thing of this series, though, is the fact that both Ben Simmons and Joel Embiid seem to know not much about the League and its recent history, especially concerning Jared Dudley's career. Embiid labeled Dudley a "nobody" after Game 4 and Simmons responded to Dudley's words with a silly "that's coming from Jared Dudley, come on" answer himself.
I have always rated Jared Dudley's game. I have always thought of him as a more-than-capable player on the court. Don't get me wrong. We're talking Jared Dudley, not LeBron James or the second coming or Jesus. But in the context he has played during his 12-year career, and with the role he has mostly played for all of that time, not many guys come close to what he has been able to put together.
Let's get a closer look at his accomplishments by navigating some numbers, so maybe Simmons and Embiid put some respect on his name from now on.
Jared Dudley's NBA Career
Starting from the beginning, and as I already said, Dudley has played 11 complete seasons and he is currently in his 12th. The average NBA player career lasts around five seasons. Dudley has more than doubled that mark, and he most probably still has a few years ahead of him by the look of things.
Just to see how unique Dudley is among active players, note this: he's only one of 48 players to have played at least a game for the past 12 seasons. Again, only 48 active players in 2019 have sustained a 12+ season run of playing at least a game, going back to the 2007-08 season. Dudley is one of them. And this is not NBA 2K where you can play a bum forever because it is a videogame. This is an actual, real-world league where you only play if you deserve to play. Not bad.
Let's dig a little bit deeper, though.
Jared Dudley has played 847 regular season games during those 12 years, starting 285 of them. Since the introduction of the three-point shot (1979-80 season), only 140 players have played that many games in their first 12 years of their careers. Of them, only 12 did it while being primarily reserves (less than 35% of games played in the starting lineup). To be in such a small group of players is outrageous.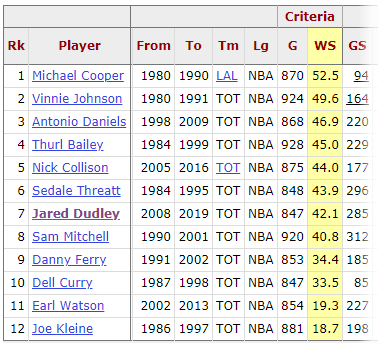 We can get even further, so bear with me.
Jared Dudley has never excelled at anything. That is as true as a fact can be. His best PPG mark was of 12.7 in the 2011-12 season playing for the Suns when he started 60 of 65 total games. Also in 2011 and 2013, he logged 10.6 and 10.9 marks respectively, his best stretch. He dished 2.6 dimes per game in 2013 and his highest rebounding season was the 2011-12 one in which he grabbed 4.6 rebounds per game as a starter in Phoenix playing a career-high 31.1 minutes a night.
Being drafted in 2007, Dudley's first season was the 2007-08. Let's take a look at what active players have accomplished from that summer on. I searched for every player to play at least 800 games played since then to average at least 7.5 PPG (which is just short of Dudley's 7.7 average) during that span. These are the ones: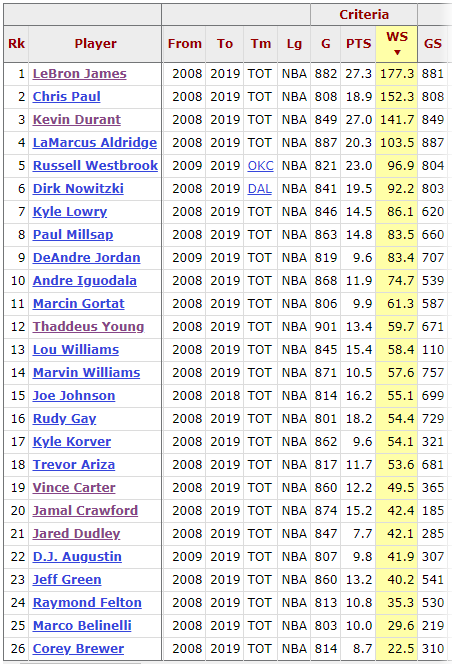 We're talking real, massive, power-bench ballers and role players here. Lou Williams. Kyle Korver. Jamal Crawford. Those are impressive names that have held impressive standards during their careers. Dudley is among them.
Yes, that is right. Only 26 players fit the criteria. Not many fluky names in there, right? Oh, you noticed Dudley has the lowest points per game average. Sorry but I think that only magnifies his contributions on the court. If you're the lowest-scoring guy of this group, yet you have played as many or more games that some of the players in it, while starting way less contest than most of them, you must be doing something right. Also, if we look only at players that debuted in the 2007-08 season (as Dudley did) or after it, the list gets down to only 10 entries.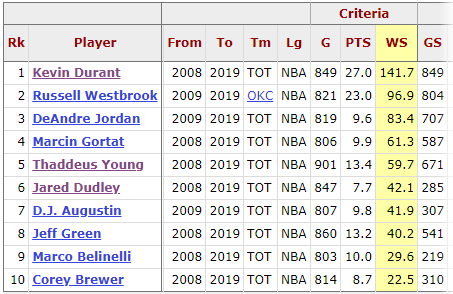 Brooklyn acquired Jared Dudley this past July in a trade with Phoenix. The Nets paid him $9.5 million this season, and I don't think his value is lesser than that. I have already shown you a bunch of numbers that put him in a few short groups of players. He's one of a kind since he entered the league. He's tough, he's fought to keep playing and still be part of the NBA, something not many can say.
Yes, his career averages are not great. Scoring less than eight points per game is not going to put you in any GOAT list. But about the non-numerical stuff? What about the off-court interactions between Dudley and the rest of the Nets (and the Suns, and Wizards, and Bucks, etc… of yesteryear)?
Jared Dudley is the oldest of these Nets. He has been traded multiple times. He has experienced free agency. He has played as a starter, as a reserve, in the regular season and also in postseason games. All of that experience is something Ben Simmons and Joel Embiid don't carry with them and don't seem to appreciate or acknowledge either.
You won't find the suggestions and tips and teaching lessons he has given teammates for years now in stat sheets. Advanced statistics don't have a "grind and grit" measurement developed yet. Maybe one day they will, and Dudley will top the chart. Until then, though, we can only observe and recognize the impact of Jared on and off the court. And by we, I also mean you, Ben and Joel.
(Editor's Note: For more Dudley coverage, check out Nate Wolf's recent piece breaking down his performance from Game 1 of this series)