Kristen Edmonds is home. After a career that took her from New Jersey to Iceland to Russia and back stateside, the 35-year-old free agent has signed a two year contract to bring her back to her roots with NJ/NY Gotham FC. "I love New Jersey," Edmonds told Nets Republic. "I've been all over the world, but to be back home is a special moment."
The Metuchen, NJ native will be joining Gotham FC with a storied pro-career, including a Championship appearance with Kansas City in 2022. A self-described Jersey girl, Edmonds finds this return to her home state to be meaningful in countless ways. Her journey was not linear, and reflecting on the twists and turns has allowed the defender to appreciate what has gotten her to this moment of signing her first contract as a free agent in the NWSL.
A Jersey Girl Comes Full Circle
After playing collegiately at Rutgers, Edmonds tried out twice for the team then known as Sky Blue FC. "The first time, I didn't make it out of tryouts, and the second time, I made it all the way to preseason and was one of the last cuts," she recalled. "At least I can laugh about it now!"
At the time, Sky Blue was part of the NWSL predecessor league, WPS. When she didn't make the team in 2009, ever determined to continue her dreams of a pro-career, Edmonds played for two years with the USL W-League team Hudson Valley Quickstrike Lady Blues in Newburgh, NY. It was there under the tutelage of coach Jesse Kolmel that Edmonds was able to fine-tune her game and find the opportunities to turn pro.
After her two years in the Hudson Valley, Edmonds went on to play professionally in Iceland and Russia. She returned to the NWSL in 2014 and played for Western New York Flash, the Orlando Pride, and most recently the Kansas City Current.
"I soaked up everything I learned from Jesse [Kolmel]'s coaching and I attribute a lot of my knowledge of the game to my two years playing with him," Edmonds said of her time between college and going pro. "Not being a pro [during that time] was hard, but I am where I am because of those years of just grinding. I had a lot of fun, learned a lot, and looking back it was an amazing two years."
A First Time Free Agent
This off-season marks the first in NWSL history where players who have been in the league for at least six years are eligible for free agency. When the opportunity came in from Gotham, Edmonds had an important decision to make. In the end, putting family first and coming home became the biggest factor.
Throughout the process of making the decision on what would come next, Edmonds relished the feeling that she had this say in her career through free agency and that teams wanted her to play for them.
"After all these years and the passion and effort I've put into my career, which has been a rollercoaster to say the least, I feel valued in a way that I haven't really been valued before," Edmonds said. "This is something that I took to heart. For any team to get behind me and want me here meant a lot to me."
Now she looks forward to having her family in the stands of Red Bull Arena week after week, cheering her on like they've done her entire life.
Rebuilding and resetting
For Edmonds, being closer to her family was not the only factor in her decision to join Gotham. As Edmonds weighed her options, the club's dedication to building back up after their last-place finish in 2022 stood out to her as a unique and exciting opportunity to make an impact.
"I love what Yael [Averbuch West] is doing and what the club is trying to do, to build something, especially after not having the best season last year," Edmonds said. "They're trying to reset. Not necessarily start over but hit the reset button and move forward."
During her two years with Kansas City, Edmonds saw a club do the exact same thing. After their 2021 last place finish, the club earned a spot in the 2022 NWSL Championship, but fell to the Portland Thorns 2-0.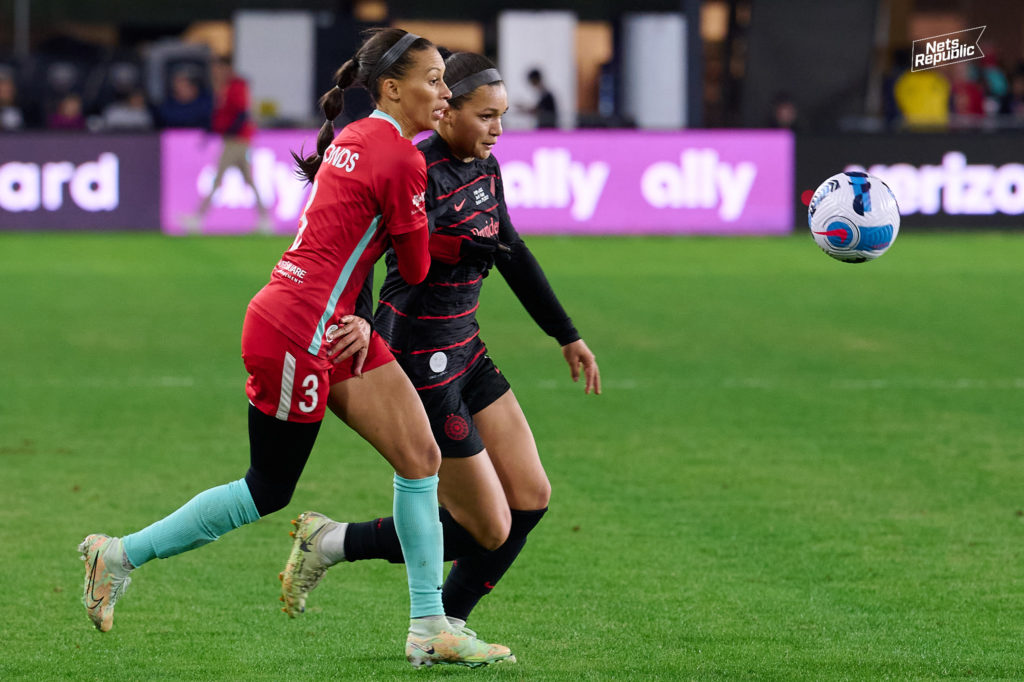 Despite the loss in the final, Edmonds and her teammates at Kansas City were proud of what they were able to build over just two seasons, and she sees Gotham as poised to be in a similar situation, turning around a disappointing year and getting back into the post-season. On a personal level, building something in her home state is even more meaningful, and she's already thinking of how she can apply her experience to create a winning culture.
"It will be really important with new people coming in for us to get a bond both on and off the field," she said. "We have to fight for each other. In Kansas City, that was something we really had. Everyone was playing for one another, not just for themselves. We willed some wins in there. I'm just excited to get with my new teammates at Gotham, a brand new coaching staff, and buy into everything they want to do. Once we all get bought in, we take it from there, and take it game by game."
For now, Edmonds is taking the off-season to get ready for her new adventure in New Jersey. Once she's here, she's ready to move the club forward and allow her inner-Jersey Girl to shine on the field. "I'm coming to Gotham to get some Ws," she said with a smile. "I want to win a championship."