As an incredibly tight NWSL playoff race quickly heads toward a conclusion, the teams still in contention are operating on exceptionally thin margins for error — and Gotham FC's 1-1 draw against Kansas City Friday has brought them a little bit closer to the edge.
Gotham started the night on 32 points and their eyes set on clinching the club's first playoff berth since the league's inaugural season in 2013, but a frustrating performance, which largely lacked the quality in the final third that Gotham had enjoyed during its recent hot streak, was not enough to get them over the line just yet. The club has two more chances to secure the pivotal points needed to clinch during a home-and-away series with Racing Louisville next week — but Friday's result has impeded Gotham's ambition to climb the table into optimum playoff seeding and adds pressure to this final pair of fixtures in a league where no opponent can be taken for granted.
"Our back's against the wall and we need to win," Gotham forward Margaret Purce said of the upcoming matches against Louisville during her post-game comments Friday. Purce scored Gotham's only goal on the night — a piece of individual brilliance that saw her dribble into KC's 18-yard box where she fired a shot past three defenders and into the far-post netting. The goal — her ninth in just 15 games this season — brought Purce into a three-way tie for second place in the league's golden boot race, a fact she said mattered very little in light of the result.
"It's just … it's not done yet. So it doesn't really make me feel anything," said Purce. "I'm disappointed we didn't get the win."
Although Gotham was the first to find a breakthrough, they were never able to really establish control of the match. They didn't possess the ball the way they would have wanted to, completing only 69 percent of their passes, which made for a disjointed attack going forward. Gotham struggled to find success on the wings where they are typically so good at combining play between the lines and making dangerous overlapping runs. But on Friday, Gotham could not find the space, and thus the right pass, to break down Kansas City's defense to find a winner — a consequence both of the pressure KC's players applied in their own defensive end as well as how narrow the pitch is at Legends Field (which traditionally functions as a baseball diamond).
"It's really difficult to play here. The field is so thin, it is so narrow. Compared to where we play at home — I don't know how many extra yards we have on it — but when we walked out there, we were like, 'Whoa, it's tight,'" said Purce. "It's hard to get some shots off. We're a team that likes to possess and play, and [with a narrow pitch] you have to move even more for your teammates. It requires a lot more energy, attention, and focus for the style that we play in. Kansas was fantastic and not letting us breathe. They were on top of everything."
The mistake that cost Gotham two points came in the 44th minute. Defender Erica Skroski was caught in possession at the edge of Gotham's 18 by KC's Kristen Hamilton and attempted a poor last-ditch tackle that took out Hamilton's right leg — a clear penalty that Kristen Edmonds subsequently converted from the spot. Skroski, who was inserted into the lineup in the absence of starting center back Estelle Johnson, off on international duty with Cameroon, never quite looked comfortable playing out of the back. An error never seemed to be far off as she was nearly caught in a similar position in the 20th minute.
All on the Line in Louisville
Now, all is still left to play for in Gotham's last two regular season matches against Louisville. The first and only time Gotham and Racing met this season ended in a 1-1 draw at Red Bull Arena. Several caveats could be made about Gotham's performance that day, including the injuries that left Purce, Paige Monaghan, and Mandy Freeman (all of whom had been consistent starters) on the sideline, as well as the curious decision from then-Head Coach Freya Coombe to try a new formation with three center backs that left the team's back line stretched and vulnerable; but Gotham can't underestimate ninth-place Louisville when they meet at Lynn Family Stadium on Thursday. 
"One thing I think is really special about the NWSL is that on any given day, rank doesn't matter; any team can beat any team, and that's what makes this league so special," Purce said Friday, adding that she expects the series to produce entertaining, high-level matches.
Racing is coming off an emphatic 3-1 victory against Orlando, creating momentum Louisville will no doubt want to build on to close out their first season in the league. Though Gotham will have all of its international players back for the matchups, the club also faces the possibility of taking on Racing without outside back Imani Dorsey, who has been quietly excellent all season, after she was involved in a head collision Friday and subbed off at half time.
Even so, Gotham is still a favorite to earn a playoff spot. There are several scenarios that get them into the postseason: a) winning either of their two remaining matches; b) drawing both matches; c) and if they lose both, Gotham could still make it if either Houston or North Carolina lose or draw their final respective matches.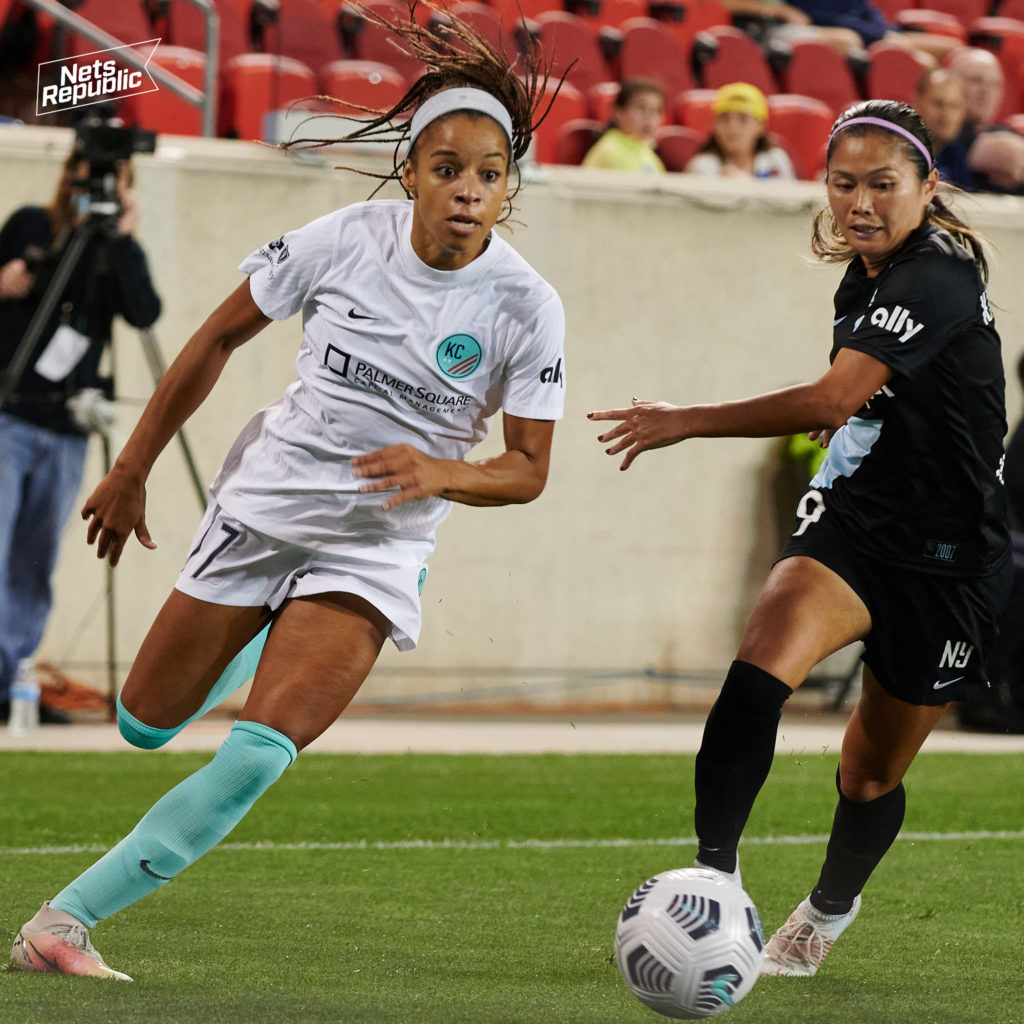 'Praying for this Pressure'
But as Purce indicated Friday, simply making the playoffs is not Gotham's goal; they want to earn the best possible seeding. Taking the six points available could catapult the club into second place and clinch a coveted bye into the semifinals, but it would require a loss from OL Reign when they visit Kansas City next weekend. 
Without total control, the pressure on Gotham has now compounded. But it's a pressure Coach Scott Parkinson said the team should relish after years of languishing at the bottom of the table, and it's a pressure, as a new head coach, that he's long desired.
"When you're someone like me that hasn't been at this level for a long time, and then when you're a player that's maybe been here through the Sky Blue years, you're actually going to bed at night praying for this pressure," said Parkinson. "So for me, the butterflies are an absolute joy. The sleepless nights are what I've dreamed of … this team was at Rutgers University and couldn't win a game four years ago. This ain't pressure: this is joy, this is pleasure. So let's just embrace it."