After a less than stellar two seasons in Toronto which can only be described as a disappointment, DeMarre Carroll regained his peak form in Brooklyn this year and had arguably the best season of his career. Averaging career highs in points, rebounds, and assists per game, he had a fantastic year. But is his sudden resurgence as a key contributor sustainable? Or is it a mere contract-year blip? Let's dive into his season.
Offense:
Shooting Star
Although not necessarily known as a shooter before coming to Brooklyn, Carroll developed into a quasi-marksman for the team this year. With increased opportunity and freedom from the (formerly) iso-heavy brand of basketball of Toronto, Carroll excelled as a shooter.
From day one, he understood his role as an off-ball weapon within the Nets up-tempo offense and thrived within it. His raw three-point percentage won't blow anyone away, but his advanced numbers show that he was an elite catch-and-shoot three-point shooter (38.8% on 4.5 attempts per game). Moreover, a significant portion of his three's (44%) came early in the shot clock. Both stats indicate a level of understanding and comfort in the system that was missing with the Raptors.
Not only was he comfortable taking shots early in the shot clock, but he began actively seeking them out, sprinting in transition to the corners and lurking on the wings waiting for the ball. Watch in the play below Carroll sprints to make the pass in order to set his feet on the wings before draining a three without hesitation:
He's still not on the level of a Bradley Beal or even Jaylen Brown in terms of a pure shooter, but the level of comfort and improvement he's showing should give Nets fans hope for his value next year.
Off The Dribble
As an overall scorer, Carroll made dramatic improvements this year, boosting his efficiency in the pick-and-roll and driving to the rim. He posted career highs in both statistical categories this year as a scorer while at the same time increasing his volume.
Whereas in previous years his impact with the ball in his hands was shaky at best, he became an infrequent weapon for Brooklyn. Just watch how he realizes he has a mismatch with the plodding Damontis Sabonis, and blows right by him for the bucket:
He isn't an efficient isolation weapon, but he flashed his ability to get to the rim (albeit, occasionally).
As for his chops in the pick-and-roll he took a big leap in efficiency this year, scoring a career high .92 points per possession and placing in the 80th percentile in the league. Throughout the year, Carroll demonstrated confidence in the pick-and-roll and was visibly comfortable pulling up for shots like this:
Again he is by no means an everyday weapon as a ball-handler, but he can do more than he could in previous years.
Defense:
Bulldog Energy
DeMarre Carroll had to fight for everything. Although he was a first-round pick, he could barely find the floor for his first three years in the league and regularly moonlighted in the D-League (now, G-League). As such, he plays defense with the intensity that is only really found in players who've been on the fringes in the NBA and stared into the abyss.
Even at age 31 he played defense this year as if his life depended on it, regularly giving his all on that end and calling back to the days when he first made his name in Atlanta. As it turns out, his energy was infectious.
Carroll was a regular feature in the Nets' best defensive line-ups this year and among rotation players, had the second highest swing when he was off the court compared to when he was on it. It's not hard to see why.
For example in the play below, watch how he sticks to Taurean Prince and gets the timing just right for the swat at the end of the clock: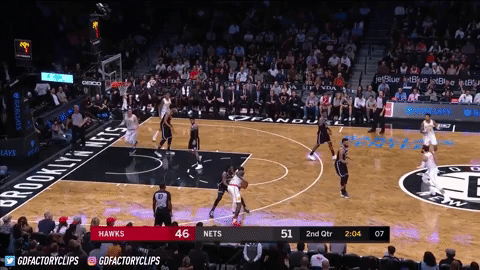 He may be losing a step athletically, but his sheer effort is enough to cover for him, at least for now.
Why He Fits
Although he's a fantastic player defensively on an individual level, it's his impact on the overall team defense that made him worth the money this year. He's one of the more versatile players on the team; with a 6'8″ bulky frame, long arms, and an undeniable motor he can cover one through five passably. For a team with so many defensive holes, having a player like Carroll with the ability to fill different gaps from game-to-game is invaluable.
This year, he spent the entirety of his time defending three-five and proved that despite his age, he can still be an impactful defender in a team setting. Perhaps even more importantly to the Nets, he gives them another switchy wing to throw at opposing teams and can theoretically help the younger players mature on that end.
It's no secret that young teams have issues defending on a game-by-game basis and their effort levels tend to be erratic, but having a steady presence like Carroll to use defensively could help the young team through their growing pains.
The Nets are not good on defense and Carroll isn't in his prime by any means on that end, but his fit with the team is nearly perfect.
Future Plans:
The Nets have a difficult decision coming up in 2018-2019. Carroll made huge improvements on both ends this season, and bounced back to his 2013-2014 form, but given his age (32 years old in July) it's difficult to trust that his sudden improvement is sustainable. He's coming off of a career year in which he proved he still has at least some gas left in the tank, but he's well past this athletic prime. And for a wing who made his money as an athletic defensive stud, it's fair to wonder if he can keep up at that pace.
Offensively, he's never been a consistent shooter season-to-season and even in the clip above against Sabonis, Carroll barely was able to get past him. His age is beginning to show on both ends, and that doesn't bode well for his future.
Next year, Brooklyn could trade his expiring deal to a contending team for a decent haul. Or they could run his contract out and hope to retain him at a discount. They could even just sit on their hands and let him walk in free agency.
Either way, he will be one one of the most fascinating cases in free agency the Nets have had in awhile.
2016-2017 Per Game Stats:
8.9 points
3.8 rebounds
1 assist
40% field goal percent
4.1% three-point percent
76.1% free throw percent
2017-2018 Per Game Stats:
13.5 points
6.6 rebounds
2 assists
41.4% field goal percent
37.1% three-point percent
76.4% free throw percent
Final Grade: B+