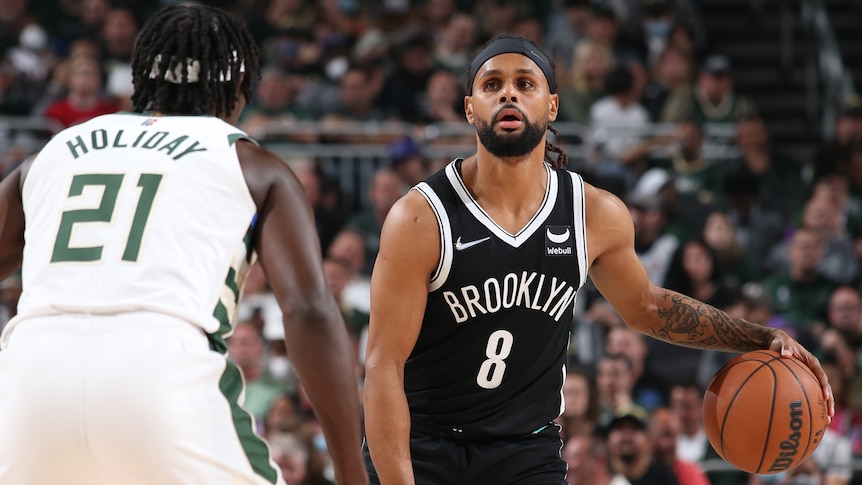 Patty Mills
This past season, a looming question surrounding the Nets was who would fill the backup point guard role that Spencer Dinwiddie played so well? Enter Patty Mills, the veteran native of Australia who is in his 13th NBA season after spending his first two years with the Portland TrailBlazers and the last decade years with the San Antonio Spurs.
Mills will be reunited with some familiar faces, including Nets General Manager Sean Marks (whom he knew from both Portland and San Antonio), LaMarcus Aldridge (a teammate in both Portland and San Antonio), assistant coach Tiago Splitter (a teammate in San Antonio) and Kevin Durant, who raved about Mills on his Instagram live immediately after the Olympics concluded.
He'll play a meaningful role for Brooklyn this season as a steady offensive force who can put up points in bunches, and he's more than capable of running an offense with his ball movement that has been preached and perfected in the Spurs system for years. Mills also provides quality insurance if Kyrie Irving continues to miss time due to the lingering situation regarding his vaccination status. He took no time in wining over Nets fans: in his debut against the Bucks, Mills shot 7-of-7 from three.
How He Was Acquired:
Mills signed a two-year $12 million contract with the Nets in free agency.
LaMarcus Aldridge
Aldridge's first stint with the Nets ended in sad fashion, a sudden midseason announcement that he would be forced to retire with an irregular heartbeat. Over the summer, Aldridge received medical clearance to play again, and he is now hungrier than ever to finish the job he started and win his first NBA championship, an accomplishment that would go a long way on supporting his Hall of Fame probability.
We can expect to see more of what we saw in his brief Nets tenure, just in a much larger sample size. Aldridge gives the Nets a low-post threat on offense and even at age 36 is still a big body that can command a double team from time to time. He gives the Nets the perfect blend of scoring, rebounding, and an underrated aspect of his game, passing out of the post. Aldridge will be most useful against the larger teams in the league, such as the Lakers and Bucks.
How He was Acquired:
Aldridge signed a one-year $2.6 million deal (veteran's minimum) with the Nets.
Paul Millsap
This offseason, the four-time All-Star and 15-year veteran chose the Nets over the Warriors and Bulls. It seems as if Millsap's name has been rumored to Brooklyn ever since former Net (and Millsap's former teammate) Deron Williams was the headliner for the franchise. After netting a large paycheck with Denver over the past few years, Millsap now eats a huge discount to come to a Nets team that has a legitimate chance at winning a title.
Millsap, though 36 and is past his prime, will still play a meaningful role for the Nets. He will not only provide a calming veteran presence to a locker room with lofty expectations but will essentially take on the role Jeff Green played for them last year, the backup forward who can provide scoring and rebounding off the bench and start if needed.
How He was Acquired:
Millsap signed a minimum deal with the Nets in free agency.
Cam Thomas
The Nets were thrilled when Cam Thomas fell to them at 27, as they had him projected in the teens. Thomas averaged 23 points per game (PPG) at LSU and is Oak Hill Academy's all-time leading scorer. For reference, that high school featured NBA talents such as Kevin Durant, Michael Beasley, Carmelo Anthony, and Brandon Jennings.
Thomas was named Co-MVP of the Las Vegas Summer League after leading all scorers with an absurd 27 PPG average and hit an array of difficult clutch shots in the preseason. Thomas has a calm demeanor and poise that you typically don't see from a rookie.
Steve Nash made it known that Thomas will have an uphill battle to earning consistent playing time. Had this been the Nets of five years ago, Thomas would be featured in a prominent role from day one. On a team built with championship aspirations, however, Thomas will have to make the most of his limited minutes and demonstrate his ability to play off-ball and defend at a high level to mesh well with the talents of the stars. During Summer League, he showcased a strong playmaking ability in addition to his three-level scoring.
Despite being one of the most offensively gifted players in his draft class, Thomas fell to the 27th pick because of concerns about other aspects of his game, most notably his efficiency and defense. Expect his efficiency to improve as the spacing in the NBA game is much better than that in college. If Thomas can learn to slow his game down and absorb as much knowledge as he can from the Nets trio of superstars, who knows what his ceiling may be. Thomas certainly gives Nets fans a reason of optimism for not only the present but the future as well.
How He was Acquired:
Thomas was selected by the Nets with the 27th overall pick in the 2021 Draft.
Day'Ron Sharpe
There were rumors leading up to the draft that the Nets were interested in Sharpe, the 6'11 bulky center from North Carolina. While raw offensively, Sharpe is already an established rebounder. He led college basketball in offensive rebounding percentage. After a few Marks draft picks that entered the league and still needed to put on weight (Jarrett Allen and Nicolas Claxton), Sharpe is intriguing in the sense that he already has an NBA-ready build that is ready to bang down low with the bruisers in the NBA.
Like Thomas, Sharpe will have a rocky road to finding consistent rotation minutes on nights the team is at full strength, especially with the depth the Nets now have in the frontcourt. When he gets minutes, he will be expected to play to his strengths and provide rebounding, energy, and hustle plays. That's where Sharpe will earn his wings and establish his niche in the NBA.
How He was Acquired:
Sharpe was selected by the Nets with the 29th pick in the 2021 draft.
James Johnson
Johnson will be an enforcer and bring toughness and physicality to the Nets, his ninth NBA team. His strengths include short pick and rolls and tough defense. He is a black belt in karate and is a teammate players seem to gravitate towards easily. He provides the Nets with much needed frontcourt depth, an area they have lacked in recent years. The journeyman will look to be a consistent presence on days the team may not be at full strength.
How He was Acquired
Johnson signed a veteran's minimum deal with the Nets in free agency.
Jevon Carter
Carter is a bulldog, a tough and gritty defender who picks up full-court and embodies what it means to hustle and play hard. Thus far, Carter has played limited minutes, but has proven to be a capable shooter. If he can find and maintain consistency with his jumpshot, he will make a good case for extended minutes in a backcourt that is fairly thin with ballhandlers.
How He was Acquired:
Carter was acquired by the Nets in the draft day trade that sent Landry Shamet to the Phoenix Suns.
DeAndre Bembry
The signing of DeAndre Bembry was a low-risk move that adds depth to the Nets. In the preseason, Bembry made the most of his limited minutes. He always seems to know where to be and is wise with how he cuts to the basket and finishes around the rim. Bembry's calling card though is his on-ball defense. For a Nets team that was below average on that end of the floor, Bembry will provide a breath of fresh air. In the Halloween victory over Detroit, Bembry put up 15 points and seven rebounds in 24 minutes, all season-highs to this point.
How He was Acquired:
Bembry signed a non-guaranteed contract with the Nets in free agency. His contract becomes fully guaranteed on January 10th, 2022.
Kessler Edwards
Edwards is the first player drafted into the NBA from Pepperdine University since 2006. He brings grit and toughness in a typical three-and-D role. The Nets organization is high on Edwards and some drafts even had him mocked as a first-round pick. Edwards' skillset fits the modern NBA and under the right mentorship system, he may be yet another Sean Marks draft steal.
As a two-way player, Edwards will split time between Brooklyn and Long Island with most of his time being spent on Long Island. He displayed great ability to move his feet and remain active on the defensive end in his limited play during summer league. His potential is certainly visible, but like many other rookies, his talent is still extremely raw. A successful rookie year for Edwards would be to learn from his veteran teammates and the group of coaches Brooklyn/Long Island has on their squad.
How He was Acquired:
Edwards was selected by the Nets with the 44th pick in the 2021 draft.
David Duke Jr.
Duke Jr. will spend most of his time with Long Island. He is a high motor player who finishes around the rim and rebounds at a great rate for a guard. His defensive motor caught the attention of Coach Nash and the organization, as he beat out Nets draft picks Marcus Zegarowski (49th overall) and RaiQuan Gray (59th overall) for a two-way roster spot and will now get to learn from some of the brightest basketball minds in the game.
How He was Acquired:
Duke Jr. went undrafted in the 2021 draft and signed with the Nets shortly after the draft concluded.