An eighteen day reset paid dividends for the New York Red Bulls following their humiliating 3-0 loss at the hands of Orlando City on June 3, returning from the June FIFA international break with a draw and a win at home to Charlotte FC and Atlanta United respectively. It was the most prolific week of the Red Bulls' season as they had multi-goal performances in back to back games for the first time all year, playing Charlotte to a 2-2 draw on Wednesday before cruising past the Five Stripes of Atlanta with a 4-0 win on Saturday.

Wednesday's contest initially spelled disaster for New York when former Maryland Terrapins midfielder Ben Bender scored twice for Charlotte in the opening 45, making Red Bulls' captain center back Sean Nealis look foolish on the first. The New York Red Bulls are not unfamiliar with heading into the dressing room chasing the lead, this being the tenth match out of twenty in which they trailed at the break in all competitions across 2023.
Still missing Lewis Morgan and several others to injury, the Red Bulls were once again without many key players including first-choice center back Andres Reyes, who received a red card in New York's previous match against Orlando, and left back JMi Tolkin received a call up to the United States to play for BJ Callaghan's squad at the 2023 CONCACAF Gold Cup, as did striker Cory Burke, who faced off against Tolkin on Saturday night for Jamaica.
However, a pair of halftime changes in DP striker Dante Vanzeir and homegrown midfielder Daniel Edelman, who featured in his first match since captaining the United States at the U20 World Cup, changed the complexion of the match immediately, leading to two goals within the first 13 minutes from Vanzeir and makeshift fullback Cameron Harper. Head Coach Troy Lesesne spoke of the halftime improvements after the match, telling the attending media that "we have to take accountability for that performance, and we put ourselves in a really bad position. So before I can even talk about halftime, I have to say that first and I was very direct with the group post-match; I was very direct with the group at halftime. We made a couple changes and I think that had something to do with giving a little bit more life and energy."
24 year-old Red Bulls second choice center back Hassan Ndam, who is enjoying the most first team football he's ever seen at the MLS level, echoed a similar sentiment about the team's attitude in coming back down 2-0, saying, "our character was top class. We saw Dante [Vanzeir] come in, we saw all the subs coming in, they worked hard to help us come back in the game… Unfortunately we couldn't win the game, but everybody was on top in the second half to make sure that we had a good performance, a good mindset, and a good mentality to get something out of this game."
Lesesne once again had many restrictions on player availability ahead of Saturday's match against Atlanta, with Vanzeir replacing Reyes on the list of unavailable players after picking up a hamstring knock in his 45 minutes against Charlotte. Despite being without their two premier strikers in Vanzeir and Burke, the Red Bulls unleashed a stampede of goals, all four of which came from central midfielders. Edelman, who Lesesne felt "had something to prove" after coming off the bench against Charlotte in the previous match, got the first with a thunderous weak-foot strike off of Harper's throw-in in the 32nd minute. The Warren, NJ native, who is not known for his goal contributions but instead for adhering to the "little things" in the middle of the field as he'd say, helped New York find the second by pressing and intercepting an errant pass from Atlanta's defense to initiate Cristian Casseres Jr.'s 45th minute goal, a tally with the Red Bull stamp of approval.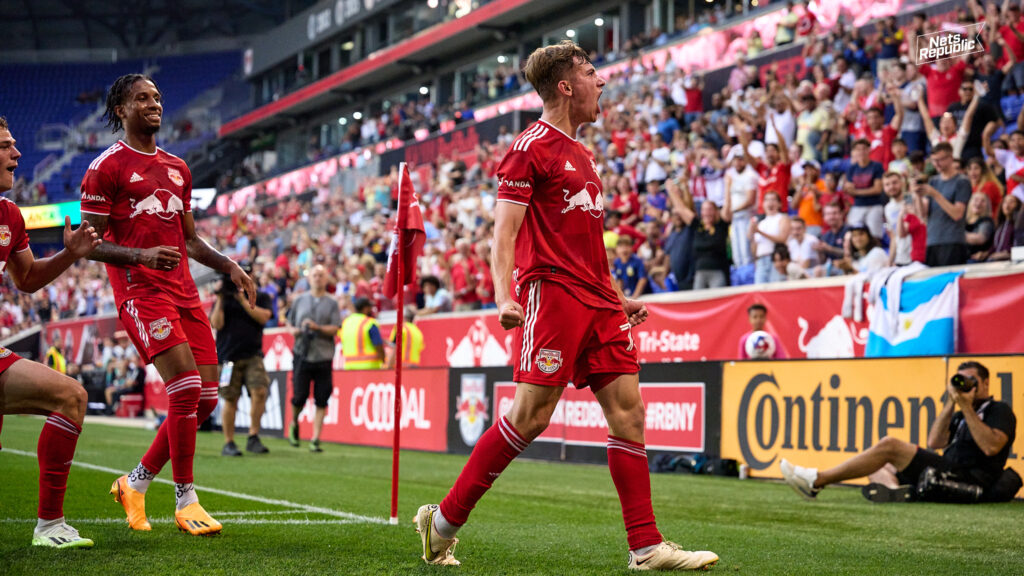 For the first time all year, New York had a two-goal lead at the break, something Nealis was determined not to let the team take for granted. "I think we saw what happened in Charlotte last [game], they were up 2-0 and we came back. I think we didn't want that to happen to us and we were pushing for that next goal. Thankfully, we got that when Frankie [Amaya] came in, all the subs that came in gave a big boost."
Amaya's second half influence couldn't be understated as the 2019 MLS Superdraft first overall pick netted two in a matter of 13 minutes for the first brace of his career – once again from a deep-lying central midfield position. Importantly, in the minutes leading up to Amaya's entrance to the game in the 77th, New York continued to show maturity and discipline in their game management when leading since Lesesne's assumption of the head coaching role. Atlanta's attack, which features the most goals scored in MLS this season (37, tied with Columbus Crew) and Golden Boot favorite, striker Giorgos Giakoumakis, was kept quiet all night long by center backs Reyes, Ndam (who stepped on for Reyes at halftime) and Nealis, who returned to his season-long form after a shaky first half performance against Charlotte.
A cool, calm and collected second half with a couple of nifty goals from Amaya – with help from fellow substitutes Omir Fernandez and 18-year-old attacking midfielder Ronald Donkor, who almost certainly earned more first team minutes with his brief but lively cameo – confirmed what Red Bulls fans have come to expect against Atlanta United at home: a win. The Red Bulls extended their all time unbeaten record at home vs the Five Stripes to five wins and two draws in seven matches.
Pushing up to 11th in the Eastern Conference, three points off of nemesis DC United who hold the 9th and final playoff position, New York will travel to Lower.com Field in Columbus to face the Crew on Saturday, July 1. 19 matches in, the Red Bulls continue to seesaw back and forth between quality performances and head scratching losses, but a dominant win against a strong team that they considered a fierce rival just a few years ago can and should provide them with enough confidence and momentum to fuel their continuing charge up the table.