In 2020, Ifeoma Onumonu signed with Sky Blue FC. Since then, the 28-year-old has seen the club rebrand to Gotham FC, reach the 2021 Challenge Cup finals, and earn a trip to the 2021 playoffs. The striker was even named to the 2021 Second Best XI. In Gotham, Onumonu sees a club that is dedicated to progress, even with their last-place finish in 2022. It is because of that dedication that Onumonu decided to make a commitment of her own, signing a three-year deal with Gotham FC.
"Gotham presented me with an offer that showed me the club was committed to me long term and they saw my value past what I would call a hiccup for this club and for myself," Onumonu told Nets Republic. "That's what stood out for me, and just how much we had grown since I've been here."
Since joining nearly three years ago, Onumonu has seen the club make strides in all areas. From an upgrade in their training facilities to increased turnout at games, the forward has experienced firsthand the support from not only the organization but from Gotham fans. "My heart is here. I wouldn't have chosen to sign a long-term deal with any other club."
Staying Present
Gotham FC had a tough 2022 on the field. The team lost 17 games, won four, and tied one. It was a difficult year for everyone, and as Onumonu explained, their poor results weighed on their shoulders as the season went on. 
Onumonu currently sees a high-performance therapist who helps her with her mindset in and around the game. "It is very hard to separate your past performances when you're going into a new game," she said. "In therapy one of the things that we work on is staying present, but it's incredibly hard to do."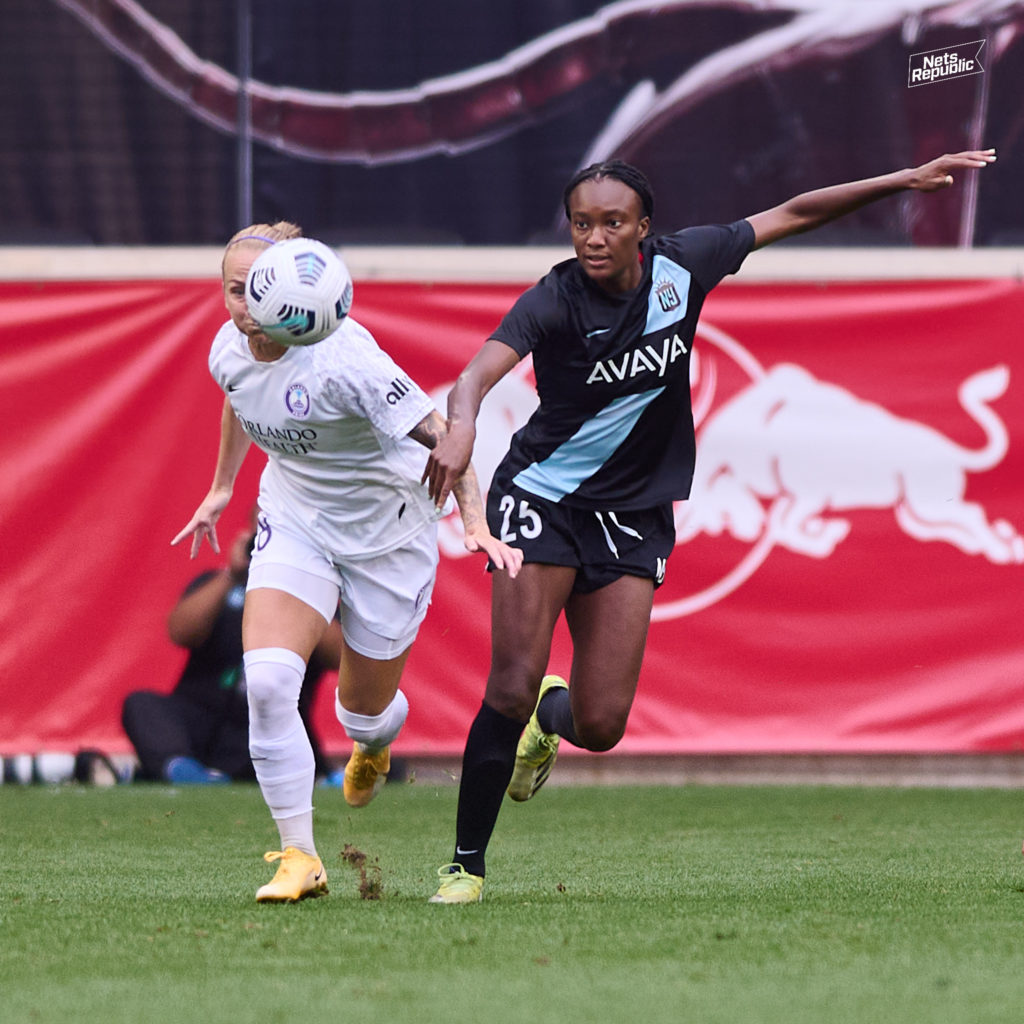 As Gotham prepared for the last game of the season at home against the top-of-the-table Portland Thorns, the team asked themselves one important question: "How do we want to leave this season?"
"To completely forget about [past results] is incredibly hard, but it was the last day of the season, and it was one of our best performances of the season," Onumonu said. "There was really nothing to lose here! All the expectations of the season were gone."
Going into that final game, Onumonu's own mentality was to get as much out of that game as she could, show up for her team, work hard, and end on a high note. The team went on to fight back to a 3-3 draw, including a goal from Onumonu herself, denying the Thorns the coveted NWSL Shield.
"It showed us what we're capable of when we're playing free and playing our best," Onumonu said. "It gave me hope looking into the future." 
The season presented many challenges for the players on the field, and in working with her high-performance therapist on staying present, Onumonu has become keenly aware of how all aspects of life can filter into on-field performance. "I wish it didn't, and sometimes fans wonder why a certain person isn't playing well, but there could be reasons outside of the sport," Onumonu explained. "Life exists outside of the sport, and there's nothing wrong with that. Being able to play through tough moments is expected of us, so it's about finding ways to be able to do that but give yourself space to sometimes feel crappy."
For Onumonu, 2022 presented an additional challenge that had her questioning whether she was capable of performing at the highest level. "My therapist had to bring me back to the present and say, yes, I'm not playing how I want to play, but it doesn't mean I'm not capable," Onumonu said. "I really had to sit with that thought of why I came to that conclusion and how I could get out of that and lose that thought."
As Onumonu and the team prepared to go into that final game against Portland, she wanted to prove to herself not only how good she was as an individual, but how good Gotham can be as a team. She believes that the positive result will now allow them to go into the off-season not feeling miles behind where they're supposed to be, but rather with the mindset of how to continue to perform at that same level. 
"That result showed me that we can compete with the best teams in this league," Onumonu said. "We're supposed to be one of the best teams in this league, so how do we get there every week? That game [against Portland] showed us that we're capable." 
The International Stage
In addition to getting ready for a new season with Gotham, Onumonu is also preparing with Nigeria for the 2023 Women's World Cup. "There are nerves, but there's still excitement for what we're capable of achieving," she said of the Nigeria National Team. "Being with Nigeria has opened up another level and aspect of soccer that I was not able to experience before because I didn't play internationally. It's been fun so far, but it's been challenging as well."
Part of the challenge for Onumonu is no longer getting the same rest during international breaks as she did before. This adds an extra level of focus, but she's up for the challenge.
"Going into 2023, I'm preparing for the season with Gotham, but also preparing for a potential World Cup! It's something to work towards that motivates me every day," Onumonu said. "It helps me keep in mind and focus on what is on the table for me and just go at it with excitement and a bit of anticipation, too." 
Nigeria was drawn into Group B for the World Cup along with Canada, Ireland, and Australia. The group is widely considered to be one of the toughest in the tournament, but Onumonu is confident in her team.
"We played against Canada this year. It was a good game, a learning game. We played against the U.S. and Japan, too, so we're aware of what teams look like at the top level," she said. "We're capable. We have some things we need to work on and perfect, but we have a very, very good group. I think people will be surprised by us."
Finding a Home in Gotham
As Onumonu sees it, the New York/New Jersey area is a hub of diversity. Gotham as a club has embraced this and has been a league leader in celebrating diversity in all its forms.
"We've done things to honor everyone, from Latinx Night, to AAPI month, to Black History, to the LGBTQ+ community," Onumonu said. "The way Gotham makes sure they celebrate everyone and our differences really did influence my decision to stay. I think a lot of that can get forgotten depending on what market you're in."
Onumonu is ready to have Gotham's on-field results match with all that the club has already been able to achieve off the field. Although it's early on in the offseason, Onumonu is already thinking of ways she can have an impact next year, making a play to win the Challenge Cup, and ensuring that when people think of Gotham FC, they think of a winning team. 
"I want preseason to set the tone for the season. I want to get out and compete and get some wins," Onumonu said. "Let's erase this [negative] history. Sky Blue sort of had that, and I don't want that to be part of Gotham's identity. Before this season, we were in the Challenge Cup playoffs both years. That's where we want to start, and then the sky's the limit from there!"
Although it is impossible to predict how things will end up, Onumonu is focused on always bringing her best to Gotham FC. "I want to continue building here and get more out of this club," she said. "I want to help leave the club better than I found it, and I'm excited for the future."