One week ago, the Liberty looked like they were heading for the WNBA's worst record. The team was 1-7 and just looked lost at times. Add in Betnijah Laney's injury situation and it was fair to wonder if the Liberty would win a basketball game again.
But hey, things can change. New York inserted Crystal Dangerfield into the starting lineup and the team went 2-1 last week, beating Indiana and Washington before losing to the Lynx.
Suddenly, New York is right back in the playoff hunt, as the eight seed is up for grabs. The Sparks have the advantage right now, with two more wins than New York, but the Liberty are one more good stretch away from contending for that spot.
The team has also likely played its way out of having the No. 1 lottery odds. The team needed to be six games worse than the Fever to even things up, since lottery odds are based on the last two years. But with both teams sitting at three wins now, I don't see a scenario where Indiana wins six more games from this point forward than New York does.
Anyway, let's talk about some of the notable things this week.
Sabrina at the Two: It Works!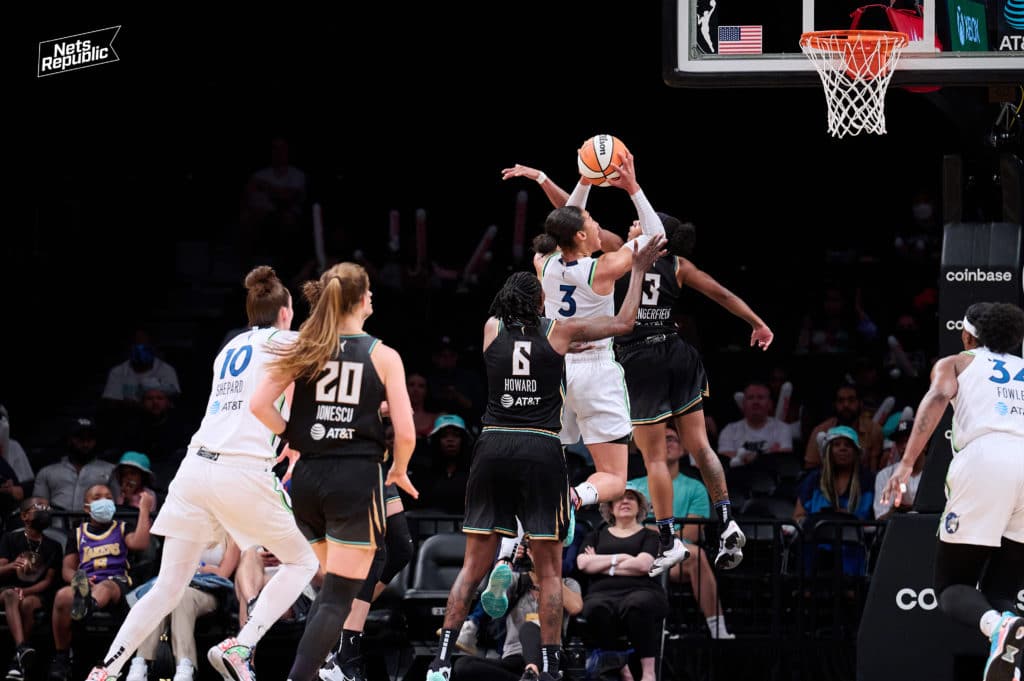 If you read this column, you'll know that I talked last week about Sabrina Ionescu playing the two. If you didn't, here's part of what I wrote:
But you need a quality starting point guard. It's telling that her most efficient season at Oregon came in the year that Minyon Moore was a Duck; putting Sabrina at the two allows her to focus more on the things she's really good at, plus it would mean New York would have arguably the best passing shooting guard in the league.

Of course, the roster construction of this team right now limits their ability to do this. The only point guard on the roster is Crystal Dangerfield, who is on a hardship.

The limited sample size of Ionescu and Dangerfield playing together is encouraging… sort of. In 31 minutes, the team has a -9.99 net rating when they share the floor, which is bad, but not as bad as the -15.69 net rating when Ionescu is on the floor without Dangerfield.
Sandy Brondello obviously reads the column (joking, joking), as the Liberty moved Dangerfield into the starting unit this week.
By getting Sabrina off the ball more, she's been able to thrive. She's shot 40% or better in the last three games, including two games shooting over 50%. She had two such games all year before this week.
With Dangerfield taking on some ball-handling duties, Ionescu has been freed up to focus on scoring more. She's taken 21 threes over the last two games, for instance. And it's not like the Liberty have taken the ball out of her hands: she had seven assists against the Lynx while also shooting 13-for-24 from the floor. It's just that adding someone else beside her who can pick up some slack has been a huge help.
Digging into the numbers, the Ionescu/Dangerfield duo now has a positive net rating per PBP Stats, with the team outscoring opponents by 0.50 points per 100 possessions with those two sharing the floor.
To put that into context, the team's net rating with Ionescu on without Dangerfield is -12.88.
Defensively, the team has played about the same with Dangerfield on—which is impressive, as one of the big knocks against her is her size, which definitely impacts her upside defensively.
But offense has been the big difference-maker. With Ionescu on the floor without Dangerfield, the team scores 92.64 points per 100 possessions, which would rank ahead of only Atlanta (and ahead of New York as a whole, which has a 90.0 net rating). With both together, the team scores 103.72 points per 100 possesions, better than every team except Connecticut and Vegas.
Basketball is a complex sport, but sometimes you have to keep it simple. In this case, it's obvious New York needed another ball-handler and it's obvious why when you look at the results.
And the impressive part of this is that it's happened with Dangerfield shooting the ball terribly. The Lynx game was the first time since joining New York that Dangerfield made more than one shot. She's shooting 22.6% in her six games with New York.
This is why I think New York needs to address point guard in a real way this offseason. The team is finding success even with a player who isn't providing much of anything in terms of scoring. If New York can add a ball-handler who actually scares defenses, this team can take another step forward. I personally don't think that player even needs to be a true point guard—heck, trade for Chennedy Carter, who the Sparks aren't utilizing correctly, and see if the Sabrina plus a combo guard route works. But you need someone who can take pressure off of SI.
Marine Johannés Time?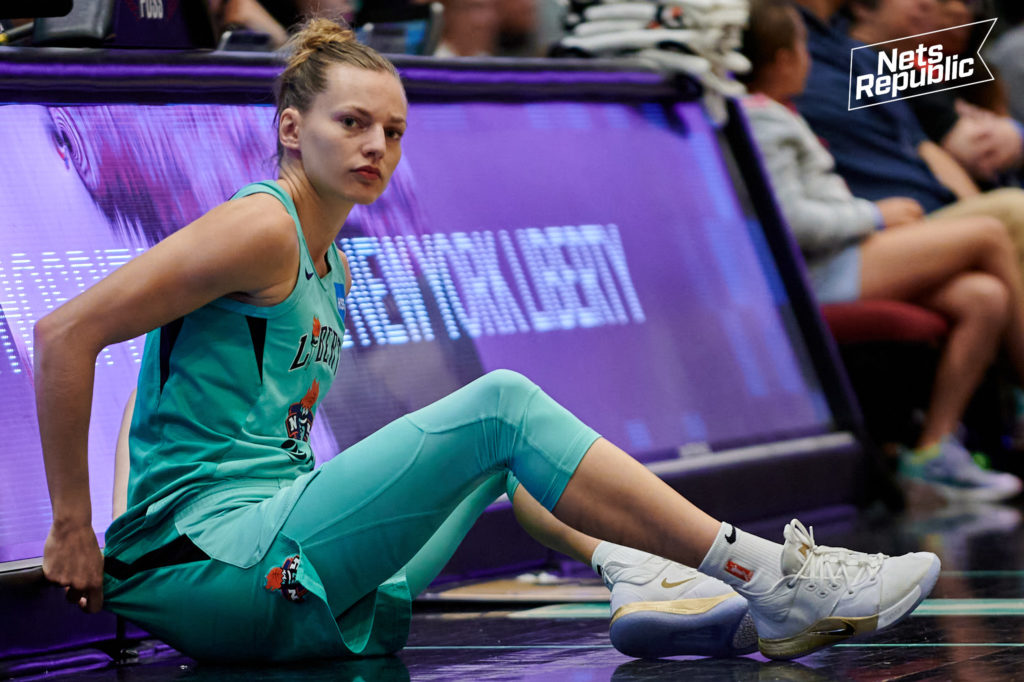 The French playoffs are over. Now, we turn our attention to a player who could theoretically fill that need for a playmaking guard beside Ionescu: Marine Johannés.
The 27-year-old guard last played in New York in 2019, making 19 appearances off the bench for the Libs. She averaged 7.2 points and 2.4 assists per game while shooting 43.6% from the floor and 37.9% from three.
I'll save writing a lot of words over Johannés until we actually know if she'll be joining the team. But for now, I'd just like y'all to watch some clips of her from over the years:
Johannés would be a great addition to this team.
AD's Situation
If Johannés comes over, it's likely going to be at the expense of AD. They've been on the fringe of the rotation all season and are shooting 17.6% from the floor.
One thing I've noticed is that defenses can just ignore AD. During the Fever game, I decided to keep a close eye on AD when they were on the court, and there were times where the defense would just sag so far off on them when they were in the corner.
There were times that the defense not paying attention to them worked:
But overall, it just consistently feels like AD isn't threatening defenses. It's been great to see them back on the floor after dealing with Long COVID, but it's clear that they aren't the player they were as a rookie.
For more on AD, check out this great piece from Jackie Powell at The Next.
Next Week in Seafoam
Three more games coming up for New York this week:
6/7: vs Lynx
6/10: at Fever
6/12: vs Sky
Despite losing 84-77 to Minnesota in the team's last game, the Liberty have a chance to go 2-1 again this week. The Fever game is especially winnable: New York has a win and an OT loss against Indiana this season.
The Sky game will be tough. The whole "starting Dangerfield and Ionescu together" thing will help the team eke out some of these close games by diversifying the offense, but New York lost 83-50 to Chicago earlier this season. A lineup change doesn't negate the fact that the Sky have a big talent advantage, especially when it comes to the size and skill in the frontcourt.