Previously, I profiled some high upside guards the Brooklyn Nets could select in this year's draft. Jawun Evans and Josh Hart are a few that the Nets could consider with the 22nd and 27th picks. But the Nets do have a second round pick – yes, it's the 57th pick, but Sean Marks seemingly is considering every option. Additionally, the Nets have the cap flexibility and assets to acquire an additional second round pick or two.
Several of the guards mentioned here have worked out with the Brooklyn Nets in the past few weeks. For many of these prospects, their profiles have fallen due to rawness, lack of exposure or limited games. But still, every pick counts. (Insert blurb about Draymond Green and Isaiah Thomas here.) The Nets need talent, and will look everywhere to find players for the team's future. It all starts with the draft.
Let's get to it! These are broken up into these players' potential roles in the NBA.
Floor Generals
Frank Mason III
The Kansas guard is the ideal four-year player. Mason was productive with the Jayhawks, leading his team in points and assists, notching a consensus All-American selection. He was a ferocious player driving to the rim, attacking with neat tricks around the basket. He shot impressively from the perimeter and from three, well above league average. As a floor general, Mason plays smart. He took care of the ball, with a solid assist-to-turnover ratio of 2.13. On both ends, Mason plays with intensity. He was a pesky defender, often pressuring opponents in the backcourt. On the offensive end, his battery always seems on.
But Mason is another undersized point guard, which dampens his impressive senior year production. Of course, undersized point guards can find a role in the league, but their flaws will continue to be exposed. Mason was a score first and score second point guard, despite his solid ballhandling. That could relegate him to a bench role only.
With the Brooklyn Nets, Mason's aggressiveness and fire would be a welcome addition to the team's bench. A mature scorer, Mason lacks height, but makes up for it in efficiency. His measurements may not scream "Brooklyn Nets," but his maturity, poise and production do.
Monte Morris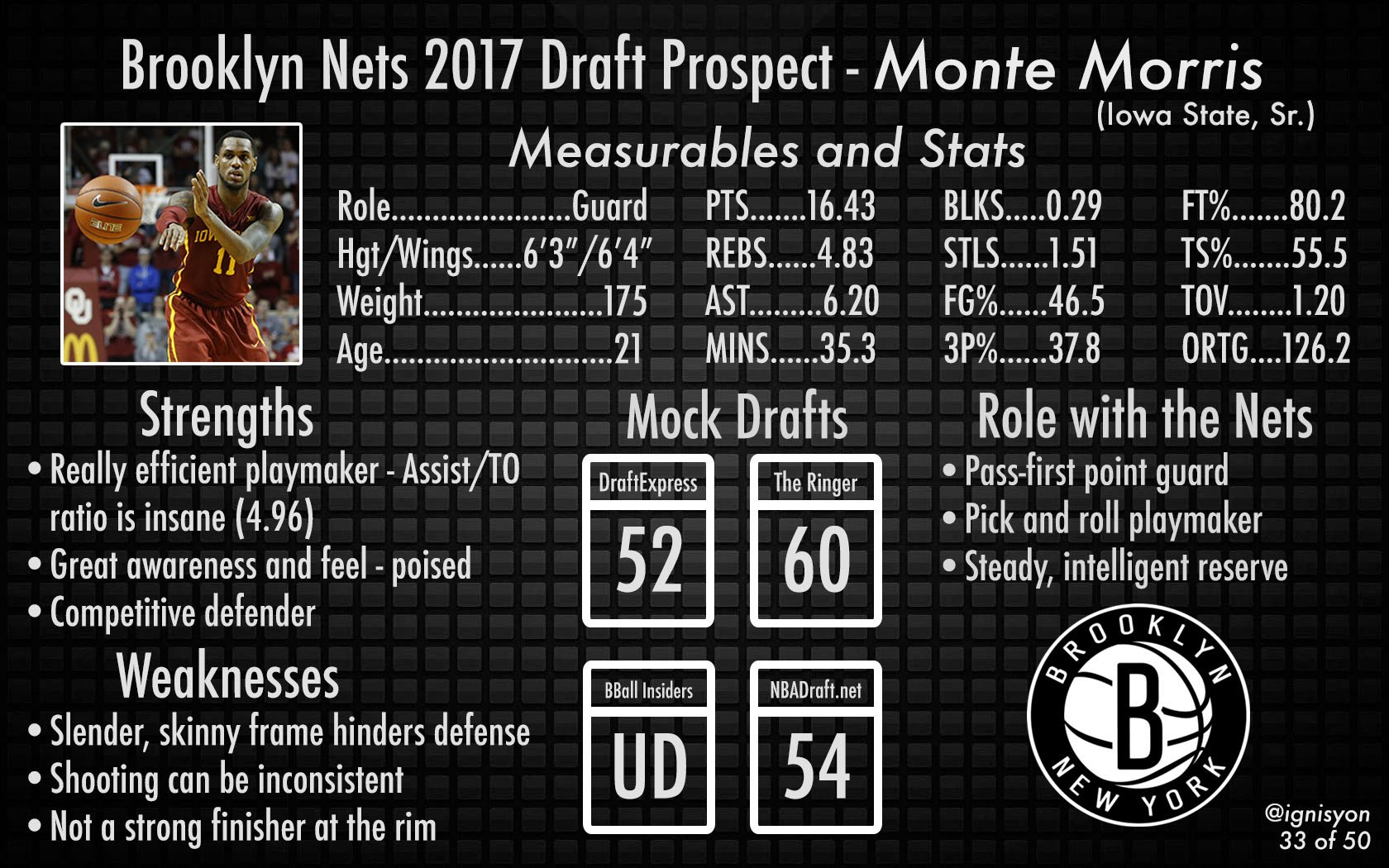 Morris is the purest point guard on this list. At Iowa State, Morris excelled at orchestrating his team's offense, posting an absolutely ridiculous 4.65 assist-to-turnover ratio. So not only was he an effective passer, but he took care of the ball as well. He was a pick and roll expert, seemingly adept at every little nuance in the NBA's most popular play, both as a scorer and as a distributor. Morris also was a steady shooter throughout his college career.
His steadiness is his biggest asset, but also his biggest flaw. Morris doesn't have the "wow" factor of other guards, which made his overall highlight reel rather bland in comparison. Defensively, Morris played aggressively, but sometimes to his detriment, often closing out too hard on shooters. Additionally, Morris' measurements may be a detriment. While he does possess solid height and length, his skinny frame may prevent him from switching on defense. Also, Morris wasn't that great at creating offense off the bounce for himself.
No, Monte Morris is not a long-lost triplet of Markieff and Marcus. But this Morris projects seemingly as a no-upside, all production pick. He will likely be NBA ready, which would be a big help to the Brooklyn Nets, with Spencer Dinwiddie and Isaiah Whitehead projecting more as combo guards. (Something, something Milos Teodosic.) While this draft may be all about upside and risks for the Nets, adding a consistent playmaker in Morris could bring steadiness to Kenny Atkinson's second unit.
Foundation Pieces
Sterling Brown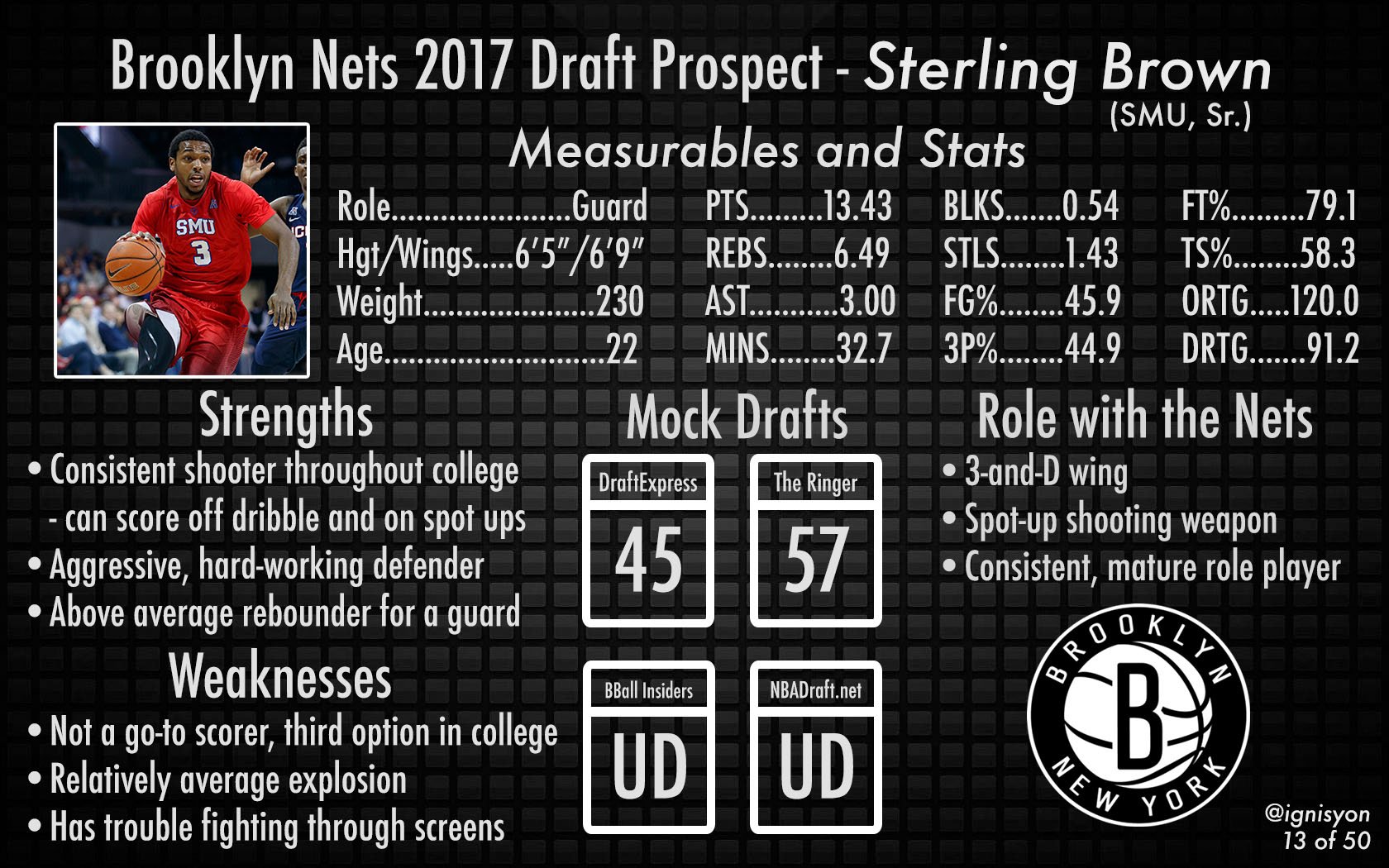 Brown, brother of Shannon, was the definition of role player on a talented SMU team. He did a little bit of everything, but his standout skill was his shooting and defensive presence. Brown really made a name for himself as a steady offensive complement. He was a solid spot-up shooter, nailing shots consistently throughout his four years as a Mustang. This season, Brown took a larger distributing role, showing a nice knowledge of pick and roll nuances. Defensively, Brown has the athletic tools and IQ to be a solid pro stopper. Playing under Larry Brown in his underclassman days, Brown learned how to defend the right way. He makes the right plays defensively, using a long wingspan and solid lateral movement to contest, recover, and closeout.
The relative lack of big time competition plagues Brown. He played essentially a third-option role for a team that didn't really play against elite competition, so that may have padded his numbers. On the offensive end, Brown wasn't much of an off-dribble attacker, mostly relegated to spot-up shooting and setting up teammates. Brown also isn't as explosive as his brother (I'm a big fan of dudes with seemingly female names in the NBA), more of a finesse athlete. On the defensive end, Brown struggled navigating through screens, occasionally leaving jump shooters open.
Much like Monte Morris, Brown could be a mature role player right away. His upside screams "glue guy." One scouting report compared his ceiling to Alan Anderson, a player that should bring up (kind of fond) memories of the Brooklyn Nets of yesteryear. Brown has already worked out with the Brooklyn Nets, and his relative under the radar game could make him available late in the draft. Can the Nets land a 3-and-D role player in the second round? That sounds perfect.
Damyean Dotson
Dotson gets buckets. He has a mature, pro body that he uses to his advantage. Dotson has pretty effortless shot mechanics, which aided him as a spot up shooter with deep range. He also moves pretty well off the ball, showing nice footwork and cutting ability. He excelled coming off of screens occasionally, occasionally attacking closeouts. Dotson's strong frame hints at his defensive upside. He excelled playing off-ball defense, closing out well and using his strong frame to fight through screens. Dotson was also an effective rebounder from the guard slot, and passed effectively at the Portsmouth Invitational Tournament.
One key character aspect the Brooklyn Nets may consider is his past. He was dismissed from the Oregon basketball team for a sexual assault claim, although charges were later dropped. Of course, culture counts. On the court, Dotson wasn't a creative attacker off the dribble, and his finishing at the rim wasn't exactly inspiring. He also shot a low amount of free throws. Defensively, Dotson struggled as a one-on-one/isolation defender, lacking a true feel for defending creative ballhandlers. He'll need to learn how to use his wingspan and quick feet to defend on-ball.
Dotson may need some time to develop, especially coming out of a non-major school like Houston. He drew lots of interest after being named MVP of the Portsmouth Invitational Tournament, showing more than just a solid shot. For the Brooklyn Nets, Dotson seems like an ideal G-League two-way contract player. His 3-and-D potential is there, and just needs a little bit more diversity to crack an NBA rotation. Dotson has worked out with the Brooklyn Nets, and could be one player that has overcome trouble early in his college career. For a late second round pick, Dotson's shooting is intriguing.
L.J. Peak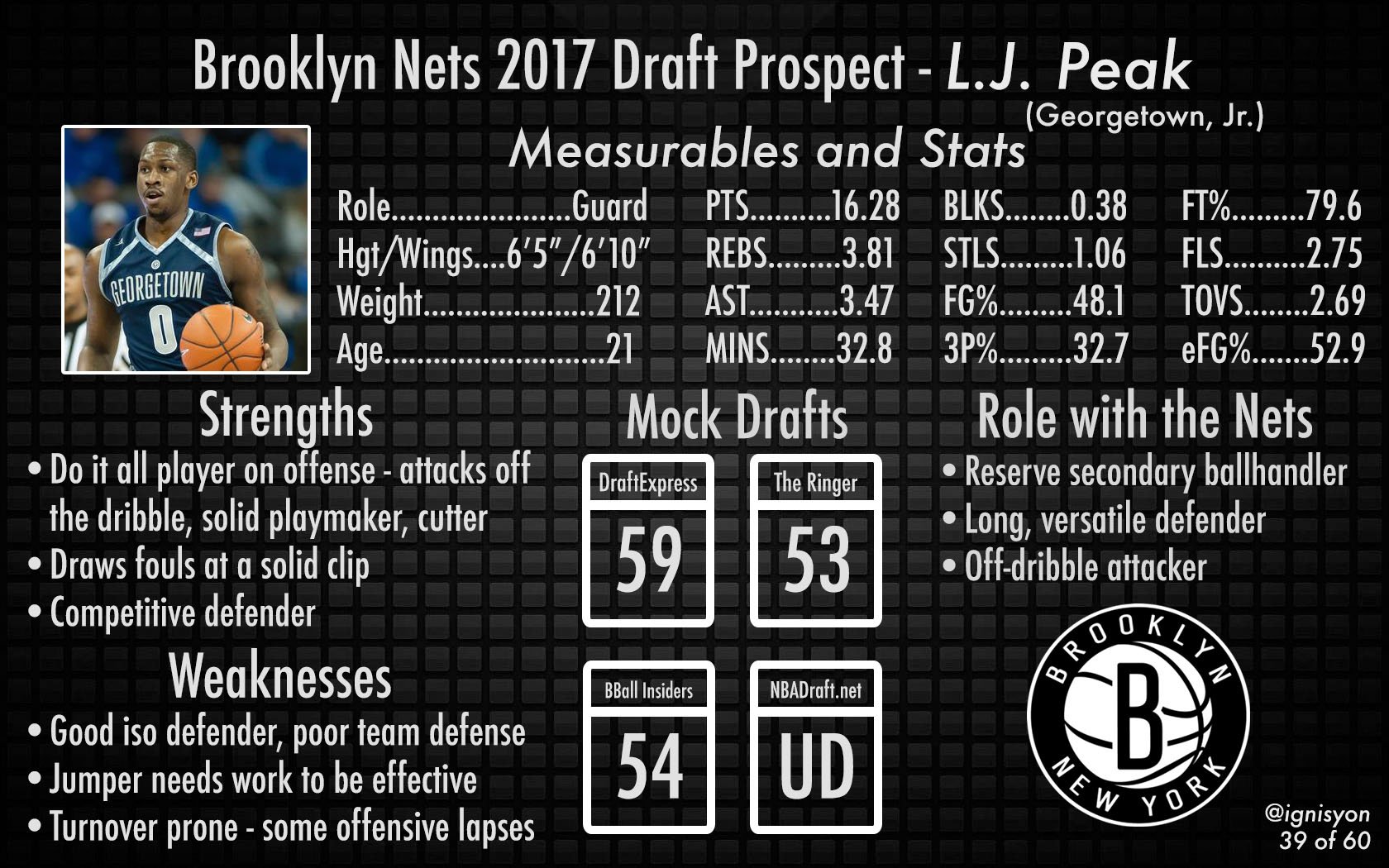 In the NBA, Peak could be a solid secondary ballhandler. Peak possesses good instincts as a ballhandler, and uses solid dribble moves to find crevices. At his size, he was a reliable pick-and-roll player, so he could pair well with a more scoring oriented point guard. At Georgetown, Peak was a go-to scoring option, with a lot of the Hoyas' offense centered on finding Peak using on and off ball screens. He scored solidly at the rim and drew fouls at a pretty high rate (more than one free throw attempt for every two shots.) As a finisher, Peak converts tough shots, often through contact. Peak's wingspan should be useful as a switch defender. He pairs that with solid pick and roll and drive defense.
Peak has promising skills, but also lacks in fundamental areas – starting with shooting. Peak shot 40% his sophomore year, but that dipped in 2016-2017. He kind of "tosses" the ball at the rim soccer style, and shot at or below average in 5 out of 7 zones, per Chart Side. Defensively, Peak struggled guarding jump shooters, often stuck between playing too aggressive or sagging off. Peak also struggled to fight through screens. While he was a a solid ballhandler the Georgetown junior may have to shift to a less ball-dominant role as a pro. That adjustment could hinder his progress.
The Peak puns with headlines would be a Brooklyn Nets writer's dream. Originally a pure athlete, Peak grew into a bigger role in his three Hoya years, still using his physical gifts. Peak has versatile potential, and he was (yet another) Brooklyn Nets pre-draft workout player. He may need a little time to fully adjust to the NBA and could possibly spend some time in the G-League, but L.J. Peak possesses solid upside with an intriguing, ballhandling and D skillset.
Cook Before Consuming
Edmond Sumner
Alright. These next few players all have lots in common. They all project as combo guards, possessing long wingspans and tremendous athleticism. We'll lead off with Edmond Sumner. Sumner possesses solid length and athleticism, and his skillset was on full display in his two year's at Xavier. His length and athleticism alone may have Sumner still on draft boards despite a so-so two years at Xavier. Sumner was creative as a ballhandler, and explosive slashing to the rim.
Unfortunately, Sumner tore his ACL in January, and could be on the shelf until well into the 2017-2018 season. He also has a bit of a history with knee injuries, and his skinny frame may not be able to handle NBA contact. Sumner, like many tall combo guards, lacks true perimeter shooting ability. His turnover rate wasn't inspiring either, lacking especially in decision making on the move. He's a solid player in a vacuum, but he will need several years and lots of hands-on training to fully develop. With the Brooklyn Nets, Sumner would have time to recover. The Nets have shown a commitment to helping injured players recover, and taking a chance at Sumner may reap benefits for the team in the future.
With the Brooklyn Nets, Sumner would have time to recover. The Nets have shown a commitment to helping injured players recover, and taking a chance at Sumner may reap benefits for the team in the future.
Kobi Simmons
Can I copy and paste the Edmond Sumner scouting report again here? Unlike Sumner, Simmons isn't recovering from an ACL injury. However, he lost his way in his lone season at Arizona. In 6 of his final 7 games, Simmons played single digit minutes. On the good side, Simmons was a solid defender in almost every situation, per Synergy. His awesome athleticism and decent motor makes him an ideal defender to develop. That alone could set him apart from other guard prospects in the second round.
On the offensive end, Simmons, like many late round selections, is a raw prospect. He shot poorly overall, relying mostly on his athletic gifts to score. His shot making was questionable, and his assist to turnover ratio was nearly 1. His overall feel has not yet caught up to his verticality and energy, often playing too fast. Simmons is definitely unpolished on the offensive end, yet the potential is there. If signed or drafted by the Brooklyn Nets, Simmons may have to visit Smorgasburg every weekend just to get his weight up, possessing a super skinny frame currently. He may have the highest upside of this trio simply due to his past pedigree and relative blank slate as a player. Who says draft and stash was only a European thing?
If signed or drafted by the Brooklyn Nets, Simmons may have to visit Smorgasburg every weekend just to get his weight up, possessing a super skinny frame currently. He'd also pend most of his time in the G-League, going from Long Island Small to Long Island Medium. At 19 years old, Simmons may be a few years away. He may have the highest upside of this trio simply due to his high school pedigree and relative blank slate as a player. Who says draft and stash was only a European thing?
George De Paula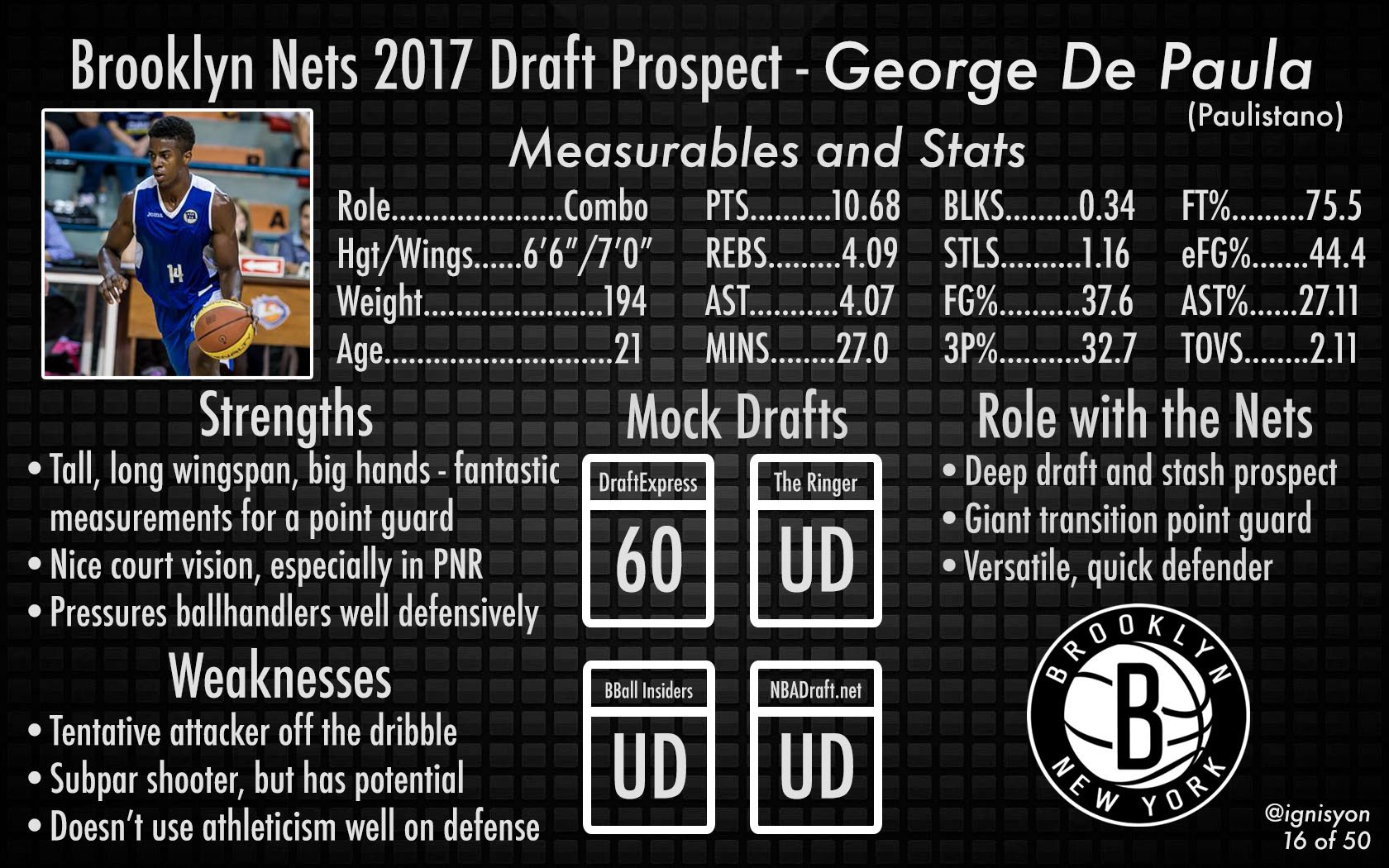 The Brazilian is quite possibly the most interesting prospect of the bunch. De Paula has fantastic measurements for a guy that primarily played point in the Brazilian league, with ideal height, length and huge hands. (Something, something Donald Trump…hands…etc.) Georginho was a solid playmaker, thriving in transition. He displays nice vision in the pick and roll, able to find shooters on the move. However, his turnovers were an issue, mostly due to a poor lack of feel when attacking off the dribble. He displays nice potential as a ballhandler, but most of his offensive game, outside of playmaking is a work in progress. Defensively, De Paula is a bit tentative, avoiding contact despite often having a strength and size advantage over his opponents.
De Paula originally declared for the NBA Draft two years ago, in 2015 (AKA the year Rondae Hollis-Jefferson and Chris McCullough were drafted.) For much of the season, De Paula was projected as a first round pick, slated for months as the 29th pick to…you guessed it, the Nets. De Paula withdrew his name from the draft much like Rodions Kurucs (and Hamidou Diallo). However, his stock has only fallen in the past two years. The competition in the Brazilian league isn't the best, and Georginho never truly dominated. Regardless, his skillset, tools and upside could be enough to warrant a late second round selection for the Brooklyn Nets.
Due Diligence
Out of these eight prospects, Monte Morris, Edmond Sumner (injured) and George De Paula haven't worked out in Brooklyn in the pre-draft process. So Sean Marks and the Nets' front office are definitely weighing all their options (Yes, they did #DoTheirResearch).
In searching for a guard prospect, the Nets will have to decide between upside or production. Would they prefer an established, steady guard like Monte Morris, or a raw but intriguing prospect like Kobi Simmons? It's a question that rings true no matter what draft position, and what aspects the team needs. That's the beauty of the draft. It's all speculation at this point. Are you feelin' it now, Nets fans?
For more of my Brooklyn Nets 2017 Draft Guide, check the following…
Brooklyn Nets Draft Needs – Hashtag Basketball
Draft Assets, History and Trends – NetsDaily
Seven Guards to Watch – Brook-Lin
Eight Wings to Watch – The Brooklyn Game
Ten Bigs to Bet On – NetsDaily
Up next – 7 Deep Draft Wings for the Brooklyn Nets on The Brooklyn Game!