Any athlete will tell you that the worst part of the journey is the inevitability of injuries. Whether it be a sprain, a strain, a simple muscle pulled, or a fully broken bone, pain always ensues: the running around from doctor to doctor to get X-rays, MRIs, and countless other tests done; the massaging and icing and mountains of pillows needed to elevate and reduce swelling; the crutches that, no matter what height they're set at, consistently cause pain under your arms. All of this, of course, is nothing in comparison to the emotional and mental pain that comes from being unable to play the sport one loves.

Injuries, to put it lightly, stink.
To get an injury stinks, but to get an injury, heal, and be so, so close to full recovery, and so close to stepping back onto the field, only to get injured again – that's a whole different monster.
It's one Sabrina Flores unfortunately had to face this year.
Sabrina's – And Gotham's – Tumultuous Year
Coming off of a strong 2021 campaign, Gotham FC entered the 2022 calendar year with more than just a little hope for steady improvement. With a runners-up performance in the 2021 Challenge Cup and a disappointing, yet strongly fought first round exit from the playoffs, the NJ/NY squad and its players seemed poised for an incline in performance in the year 2022.
Sabrina Flores also entered Gotham's preseason in March of this year with much excitement. Despite not playing much the previous year, the New Jersey native's resume speaks for itself. After playing for the University of Notre Dame for four years from 2014-2018 and earning five goals, 18 assists, and logging over 6,000 minutes, Flores was drafted by her hometown team, the then-named Sky Blue FC in 2019.
"I've always dreamt of playing for my hometown and home community," Flores told Nets Republic. "It's been a dream come true to represent the towns and the people that I grew up playing with…I grew up actually loving two New Jersey heroes, one is [former teammate and current team minority owner] Carli Lloyd and the other was [current Gotham FC General Manager] Yael Averbuch. They were both my idols, and people that I looked up to both on the field and then also everything that they did off the field."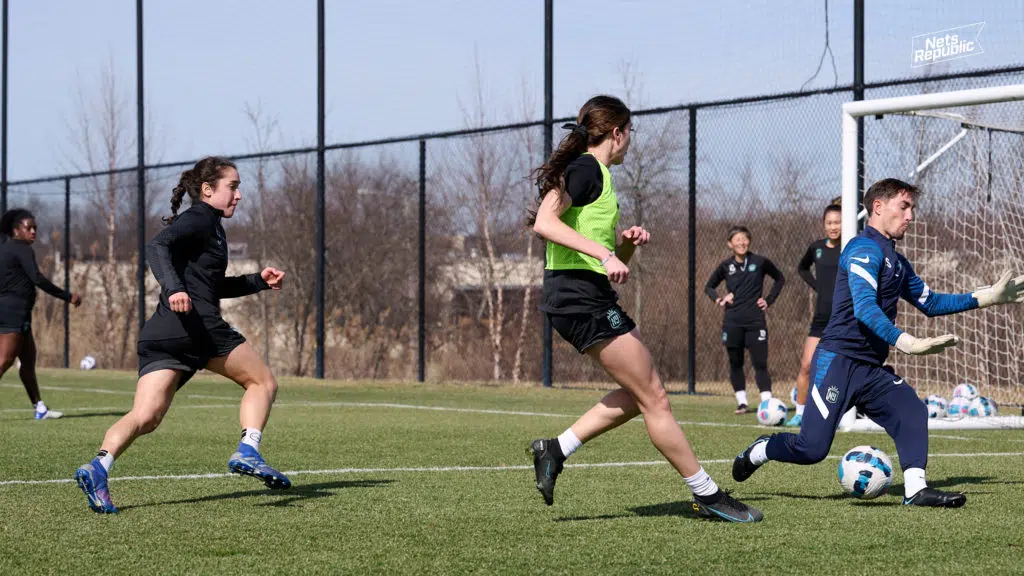 Since entering the league, Flores' career has been interesting. Spending a season with Sevilla in Spain in 2019, working through the pandemic and the difficult season that came with it in 2020, witnessing four coaching changes in the span of just three years, and unable to find her groove in 2021, Flores entered 2022's offseason with a clear intention. "I came in feeling really strong in preseason," she shared, "I had set my goals from last year to make a difference in the squad and really be intentional about stuff that I wanted to work on."
Despite the defender's goals to do better and become a bigger component for the team, an injury would unfortunately strike. "Two days before [the start of the 2022 Challenge Cup in March], I got a big knee injury to my right knee. With that I broke a bone in my knee and tore everything but my ACL." Flores said, explaining that though she was grateful that her ACL hadn't been affected, the emotional toll was still there. "It was definitely a bummer, but through it all I had this sense of gratitude that everything was going to be fine."
Leaning on her teammates, Gotham staff, and family, Flores managed to turn a long, grueling 14-week recovery process into just nine weeks. It wasn't easy though. Initially, the pain to merely bend her knee was excruciating. Walking without her crutches seemed impossible at times. Yet, working slowly, with patience and support, Flores slowly began easing her way into smaller training sessions.
Struggles Unfortunately Continued
By the end of May, just four games into the 2022 NWSL season, Flores was gearing up to be fully cleared and out of her brace, when the unexpected happened.
"Literally a day before [clearance], I got into another freak tackle and broke my other leg," Flores softly explained. "It wasn't the same extent as the first knee injury, but it still definitely put me out for a while. And so with that I was out for another six to seven weeks." Though two months doesn't seem very long in hindsight, for a professional soccer player already underway in their competitive season, more time away from the field is an emotional battle. "It was definitely a very long return-to-play protocol. A grueling one mentally for sure."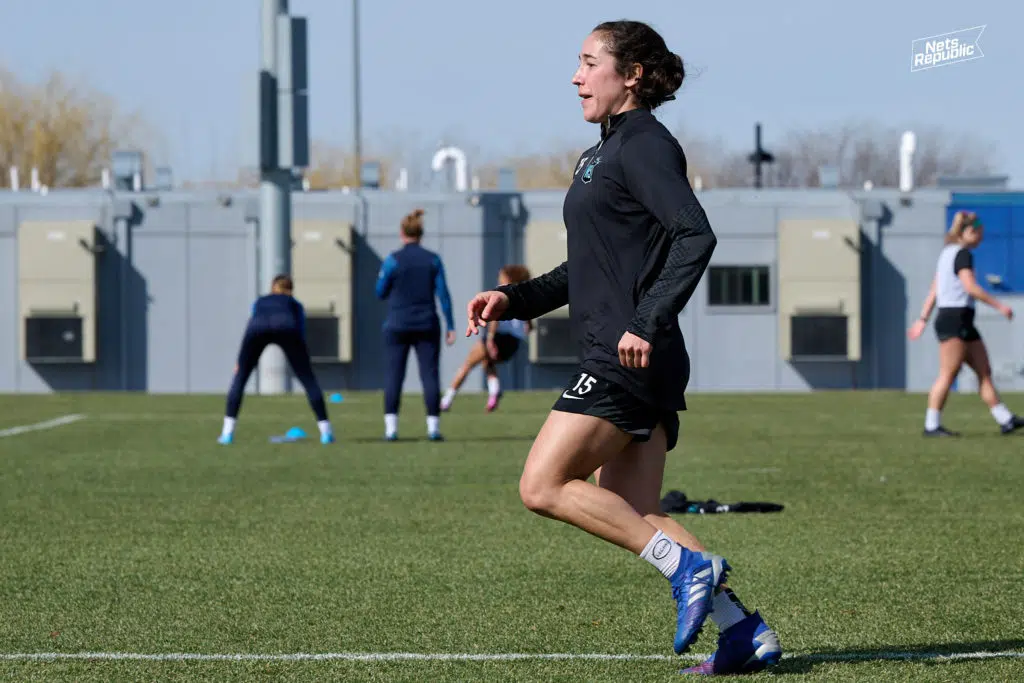 Around this time Gotham also began to suffer. Losing to Kansas City on June 11th, the team started their first of two losing streaks, broken up by a sole win versus Racing Louisville on July 8th. Slowly recovering from her injury and watching from the sidelines, Flores was disheartened for the team. "I love being a part of the team, trying to make a difference to lift up my teammates and challenge them in any way possible," Flores explained. "So, it's been hard to watch the team struggle, and then not be able to do much about it."
Continuing to fight through all of the physical and emotional battles, Flores was finally able to participate in her first full day of practice at the end of June, and she was shortly thereafter called to suit up. Though not playing in Gotham's game on July 2nd versus the Chicago Red Stars, Flores continued to embrace everything being thrown her way and always sought to make the best of her situation. "It's been tough because all I want to do for the team is help them," she said.
Through the pains and injuries, Flores' 2022 debut finally came on August 20th, a moment that was truly "bittersweet" for her. Taking to Instagram to share the moment, Flores stated, "I'm so grateful to have been able to step on the field last night, even for a short time. It made me strongly feel gratitude towards the complexity of the journey I've been on." Ultimately, this night would be Flores' only appearance of the 2022 year.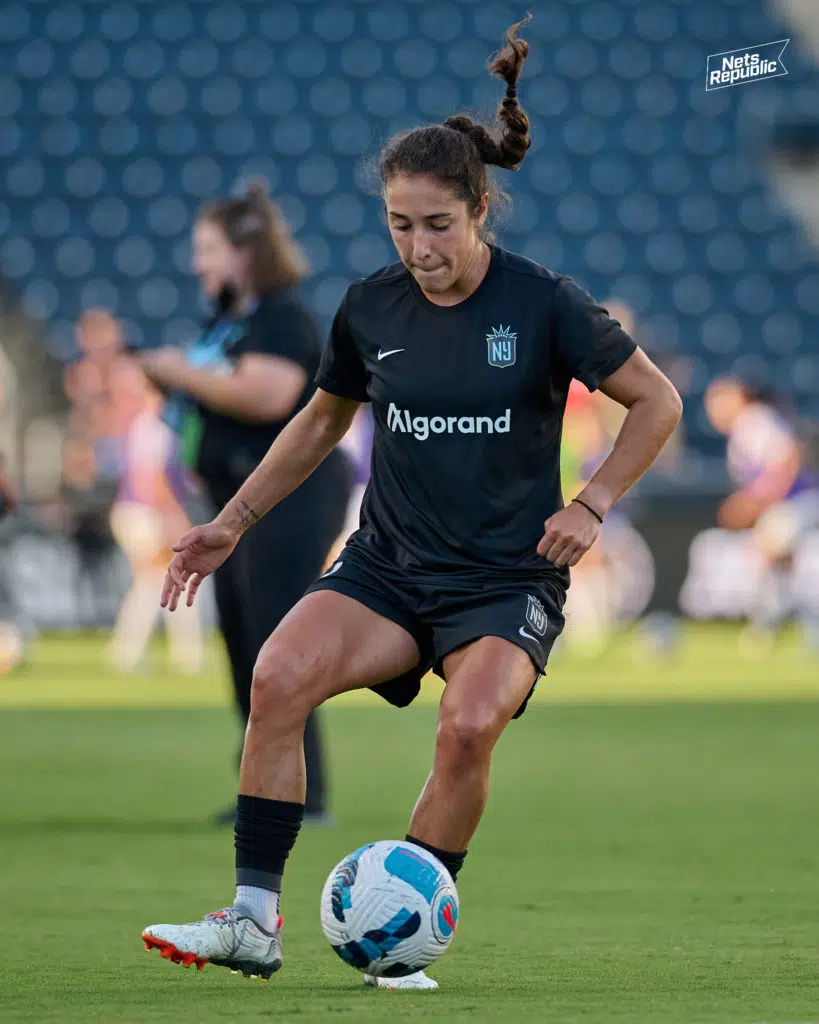 Though having endured an extremely tough season, Flores incredibly remains optimistic. Moving forward, her goals remain similar to that of last year. "I'm so excited to get into this offseason and do everything I can to improve on what I've been missing and what I've been struggling with since my return from my injuries," Flores expressed. "If I get the chance to be re-signed by Gotham, I would be extremely grateful for that. I'd hope that I can make a difference and come in full force in the preseason again."

Following Flores' journey this season, Gotham's Assistant Coach Becki Tweed knows just how much this season has tested her. Having worked with Flores since Tweed's arrival in June 2020, Tweed knows the best is yet to come for the young New Jersey native.
"Sabrina epitomizes a true professional," Tweed affirms. "She is the first one in the door every day, and the last out the door every day." On her ability, Tweed asserts, "She's incredibly gifted. She's technically very clean. She's worked through a tough season, but she'll come out of it stronger…if there's anybody that I can say is a true pro, it's Sabrina. She's a pleasure to have around the locker room and to have around the group. She's an incredible human, and she's a hard worker. I believe that she will continue to push through. Hopefully next season goes the way she wants it to go."
Support from Sabrina's Sister
Though Flores received incredible support this year from various sources, none could ever match the unconditional love and support that she got from her twin sister, Monica. "Monica has gotten me through my entire career, hands down," Flores said.
Growing up together in Livingston, New Jersey, the two girls dreamed of becoming professional soccer players. "Ever since we were little we were tied to the hip. We had the same goals, we loved playing soccer," Flores explained. "We were each other's best friends, best teammates, the only people that knew each other the most. [We knew how to] push each other to our limits, but then also understand what each of us was going through."
The Flores twins soccer journey has been incredible. After being scouted in high school to play for the University of Notre Dame, the two would also go on to play in the Women's U20 World Cup – but for two different teams.
The daughters of a Romanian mother and Mexican father, both Flores sisters were able to represent their parent's countries for their respective soccer federations. In 2016, Flores was called up to represent the United States, while her sister Monica chose to play with Mexico. "[The World Cup] was definitely a sticking point in my life and career," Flores stated.
The two teams would go on to face each other in the quarter-finals, with the U.S. just narrowly managing to earn a win. While her teammates jumped and leaped in excitement for advancing, Flores was on the field embracing her sister, comforting Monica for her loss.
"The disappointment and sadness in my sister's eyes, I would never want that," Flores expressed. "It's almost like I'd rather her be happy and me be in her position. So that was a super tough moment. Now I look back on it and I just feel really grateful. It's so cool to see that picture of me and her shaking hands before the game. It means a lot in terms of our Mexican-American upbringing and culture."
After college, the two sisters made the decision to part ways and play for their own respective club teams. Monica plays in Mexico in the Liga MX Femenil club CF Monterrey. Seeing her sister play in their father's country has brought Flores tremendous joy. "Every time she talks about where she's living and what she's doing, her eyes light up, and I can just feel the fire in her voice," she said. "It's amazing."
Embracing Her Mexican-Romanian Roots
In many ways, Monica's career in Mexico has allowed Flores to become more connected to her Mexican identity. "We grew up in a household of immigrant parents, but we spoke English. So that was something that I tell my parents every day," Flores chuckled while explaining, "I tell them, 'Man, you should've raised us speaking like Spanish or Romanian,' because that would have made life so much easier, in terms of being able to feel Mexican enough or feel Romanian enough."
This idea of "enoughness" is common in a lot of people who are children of immigrants in the United States, especially in those who have Hispanic roots. Though speaking a parent's native language isn't a prerequisite for having a certain background, many Latine and Hispanic descending-people in the U.S. have admitted to frustrations in not being allowed to merely be within their identity without being able to speak Spanish.
"It was such a big insecurity of mine for the majority of my life," Flores admitted. "Now I'm more mature and more understanding that it's ok that I don't speak fluent Spanish and I am Mexican-American."
Both Flores and her sister grew up with both their parent's backgrounds leaving strong impressions on them. "We oftentimes did things differently than other families. They had different priorities, and we grew up experiencing those cultural differences, but I think it was the coolest thing ever because we had very strong values."
Flores' grandparents also played a prominent role in their lives. For a short time Flores' mother's parents lived with the family, and Flores remembers birthdays and holidays full of traditional dishes from both Mexico and Romania. "We would beg my mom to give us recipes for all of her Romanian dishes, and likewise for my dad's mom's dishes," Flores shared. "I actually still have a recipe book of all the recipes…one Christmas my mom gifted us and wrote down and spent hours and hours writing down a recipe book of all of her Romanian dishes and Mexican dishes and so that was very cool."
Once her sister went to play in Mexico, Flores finally felt a stronger embrace of her Mexican roots. "When my sister moved to Mexico, and she started to play for Rayadas there, she immediately fell in love with the culture. Every time I go to visit her, every time I go and stay there, I feel like I belong. Mexico is home to me just as much as New Jersey is and so it's quite amazing."
What the Future Holds
It's been a whirlwind of a year for Flores, and because of this, she's learned to be patient with herself and take things one day at a time. "I'm honestly trying to get through every day and give it my best," Flores said. Though she's not sure whether her time with Gotham is up or not, she continues to move forward with optimism and strength. "My goals recently have just been conquering each day and giving it my best."
For more information on Gotham FC and Sabrina Flores, visit their website.