Previously, I detailed the seven Long Island and Brooklyn Nets that will step foot on the court at the Las Vegas Summer League. Now let's take a look at the remainder of the roster. This is a mix of players that played overseas, and undrafted free agents from this year's draft. In all, the remaining eight Summer League Nets all possess intriguing skills, although were a bit under the radar.
Let's break each player down, alphabetically…
Brooklyn Nets Summer League Roster
Nathan Boothe
Boothe went undrafted in the 2016 NBA Draft, and played last season in Italy. Boothe is a wide load down low (what Nick LeTourneau would call "240 pounds of rough and tumble") with a surprising skillset. In his four years at Toledo, Boothe showed an advanced post game, with silky smooth post turnarounds a la Rasheed Wallace. (Seriously.) In his senior season, he was super productive, averaging 19.3 points, 8.97 points and 3.28 points per game. He also displayed nice vision in the high or mid post, finding teammates in stride. This past season with Flexx, Boothe shot well from deep. He could be a killer pick and pop big, if only his defensive limitations weren't so glaring. Still, Boothe could show increased defensive acumen in his time with the Nets.
Milton Doyle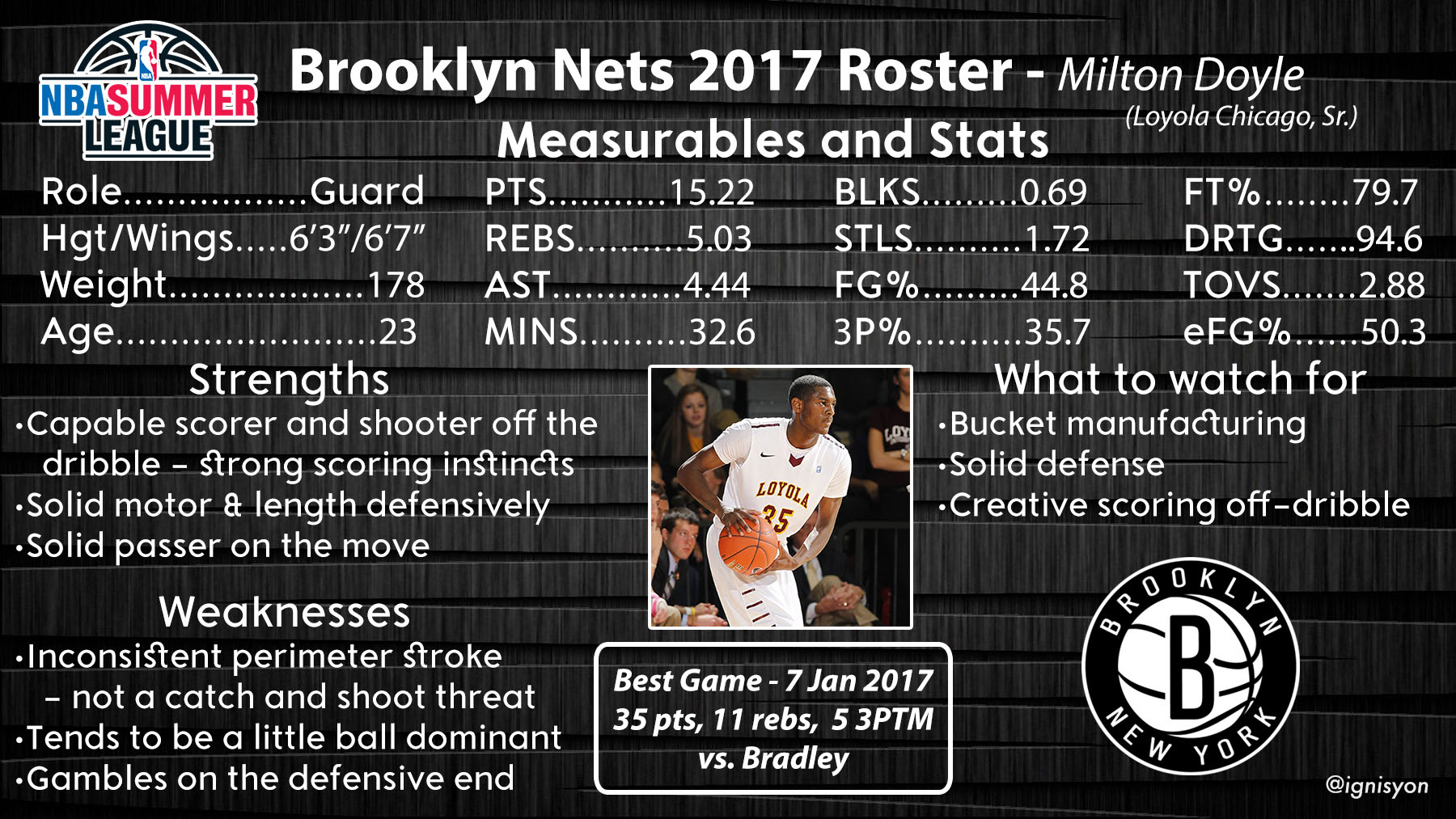 The born-and-bred Chicago product is all kinds of interesting. Watch any of the (very few) highlight videos of Doyle, and viewers should come away impressed. Whose game does he resemble? I say a smaller version of Caris LeVert (ironically, Doyle is older than LeVert.) The two both handle the ball well, have sleek hesitation moves and can make defenders look foolish, all while using solid playmaking skills. Doyle may project as a combo guard, but he possesses the length to defend multiple positions. He may be a little bit older as a prospect, but playing at an unheralded Loyola Chicago team may have left his upside a little hidden.
Tahjere McCall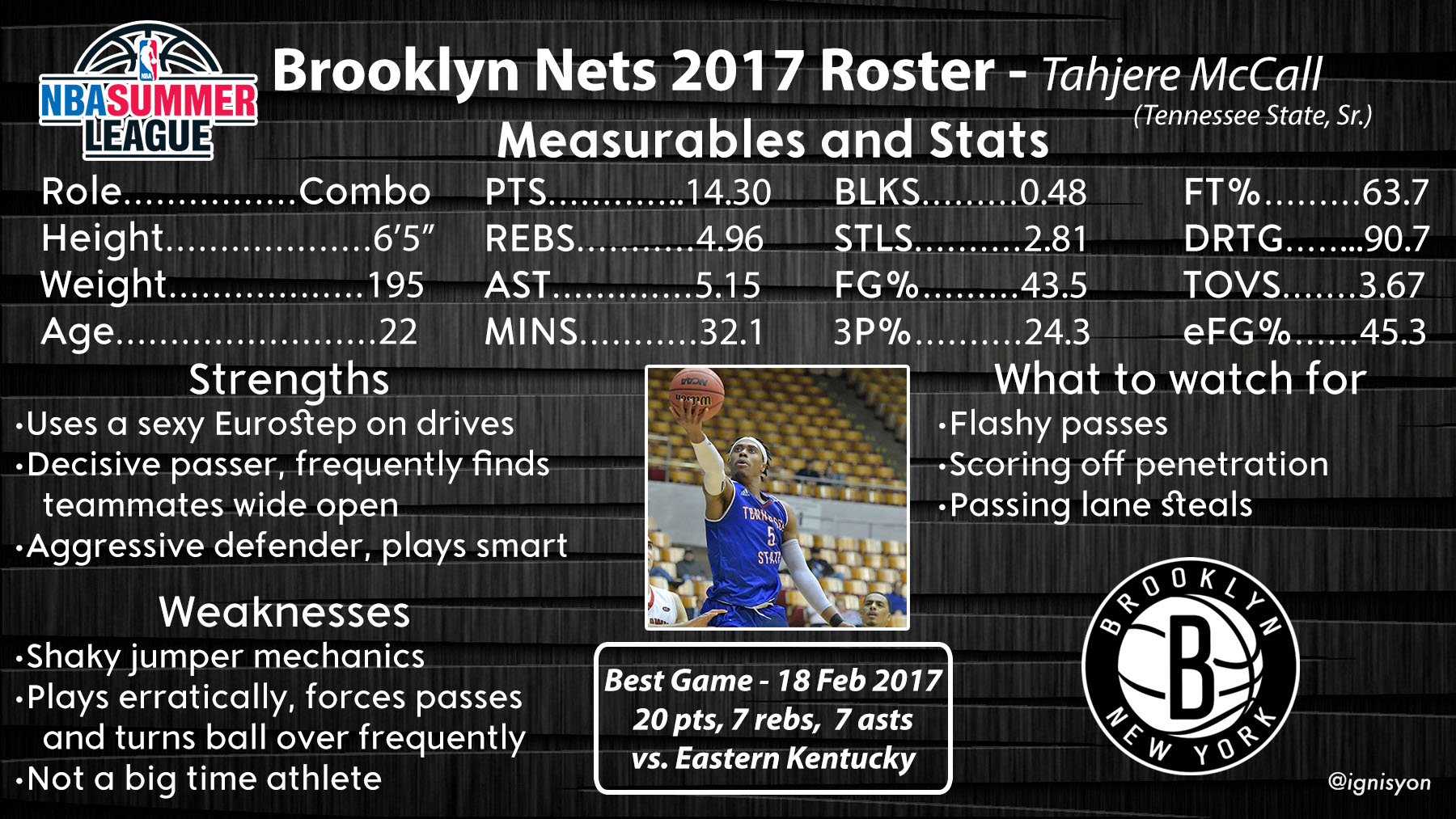 Like Doyle, McCall projects as a combo guard. He led a low key Tennessee State team to a 17-13 record. McCall is fearless when striking to the rim, finishing through contact and getting to the free throw line at a solid clip. He also has solid vision, although he does tend to throw risky passes at times. McCall may not have the tightest or flashiest handle, but he does enough to get to the basket. His perimeter game does need a bit of refinement. Defensively, McCall is active, picking up several steals in the passing lanes. In the Nets' system, McCall could fit well as yet another non-traditional playmaker.
Kamari Murphy
Murphy, a Brooklyn native, is a blue-collar banger. Not the most refined or skilled player, Murphy makes his living on the boards, where he rebounded at a high rate for Miami. His box score numbers were far from impressive, but he can rise to the occasion – case in point a 16-point, 10-rebound performance in the ACC tournament at the Barclays Center. He possesses solid quickness for a big, which projects well for the Nets' switch scheme. But Murphy will have to show an expanded offensive game if he wants to find an NBA (or G League) gig.
Vincent Poirier
Poirier may be the oddest of the Nets' Summer League roster signings. Initially undrafted in 2016, he played for the Orlando Magic's Summer League, not really making much of an impact. He had a solid season for Paris-Lavallois, playing as a traditional center. Poirier is a big body down low, with a solid hook shot and a nice motor on the glass. But he has limited range and speed, thus limiting his upside. Poirier may not be a future Net, and could be using his time on a Summer League squad to play on a higher profile European team.
Rodney Pryor
The former Robert Morris star played well after transferring to Georgetown. Pryor's biggest standout skill is his athleticism. He won the NCAA dunk contest and was drafted – by the Harlem Globetrotters. Pryor did shoot well from three as well, and was Georgetown's leading scorer. He may be a bit undersized to be a true wing, but his above average length could help him. Pryor's advanced age and poor lateral quickness could limit his upside, but Pryor would be an interesting option to watch in the G-League.
Jeremy Senglin
Senglin, reportedly has signed either a two-way or training camp deal with the Nets, per NetsDaily. The Weber State guard impressed with his accurate shooting. He excels at seemingly every type of shot opportunity, with a quick release and deep range. He could put up points in bunches, and his metrics have compared well to players such as Seth Curry and Langston Galloway, two undrafted success stories. Senglin is a smooth athlete, and could be a sparkplug off of an NBA bench, rather than a table setting floor general. Senglin may not be the lengthy guard the Nets crave, but his shooting may be too good to pass up.
Jake Wiley
Maybe the most intriguing option of the non-Net Summer Leaguers, Wiley is modern. His backstory is a tale of life and death. He may be undersized, but he dominated at times for Eastern Washington. Wiley's athleticism is incredible, rising into the air quickly for dunks and rebounds. His motor on the glass and defensive end should translate to wherever he plays his professional basketball. Additionally, Wiley may project as the ideal Nets power forward – long, active and strong. But questions still arise on Wiley's shooting and overall feel for the game. Like Senglin, Wiley reportedly has a partial guarantee. He'll look to open eyes at Summer League.
Brooklyn Nets Summer Vibes
There you have it. Fifteen members of the Brooklyn Nets Summer League roster, detailed. There are a few things to take away from the roster itself. First, there is a dearth of true wing players. Outside of LeVert and Hollis-Jefferson, every player seems to be either a combo guard or big. That may have been an indicator of the Nets' pursuit of wings in free agency. (Still waiting on that Otto Porter offer sheet.)
Second, the Brooklyn Nets summer squad also is relatively weak in bigs. Poirier, Boothe and Ibeh aren't the sexiest of big man prospects, and all seem to be centers. Murphy and Wiley are underized power forwards. If the Nets are looking for a shot-blocker, Ibeh seems to be the best option, and he still is a mystery. Aside from Timofey Mozgov and Jarrett Allen, the Nets still lack in length and interior presence.
Regardless, the Brooklyn Nets will take the floor, coached by Kenny Atkinson, looking to impress. Some players will shine. Others will falter. But hey, it's summer league. It will crave many of our basketball cravings, despite the frequent erratic play. It's a chance for unheralded names to shine, and for the Brooklyn Nets to continue to build upon their new foundation.
The Brooklyn Nets will play in the Las Vegas Summer League starting on Friday against the Atlanta Hawks. They will also play the Milwaukee Bucks on Sunday and the New Orleans Pelicans on Monday. Action will continue for the Summer League playoffs, which will be determined after the initial games.
Stay tuned to Brook-Lin.com for the latest Brooklyn Nets and Jeremy Lin news and updates!