After being traded for pennies on the dollar from Portland, Allen Crabbe has found a home in Brooklyn. Throughout the year he showcased enticing potential, an elite (if not inconsistent) shooting stroke, and a knack for scoring. Here's how he did it:
Offense
Shooting Stroke
Although inconsistent, Crabbe is one of the most dangerous shooters in the NBA when he's on and easily the most dangerous on the Nets, largely for his ability to do things like this:
Sure he wasn't able to do this with any real consistency, but he still was one of the most valuable shooters the Nets had this year. His raw three-point percentage won't impress anyone (37.8%) but he shot an elite 40.7 percent off the catch on six attempts per game. The prowess he brought on the perimeter was especially important to the Nets because they really didn't have any shooters outside of him to make the offense run the way it was designed.
Furthermore, he had thirteen games with over five three's and was easily the most dangerous shooter on Brooklyn when he was rolling and was able to single-handedly change the dimensions of the game by merely being on the court.
Because of the constant defensive attention he required, he was able to open up driving lanes which otherwise wouldn't have been there as well as make the defense pay when it collapsed. When he played the team averaged 5.5 more assists and registered the second highest swing in offensive rating than when he sat.
He's not a consistently great shooter by any stretch of the imagination, but his contributions to and presence on the Nets is immensely valuable.
Star Potential
On an individual level Crabbe made a leap in the second part of the season, peaking in February when he averaged 17.1 points per game while shooting 43.4% from the field and 38.4 percent from three and showing real star potential. From his 34-point outburst against the perpetually-a-dumpster-fire, Detroit Pistons, to his clutch 28-point performance against Anthony Davis' Pelicans, he lit up the month.
Why did this happen?
The short answer is that he started to figure out how to attack off the dribble. Throughout the month, he started making plays like this and looking for his shot more aggressively: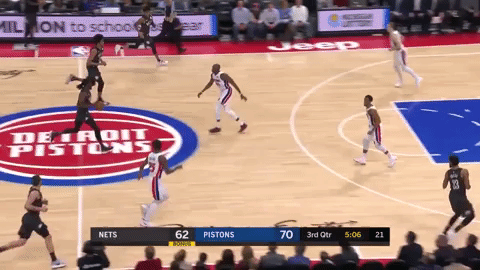 As you can see in the clips above, Crabbe found himself blowing by defenders with ease when they had to respect his shot. Throughout the second half of the year, he attacked the basket and hunted for his shot with more aggression than ever before. And although the team only won one game that month, Crabbe was making legitimate personal improvement and the stats showed it.
Not only did his raw numbers reflect growth, but the advanced stats did as well. He scored an astronomically-high 1.07 points per possession in isolation (89% percentile) and was a real weapon down the stretch for Brooklyn. For awhile, it looked like he was just about to make a sustainable leap from useful role player to fringe star.
So What Happened?
Despite the fact he can be one of the more incendiary players in the league, he also happens to be one of the most inconsistent. For example, while he had a stellar February which saw his efficiency numbers skyrocket, he had a horrendous December in which he shot just 35.2 percent from the field and 30.7 percent from three.
Even game-to-game you don't know what he's going to do. He could drop 20 points and look like a potential All-Star or he could shoot three of ten from the field and look like one of the worst players on the team. Sure every player has their ups and downs, but Crabbe's are so extreme it's difficult to really gauge his value.
It's possible that with another offseason to sharpen his game and a bigger role next year, the team could have something really special with Crabbe. It's just as possible however, he ends up being little more than a J.R. Smith-type player whose value can radically change night-to-night.
Defense
Perimeter Problems
For all of the good he does offensively, he's just as bad defensively. It would be one thing if he was merely a slight negative on that end, but he regularly grades out as one of the worst defenders, not just on the Nets, but in the entire NBA.
ESPN's Real Defensive Box-Plus-Minus ranks him as the 420th defensive player in the NBA which puts him in the company of known defensive killers like Luke Babbitt and Isaiah Thomas. He boasts a horrendous 112 defensive rating according to Basketball Reference (though across different sites his rating varies from 107-113). And yes, defensive metrics can be quite murky and using them as a key point in any kind of defensive argument is naive. However, they do indicate defensive prowess at some level.
In Crabbe's case, the eye test confirms what the advanced stats say. He's a decent athlete but he's consistently out of position, in a poor stance, and lost whenever his man doesn't have the ball. Like in this possession below where he gets caught watching the ball for far too long and can't recover in time when his man gets the ball for an open corner three: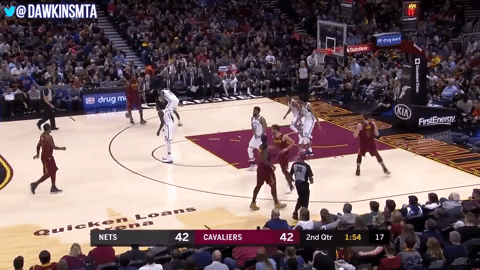 Possessions that end with an open shot for Crabbe's man happened far too frequently this year and really hurt the Nets' defense.
Crabbe is one of the worst defensive players on the team, and if he's not hitting shots offensively it's difficult to say where his value lies.
Future Plans
Allen Crabbe is one of the most interesting players the Nets have had over the last few years. On a nightly basis, you don't know whether you're getting a player who can score an effortless 25 points and look like a future star or a player who looks like a starter on a tanking team. Unfortunately, he hasn't been able to find a middle ground on that spectrum with any real consistency. And yes he can do a bit more than just score but if he's not getting buckets, it's tough to say what his value is.
If I were Kenny Atkinson, I'd experiment with giving him more responsibility on the offensive end to see how he reacts and gauge what he can actually do. That's the only option there is, really. He has too much potential to trade at this point, especially for a team like the Nets, but his maddening inconsistency puts the team in an extremely difficult position on a game-by-game basis.
I honestly don't exactly know what to make of him. I've been rifling through game footage from this year and Crabbe can look like a radically different player on any given night to another. He is an incredibly hard player to evaluate, and the wide range of outcomes for his career is enough to make Sean Marks second-guess any decision he makes about Crabbe's future.
2016-17 Per-Game Stats:
Minutes: 28.5
Points: 10.7
Rebounds: 2.9
Assists: 1.2
Field Goal Percentage: 46.8%
Three Point Field Goal Percentage: 44.4%
Free Throw Percentage: 84.7%
2016-17 Per 36 Stats:
Points: 13.5
Rebounds: 3.6
Assists: 1.5
Field Goal Attempts: 10.3
Three Point Field : 4.8
Free Throw Attempts: 2.0
2017-18 Per-Game Stats:
Minutes: 29.3
Points: 13.2
Rebounds: 4.3
Assists: 1.6
Field Goal Percentage: 40.7%
Three Point Field Goal Percentage: 37.8%
Free Throw Percentage: 85.2%
2017-18 Per 36 Stats:
Points: 16.2
Rebounds: 5.3
Assists: 1.9
Field Goal Attempts: 13.6
Three Point Field : 8.7
Free Throw Attempts: 2.2
Final Grade: B