Welcome back to our WNBA Draft coverage here at Nets Republic.
If you haven't yet checked out part one, in which I talk about why the Liberty need to draft Oregon's Sabrina Ionescu, then go read that! Please? Thanks!
New York also holds the 13th and 26th picks in the draft, and while second and third round picks aren't always sure bets to make WNBA rosters, the Liberty are a team that's in a position to make use of some young talent to help build up the back end of their roster.
Today, let's look at some front court players who could be in play in the second and third rounds.
Second Round Targets
Beatrice Mompremier – Miami
I'd guess Mompremier is gone by the 13th pick, but just in case she drops a little, let's talk about her.
First, if Mompremier does fall to 13, Jonathan Kolb should immediately have his virtual draft card turned in.
Mompremier's foot injury limited her to 17 games for the Hurricanes this season, but she made the most of her time on the floor, averaging 16.8 points and 9.8 boards with 1.4 blocks.
She's a good post scorer and is also good at creating second chances on the offensive glass. Her athleticism and defensive impact would make her a great pick in the second round, someone who could definitely stick around with Liberty and end up in the rotation if she's healthy.
Joyner Holmes – Texas
The story on Holmes is about athleticism and potential.
A solid post scorer and someone who can get up and down the floor in transition. Holmes is a good passer for a front court player and a switchable defender, and while her shooting is a bit of an issue — her 40.9/18.2/62.2 shooting split is worrisome, especially for someone whose athletic profile points to her being exclusively a four at the next level — she still has a lot of upside.
Holmes is a good pick if the Liberty are prioritizing potential. You can see Holmes blossoming into a multi-tool player, someone who can get to the basket on offense and help move the ball around while also providing a strong defensive impact.
Mikiah Herbert Harrigan – South Carolina
I'm personally not as high on "Mad Kiki" as some other people, but she's someone that the Liberty could definitely target around here.
Herbert Harrigan led South Carolina in scoring this season and shoots well from the outside, but her lack of rebounding numbers worry me, and I wonder if she's a three or a four at the next level. If she plays the four, those rebounding concerns are an issue. If she plays the three, is she going to be able to hang with top threes defensively? She seems like a bit of a tweener.
But offensively, the numbers were there, and her Synergy profile is really nice: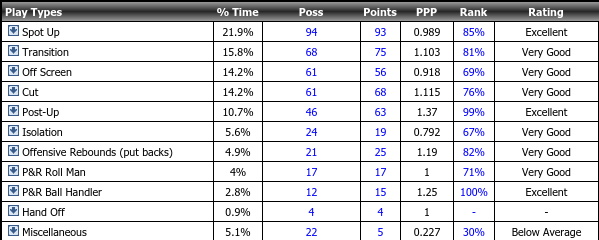 So there are concerns, but she put up strong offensive numbers in the SEC. New York could take a bet on that, and it's a bet that could pay off.
Third Round Targets
Brittany Brewer – Texas Tech
I'm not sure when Brewer is going to be drafted during this draft. Her name seems to have usually been thrown out as a third rounder, though I've seen some suggestion that she's moved up draft boards.
Brewer is coming off a great senior year at Texas Tech in which she averaged 16.6 points, 10.3 rebounds, and 4.4 blocks per game. Brewer provided the Lady Raiders with strong interior protection and has some nice touch on her shot; she's not quite at the level as a shooter to be a stretch big, but you can see the potential there, and Brewer getting to work with and learn from Amanda Zahui B.would be a great thing for her development.
Brewer's not a perfect prospect — her defense outside of her shot blocking could use work, she's not super effective in the pick-and-roll — but she's got a lot of potential and does one thing really well, and if she's available when New York is on the clock in the third, it'd be really, really hard to not pick her.
Kylee Shook – Louisville
Shook has a lot of the same upsides as Brewer, in that her college career saw her rebound and block well while displaying a good shooting touch. Her defensive upside isn't quite as high as Brewer, but she's already a better shooter and could give New York another stretchable big. Shook's a solid pick here.
Peyton Williams – Kansas State
While we're talking about players who can rebound and shoot, Peyton Williams could be in play here too. Her 11 rebounds per game ranked in the top 20 nationally, she's strong on the offensive glass, and while her percentages weren't great, she showed a willingness to shoot from distance. She's not as efficient a scorer as other options in this class, but her potential is there, making her a player worth taking a late chance on.