With May and the start of the WNBA's preseason just around the corner, it's time to look back on the 2018 version of the New York Liberty before we start to look ahead to this year's edition of the club.
By any conceivable metric, 2018 was a bad year for the Liberty. After winning at least 21 games and making the playoffs for three straight years under head coach Bill Laimbeer, the team fell to 7-27 in their first year with Katie Smith at the helm. And while Tina Charles continued to be Tina Charles, other pieces on the team fell off. Shavonte Zellous, Epiphanny Prince, and Sugar Rodgers all averaged double-digit points in 2017, but last year all three took steps backwards, and we enter the 2019 season with none of those three players on the team. (Prince is still a free agent, and while she could return, the team still not having re-signed her seems to suggest the team will move on without her.) In those players place, we get players like rookie guard Asia Durr as well as second-year guard Kia Nurse. This is a team that's getting younger and should be very much alive in the race for next year's number one draft pick and the chance to draft Sabrina Ionescu.
But that's the future! We still have this season to get through, and the exciting addition of Durr should add some variety to what this team can do. Today, I want to look at last year's New York Liberty shot charts to talk about the kinds of shots they took and what we can expect to see this year in terms of shot selection.
The 2018 New York Liberty's Shot Selection
Before we look at where the shots were coming from, some background on how shots were falling for the Liberty. Last year, the team shot 43.2% from the field — the third-worst rate in the league — and 31.7% from three, good for the second-worst mark in the WNBA. Those numbers aren't great, and a quick look ahead at this season shows that things may be in danger of not improving much. Price was the team's best three-point shooter last year, hitting 41.9% of her 48 attempts. Sugar Rodgers led the team in three-point makes and attempts and is gone as well. Figuring out where the shooting is going to come from this year is definitely looking like it could be an issue.
Here, per Positive Residual, is last season's shot chart for the Liberty:
Quick takeaways from this: The Liberty shot above league average from inside the paint and outside the restricted area, from the top of the arc, and from the left wing area that's inside the arc. They shot below league average from everywhere else.
A lot of the credit for those spots the team excelled from can be given to the team's star player, Tina Charles, who has been cored for this upcoming season but has yet to agree on a contract with the Liberty. Here's what Charles' shot chart looked like:
Charles shot above league average from pretty much any spot down the middle of the floor and she shot the ball well from behind the arc. She was also effective on the right side of the court in the midrange, which is something I expect from a player who spent some years being coached by Bill Laimbeer, whose offensive philosophy really pushed the midrange game.
Charles shot well from particular spots behind the arc, but she wasn't stellar in producing points off catch-and-shoot looks, scoring in just the 47th percentile on spot up possessions. To break that down farther, she scored in the 50th percentile on no-dribble spot ups.
Charles, for as much as she's spent time over the past few seasons moving more onto the perimeter, is still a post up-oriented player, with 42.5% of her possessions coming via post ups last season. The team has to count on other players to hit from other spots on the floor.
One of those players is Bria Hartley, who played the second-most minutes per game on this team last season. Hartley's shot chart looks like this:
She's another player who hits from straight away, hits from the left side, and is below average from the right side of three-point land. Hartley also struggled to finish at the basket, as did last year's rookie Kia Nurse, was average or below average everywhere except the left corner and the left short corner.
Still, if we're looking at shot selection rather than shot making, there's some good things that happened. The WNBA is moving more to the perimeter and the New York Liberty did that, taking 713 threes. They seemed less reliant on the midrange. It's a good profile, even if the shots weren't always falling.
Perhaps my favorite shot profile on the whole team belongs to Amanda Zahui B, who really epitomizes the inside/outside game that can lead to success: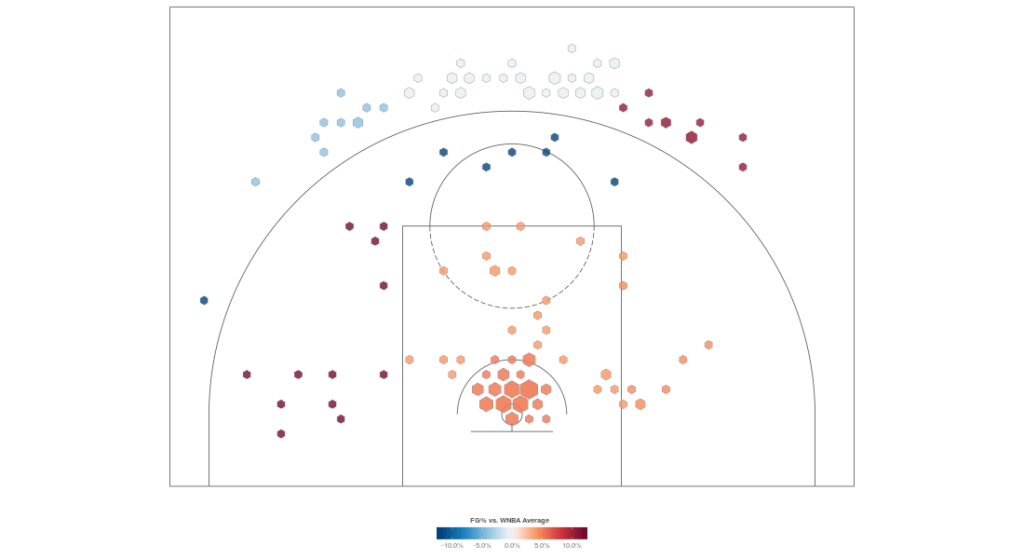 Zahui doesn't take as many threes as other players, but she's average or above average from the center and the left wing, and she's also an above average finisher at the rim. And while her short right corner shot is good, she's definitely a player who tends to embrace the modern basketball philosophy of threes or paint shots. Zahui's a really intriguing player who probably deserves to have a whole article written about her game, so let's table this discussion for now.
What to Expect in 2019
If we want to see a New York Liberty shot profile that takes advantage of threes and interior shots, which are both far more efficient shots than midrange ones, then a discussion of this season starts with rookie Asia Durr.
Durr's a prolific shooter, and while her shooting percentage fell during her senior year at Louisville, she still brings a ton of floor-stretching ability to this Liberty team and is a great fit for what this team should be doing.
Last year, Durr was 12th in the country in three-point attempts among DI women's players. She averaged eight attempts from deep per game; last year for the Liberty, no one took more than Sugar Rodgers, who attempted 4.3 per game. So right there, we get a sense of how Durr can warp the floor for the Liberty, taking a team that was already fifth in the league in three-point attempts and pushing them farther to the forefront. Add in Tina Charles playing a little stretchier and letting Amanda Zahui B. man the middle more — though she's also a threat to shoot from three, even if she's most effective as a roller — and this team's shot profile could look a lot like last year's champion Seattle Storm.
This isn't even touching on second round pick Han Xu, a 6'9" center who possesses the ability to shoot from the outside too. Despite letting some of their best shooters leave, this team has the outline of one that can be effective at the modern game. They've got to up their efficiency, particularly from the right side of the floor, but the picks that the New York Liberty made in this year's WNBA Draft look like moves that will help this team's shot profile in the long run.