As the playoffs have advanced, the WNBA has slowly trickled out its league awards. The New York Liberty's own Jazmine Jones was named to the All-Rookie team, voted to one of the five spots by the league's coaches.
Still, the Liberty missed out on some of the larger accolades during this tough season, so I decided to hand some out some of my own.
Rookie of the Year
When New York's squad entered the mostly controlled environment of Bradenton, Florida, seven of the team's 11 players were members of the 2020 draft class. Just two-and-a-half games into her professional career, top pick Sabrina Ionescu went down with an ankle injury that forced her to break the bubble and rehab independently, prematurely ending her first season as a pro. While that ended her Rookie of the Year campaign, it also opened up lots of minutes for the players that continued on.
As evidenced by her league-wide recognition, Jazmine Jones, more than anyone else, stood out from the team's record-breaking rookie class. Jones (10.8 PPG) was one of just four eligible rookies to average double figures, despite her 21.4 minutes per game a whole four minutes fewer than the next closest in that high-scoring group. (Atlanta Dream phenom, Chennedy Carter played 25.4 minutes per game.) Jones' 4.1 rebounds ranked third, her 2.1 assists seventh, and her 1.4 steals set the pace for the rookie class. If you put up her per-36 averages, Jones' 2.4 steals were good for sixth in the entire W). But most importantly, by a mile, Jones locked down this all-important metric: "Which player's highlights did I send friends most frequently?"
There is, however, room to grow. She struggled defending the pick-and-roll ball handler. According to Synergy, Jones ranked in just the 10th percentile, or 80th among the 89 qualifiers for that defensive metric. Late in defensive shot clocks—when it was her athleticism matched up against an opponent's—Jones excelled. There, she surrendered just seven points on 18 possessions (or 0.389 points-per-possession [PPP]), good for 11th in the W.
Full transparency: Of all the picks, I had the most questions about Jaz, selected 12th, after this year's draft. With a full roster, I didn't know if New York needed more off-guards. Jones' play this season has guaranteed she's a part of the team's future, and I'm excited to witness her continued development.
Defensive Player of the Year
On ball, Synergy Sports had lots of good to say about Kiah Stokes' defense this season. However, as noted in terrific detail by Jackie Powell in her article for The Next about Kiah Stokes, Synergy struggles to account for help defense, and Stokes was often hesitant to leave her player and help.
Though it's close, her roommate, Amanda Zahui B takes home this award. Zahui B's combination of length and strength created havoc for her opponents. This was especially true in defending the pick and roll where, according to Synergy, she ranked top in the WNBA, surrendering just six points on 17 possessions (or 0.353 PPP). Her counting stats were impressive, too, even despite inconsistent minutes towards the end. Zahui's 8.5 rebounds were tied for sixth in the W, her 1.2 blocks tied for seventh. Among her teammates, only Ionescu bested Zahui's defensive rating of 99.5.
Best Kicks
Not much competition here, of course. This award goes to Kia Nurse (click through for her IG album with all her sneakers from the 2020 season).
Most Improved Throughout The Season
This one is tough. I know that I'm the one creating these awards, so it's kind of ridiculous to confuse the parameters, but here we are. Do I measure my expectations coming into this season against the production of a player? Or do I look at whose skill set most developed? Or do I look at which rookie steadily looked more comfortable as she made the transition to the pro game?
Three different answers, three different players.
The runners up here were Jocelyn Willoughby, whose 40.5 percent from three led the team, and Kylee Shook, who seemed to produce a run every time she checked into the game (read Jackie Powell's glowing breakdown of Shook's game to cement your opinion).
But, finally, I decided to look at which player best capitalized on her opportunities after initially earning her shot, and that's Leaonna Odom. Following the draft, I watched some tape and wrote up the Liberty's non-Sabrina picks for TBW; I had the following to say about Neah Odom: "She's got some fine-tuning to do, but much of her game takes advantage of [her] athleticism. Odom moved well without the ball, making weak-side cuts for easy layups, and she was fast in the open court."
You know what, ignore what I said later in that piece about her potentially going overseas to develop, and that sounds like a solid read on her game. According to Synergy, Odom finished the season in the 84th percentile — or 10th in the WNBA — in PPP on cuts, scoring 37 points on just 25 possessions. Twenty percent of her looks came on those cuts.
After Ionescu's early season injury shook up the rotation, Odom notched 16 starts, by far the most for a rookie. Because she often shared the court with the team's four vets, Neah's usage rate of 11.7 was the lowest on the team. She did, however, post the team's second best offensive rating (88.9), fourth best defensive rating (100.3) and best net overall rating (a rough -11.4, but still tops on the squad). According to WNBA's Advanced Stats, while Odom had the team's lowest defensive rebounding percentage (3.4%), she was opportunistic on offense, and topped the team in offensive rebounding percentage (7.1%). Again, this was partially due to personnel: defensively, Stokes and Zahui B were securing the glass, but were often out on the perimeter when the team controlled the ball. Neah, on the other hand, could be matching up anywhere on the court on a given night.
On the defensive side of the ball is where Odom really wants to make her impact on the game. At 6'2, she's got the height to chase down shooters, but her athleticism also grants her the quickness to shut down drives. Odom has big aspirations going forward. "I said I wanted to be a defensive player of the year eventually," Odom told the media during her end-of-season Zoom call. "Just being able to do that puts me to the test to see if I can attain that goal or not, and a couple of years down the road, I'm going to be able to." That confidence from a player with a quiet on-court demeanor speaks volumes.
Best Dance
This Megan Thee Stallion TikTok—featuring Jaz Jones, Joyner Holmes, and Paris Kea—edged out an earlier video with Jones and Ionescu. (I downloaded TikTok for this, so apologies if something else escaped my radar here.)
Best Midseason Acquisition
This one is an appreciation award to shout out Paris Kea, who joined the Liberty midway through the season, and quickly established herself as a bucket. She played 11 games for the team, with her season highlight being a 21-point effort against the team that drafted her last season, the Indiana Fever.
It was a difficult season for all players, but everyone else on New York's roster had at least gone through an abbreviated training camp. Kea kept in shape, quarantined upon entering the bubble, and then climbed from the end of the bench to some quality minutes — including five starts — to prove she has the talent to play in the WNBA, and maybe even with the Liberty.
Performance of the Year
Again, had some options on this one. I almost took the easiest answer, which would've been the entire team's performance in the upset against the Chicago Sky. I took Sabrina's second start under consideration, where she dropped 33 and six threes, along with seven rebounds and seven assists.
But, in the end, it was Amanda Zahui B's rebounding performance on August 29 against the Las Vegas Aces. In that contest, Zahui ripped down 21 boards, all on the defensive glass. On the season, the Aces ranked first in the W in rebounding (though the Liberty were right behind them at number 2, that number was somewhat inflated by the team's pace and all the extra possessions opponents had off the team's league-leading 17.8 turnovers per game).
On the season, Zahui B's 28.6% defensive rebounding mark — ending possessions for a team that struggled at times to do so — ranked second in the league behind former Liberty forward Reshanda Gray, though Gray did so in extremely limited minutes (6 per game in 10 total contests). Though New York's offense sputtered in the fourth quarter, that game against Las Vegas stayed close though three-plus quarters largely because of Zahui B's diligence on the defensive boards.
Best Media Moment
This one came down to the last press conference of the season. Just listen to Jaz Jones talk about her final performance, in which she scored 21 points on 8/14 shooting, while also pulled down seven rebounds and handing out seven assists. This is that energy I mentioned earlier.
Best Celebration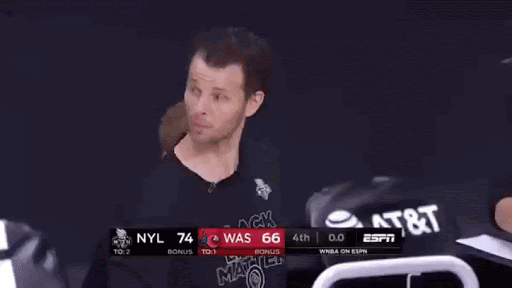 For this one, you've got to go back to the closing moments of the team's first victory. Throughout the tough season, Coach Walt Hopkins and his staff earned the respect of each and every player. Nearly every press conference, we received quotes about Hopkins' positivity and encouragement, or his willingness to join drills to provide examples, or his ability to break down film and use the analytics to extract the positives after tough losses. In my first season in media scrums, the care and deep thought Coach Hopkins put into each question — regardless of whether that query deserved a solid answer — helped me learn on the fly and gain confidence in my own practices.
All of that is evident in this celebration, a small smooth straightaway in a season filled with obstacles and potholes. For these players, many of whom had just clinched their own first professional victories, the emphasis on celebrating for their coach spoke volumes.
Best Combined Celebration and Media Moment
Okay, hang with me here! This combo held the potential to sweep both previous categories, so I decided to exercise my power and give it a moment of its own. First, you need the full context. Entering this August 25th game, the Liberty were 1-12, the Chicago Sky, 10-4. It was a tight back-and-forth game the whole way through, especially in the closing minutes.
The Liberty are holding tight to the slimmest of leads: it's 97-96 with just over 30 seconds to go. Zahui B has a mismatch in Sky guard Allie Quigley, so she backs her down. Cheyenne Parker, guarding Stokes at the top of the key, comes to help, and Stokes immediately beelines for the hoop. As Parker's double closes, Zahui B gathers and jumps to pass, catching the cutting Stokes in stride for the easy layup and the three-point cushion.
As she backpedals, admiring her own work, Zahui B trips over Courtney Vandersloot's foot and tumbles into a backwards somersault, her fall softened by the bright red curls of her ponytail. With a fierce shriek, she lands on her knees and pounds the hardwood in celebration.
After the game, Zahui was asked by Sarah Valenzuela about that play. Again, she delivered.
Most Valuable Player
On and off the court, Layshia Clarendon exceeded all realistic expectations anyone could have had for them coming into 2020. After Ionescu's injury, Clarendon became the team's starting point guard, a role they hadn't envisioned. She put up a career-best 11.5 PPG — third behind Ionescu's small sample size and Nurse's high volume — while improving on all her career percentages. Despite being fifth in usage rate, Clarendon was a steadying presence on the court, often breaking scoring droughts with strong physical drives to the rim, or extending precarious leads with late shot clock threes from the top of the key.
| | | | |
| --- | --- | --- | --- |
| | FG% | 3PT% | FT% |
| 2020 | 46.5% | 34.1% | 87.3% |
| Career | 41.2% | 28.8% | 74.2% |
As the season trudged on through its grueling every-other-day schedule of games, Lay's leadership around the league became more and more evident. Clarendon became a member of the WNBA's inaugural Social Justice Council, alongside Sydney Colson, Tierra Ruffin-Pratt, Satou Sabally, Breanna Stewart, and A'ja Wilson. He spoke on team-organized panels centered on educating on topics like equality, unity, and the importance of voting. Earlier this season, I wrote about Clarendon's participation in both a Juneteenth panel alongside Brooklyn Net Garrett Temple and the Liberty's Unity Day panel, "Why We Say Her Name."
Clarendon knows the work that will go into turning this young team into a contender, but also knows the potential reward. "I wanna be part of the first [to win in New York]," they said in response to a question posed by Erica Ayala in a media Zoom. "I didn't want to ring chase. Much later in my career, I can go do all that… so much of my journey has been the road less traveled."
This season, every player took an unconventional road, packing up their belongings to isolate for months in Bradenton. For the New York Liberty, this season was about installing a system, instilling a culture. About finding out what you've got in the seven rookies that got a chance due to the unique circumstances surrounding the season. It was about turning Baby Vets into leaders. It was about taking open threes and not just threes for the sake of them (as we heard from the coaching staff over and over). It was about Breonna Taylor and all the other Black women that were victims of police brutality, about saying their names over and over again so they would not be forgotten by the next news cycle. And now, it's about the future.