If you watched a lot of Sabrina Ionescu at Oregon, you saw a lot of triple-doubles. Twenty-six of them, in fact, which was more than double that of any other Division I player ever, men's or women's.
But triple-doubles are much, much rarer in the WNBA. Before Tuesday night, there had been eight of them in the regular season and one in the postseason. Only Sheryl Swoopes—once in the regular season and once in the postseason—has recorded more than one in the W, so plenty of people were anticipating that Ionescu would at some point become the WNBA's career triple-double leader.
But before she could break that record, she had to get her first one. Tuesday night, she did. In just her sixth WNBA game, Ionescu put her name in the league's triple-double book, scoring 26 points and adding 12 assists and 10 rebounds. It was the second-most points in a triple-double in league history behind Lisa Leslie's 29 back in 2004, though the Leslie triple-double came with blocks, not assists.
Anyway, let's break down some of the things that went Ionescu's way as she earned that trip-dub.
Sabrina Ionescu Is Good at Scoring Points
As mentioned above, no one has ever recorded a triple-double that involved assists and scored as many points as Ionescu did Tuesday.
The easiest part of a triple-double is getting 10 points. The hardest part is getting the assists. But the even harder part is getting the assists and then getting 20 points on top of that.
How did Ionescu do it? Well for one, she can just shoot the lights out of a basketball:
Like … what? Pulling up from the 25th anniversary logo? And making it look easy?
The Liberty are running a lot of pick-and-rolls with Ionescu. Through three games, Synergy estimates that 50.8 percent of her possessions have come as a pick-and-roll ball handler. And hey, it's really the perfect play to run for someone like Ionescu, who can hit the dribble jumper with ease but is also just an infinitely talented passer.
When she ends up shooting like this, the pick—this time from Kylee Shook—frees up space for her to shoot. And because Ionescu isn't scared of silly things like "being extremely behind the three-point line when shooting a three," you can run those pick plays pretty high up. This then gets defenders out of sorts. On this particular play, Minnesota's defenders stay pretty far back, assumedly because no one expects Ionescu to pull up from there. Then, the Lynx are content to play at the arc, ready to defend a Ionescu drive or to contest a three if she takes a few steps in before shooting it.
Neither thing happens. Three points for New York.
But hey, if Ionescu was only a threat from deep, you could defend against that. Jessica Shepard could have taken a few steps towards her and been ready to defend the 45-foot jumper she takes. (That's an exaggeration—it was only 32 feet.)
The problem with guard Ionescu is she can score other places too. There's this play later on where she scores inside through contact:
Here, we get to see Ionescu as the ball handler on a play where she's moving towards the basket.
Ionescu isn't the fastest player in the WNBA—and if you remember back to the conversations around her pre-draft, that was basically THE thing brought up as a reason she'd struggle in the W. But she's super crafty with the ball.
On the above play, it looks like there's an initial high pick-and-roll with Shook, with Shook rolling to the basket as Ionescu drives. But Shook's also heading to a basket patrolled by Sylvia Fowles, so Ionescu wisely keeps the ball, dribbling over to the right. It looks like she has a path to get to the basket, but Aerial Powers does a nice job cutting off that lane. No worries, though! Ionescu zigs back to the left, working her way into the paint.
It's a crowded paint, but we've already mentioned that Ionescu is a really accurate shooter, so here it's just about working the ball to a spot where she's comfortable. And because the threat of a Ionescu pass is so huge, Fowles backs off to guard Shook to prevent an easy bucket there, so without the tallest Lynx defender there, Ionescu is able to absorb contact and finish against the two defenders who do come at her.
You've Got to Grab Those Rebounds
When you think of players who get rebounds, you think of extremely tall players, right?
But the unique setup of this Liberty team means that a lot of rebounds are going to go Ionescu's way, especially while Kiah Stokes isn't playing a full amount yet (and will be leaving again soon) and Natasha Howard is out. New York is going to be playing fairly small, and center Kylee Shook just isn't the greatest rebounder.
Rebounds aren't the most exciting thing to talk about, so let's keep this section relatively brief.
All 10 of Ionescu's rebounds were defensive. One thing she does really well is track where the ball is, allowing her to find those rebounds. But another thing that helps is that we see Ionescu's teammates boxing out offensive players in order to clear space for her to grab the board.
Defense turns into offense, and missed shots turn into transition opportunities. When you have a guard like Ionescu who has the size to get inside and fight for rebounds, one of the smartest things you can do—in my opinion, at least—is get the ball to your playmaking guard as fast as you can to get things moving the other direction. So, if you can get the ball to Ionescu immediately via clearing out space for her to rebound, you do that!
I'm not saying this is the specific reason that the Liberty are third in the league in points per possession in transition so far, but I'm also not saying that it isn't the reason!
Having Good Teammates Helps with the Assists
The thing about assists is that you not only have to make a good pass, but you have to have teammates who can finish the play once you make that pass.
Ionescu has that. And it's what I want to spend a lot of time in this article discussing: how she sets her teammates up, but also how her teammates still have to finish plays, which they're doing so far.
Let's start with an assist to Shook for three:
Kylee Shook has started at center in all three games for New York. Obviously, a lack of options at the five is the main reason for that. But she allows the team to run the four and five out offense that head coach Walt Hopkins likes to run.
On this play, Ionescu dribbles over to the left wing, where Michaela Onyenwere sets a screen and starts moving downhill. Two Lynx defenders double Ionescu to keep her from driving, while Fowles switches off of Shook to keep Onyenwere from just rolling free to the hoop.
But that leaves Shook just completely open: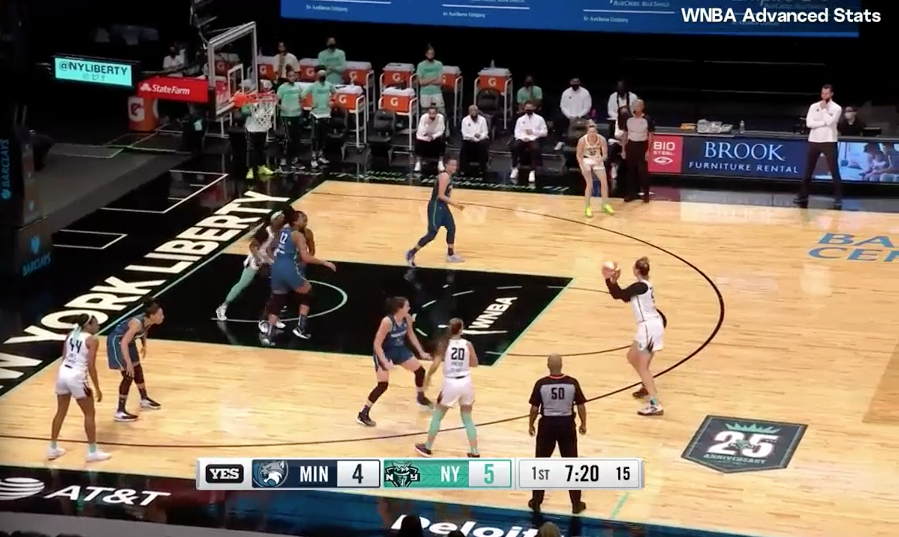 One reason Ionescu is so dangerous is that she carries so much weight already in the eyes of defenders. Minnesota doubles her to prevent her from scoring, but that just means the offensive team has four players to your three defenders. On this play, Onyenwere gets a head of steam, forcing decisions to happen for Minnesota. The decision is to leave Shook alone, and that decision leads to the Liberty scoring three points.
And huge credit to Shook for her early improvement at making these shots. To put it simply, she was bad at making threes last season. But the early returns this year suggest that Shook has started to figure out how to score from deep.
Nothing excites me more about the Liberty at this point than the Sabrina Ionescu and Betnijah Laney pairing. It rules, in large part because Laney has just become an offensive machine. Asking defenses to account for both her and Ionescu is just kind of unfair.
On this play, Ionescu brings the ball up the floor, with Laney over on the left wing initially. And when Bridget Carleton pays just too much attention to Ionescu, Laney recognizes there's no one between her and the basket.
So, she cuts.
And Sabrina lobs the ball to her.
And even though the Lynx send someone to meet her at the basket, Laney fakes and makes this easy, open shot. Set up by the defense focusing too much on Ionescu, finished because Laney is really good at taking advantage of mismatches and getting the ball into the hoop.
Let's look at one more play, which features DiDi Richards:
Over and over, defenders paid attention to Ionescu and allowed someone from the Liberty to cut towards the basket. On this play, it was Richards.
Richards isn't a shooter. In college, she made exactly zero threes. In three WNBA games, she has attempted zero of them. Defenses know this, so in the play above, you can see that her defender isn't even looking at Richards. Instead, Sabrina's gravity means that even though Ionescu is involved in a pick-and-roll way up at the Barclays Center logo, Aerial Powers has her eyes on Ionescu, likely because that Stokes screen was good, and Ionescu looks like she could have pretty easily gotten an open look from deep.
But that's not what happens. Richards cuts toward the basket and Ionescu delivers a sharp pass to her for the easy layup.
It's a smart play by Richards. And all the other times Liberty players cut to the basket, those were also smart plays. The Liberty are consistently making smart plays.
Ionescu right now is the engine for that. Laney is the transmission, because you can't change gears and actually work without her. And the all the other players are the oil and the brakes and all the other things that are required to make the Liberty car run.
Right now, it's running, and it doesn't look like they'll need to visit the mechanic anytime soon.