In 2016, Taryn Torres had a wake-up call. She had been playing and training with the U.S. Soccer U17 team in the leadup to their World Cup tournament, and suddenly found herself cut from the team.
"That was a big wake-up call, and really helped me with my development. It helped me take a step back, work on getting better," Torres told Nets Republic.
This setback, which might have ended some careers, only served as fodder for Torres and her continued development throughout her collegiate and now professional career.
"You're always going to be evolving, and if you can use the adversity to your advantage and have a good mindset, that can really help," the 23-year-old explained.
Torres ended up making the U20 squad in 2018 and went on to play five years at the University of Virginia. The midfielder was selected 23rd overall in the 2021 NWSL Draft by NJ/NY Gotham FC and has now joined the team for their 2022 season.
Every Hero has their Origin Story
Like many players, Torres started her soccer journey young. Through youth programs, ECNL, and beyond, she always wanted to play at the highest level. "I loved competing. I always wanted to be the best at soccer," Torres said.
The Frisco, Texas native played other sports growing up, but soccer was always the one that stood out. Eventually, she started seeing interest from colleges and playing for the youth national teams, which is when she decided soccer was going to be part of her future. "I knew I wanted to play pro and push myself to play at the highest level," she recalled.
From there, she attended the University of Virginia, where she played for five years. Her experience at UVA further solidified her desire to go pro. "In college, if I could have success at this level, I want to take it to the next level," Torres explained.
Going to UVA wasn't always her plan, but when she visited the campus, she was so impressed by the coaching staff, the players, and the culture of the program. "Their style of play matched what I was looking for," she said. "And it's beautiful there!"
After four years at UVA, Torres found herself drafted by Sky Blue FC in 2021. Instead of joining the team that year, she made the decision to stay for a fifth season at UVA.
"UVA had never won a national championship – and that was a dream for me in college," Torres explained. "I also felt that for my personal development, I wasn't ready to leave yet."
She knew that even if she stayed for a fifth season, her professional career would be waiting for her. So she stayed for one last year at UVA to make sure she could get as much as she could from the program there. "I wanted to absorb every minute from college and try to win a national championship," she said. "I was also injured the COVID year, so I didn't want to leave on that note."
A Summer in Gotham
While Torres was finishing up her final season with UVA, Sky Blue FC was rebranding to Gotham FC. As someone who was on the outside looking in, Torres wasn't quite sure what that would mean for the club. But now that she's here, she understands how far this club has come.
"As I've been here, I've heard about how the transformation has been amazing. They've made so much progress and pushed forward. It's been great so far," she said.
Torres got her first taste of NJ/NY when she played for the Gotham Reserves last summer. The Reserves operated via a partnership with Downtown United Soccer Club and competed in the Women's Premier Soccer League's Metropolitan Conference. Torres was an integral part of the team's midfield and helped lead the side to a 9-0 record.
During that time, Gotham FC also gave Torres the opportunity to train with the senior team. "I thought it was a great idea – I can get to know the area, the players, and mesh with everyone. That was really good for me," she said.
From that experience, Torres got an idea of the style of play at Gotham and the speed of the game at the professional level. "I remember thinking, this is a good environment, it's really going to push me to be better, I just want to absorb all of this," she said. "I was excited to go back to college and train that way, and then come back to Gotham to try and get better."
Welcome to Rookie Season
Torres officially signed with Gotham in December of last year, but a lot has changed since that announcement.
The team's holding midfielder Allie Long, who had been considered a large part of Gotham's success on the pitch last season, announced she was expecting twins later this year and is currently away from the club, leaving a hole in the midfield – and Torres is ready to step in.
"I'm definitely a true 6," Torres explained. "I like to hold in that position, dictate play, get on the ball – I'm more defensive-minded rather than attacking-minded."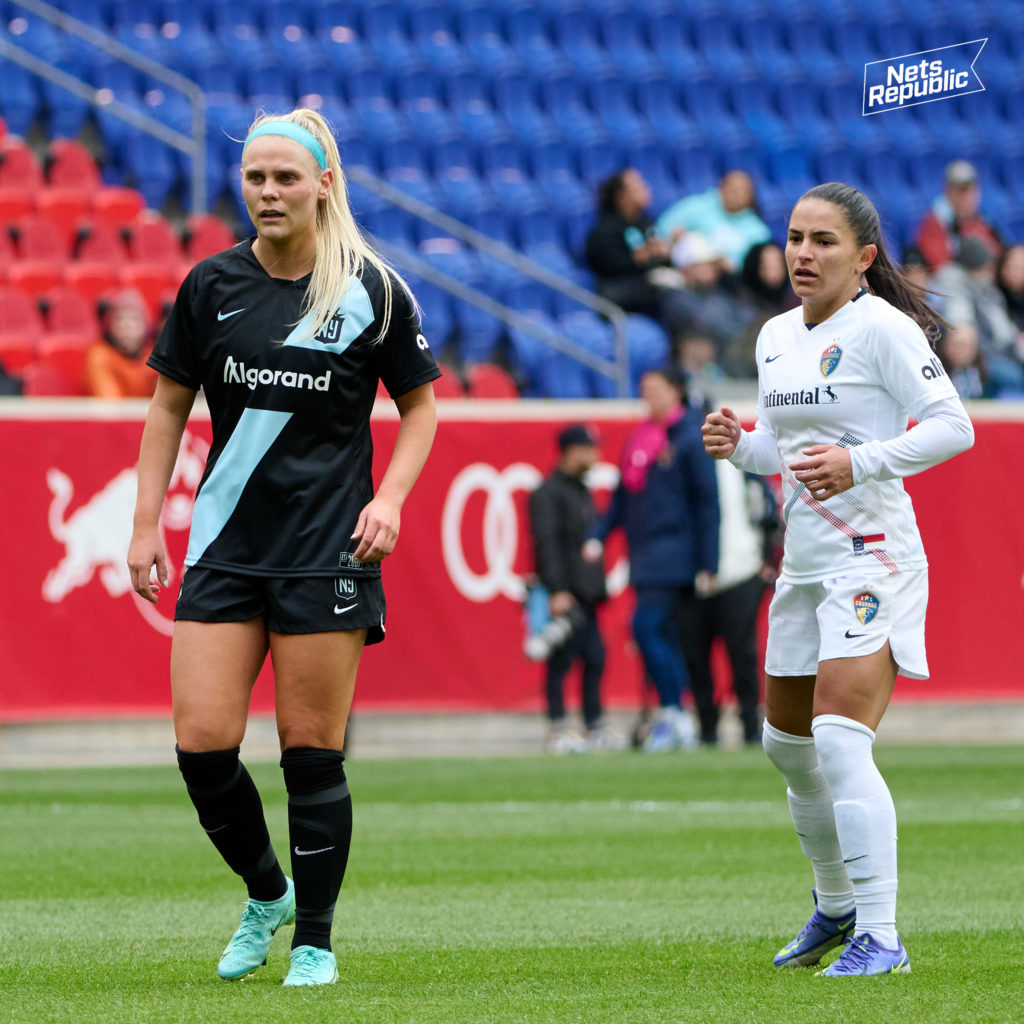 But coming in as a rookie, Torres kept her expectations in check. "I want to take this year to learn," she said. "I live in the present, take it game by game, and I'm so lucky to have gotten to make my debut, get to be on the field, and have that experience. It's been awesome. But I always want to get better and learn from the veterans."
Torres is ready for the ups and downs that typically come in a rookie season. From the matches against other teams to the training environment, the league is incredibly competitive. She is trying to soak in as much as possible and continue to get better along the way. "You always have to be the best version of yourself otherwise someone else will be," she said.
The Challenge Cup has given Torres and other rookies on Gotham the opportunity to get valuable minutes leading up to the regular season. Since there is prize money on the line, coaches are of course playing to win. But for Gotham, they are also using it as an opportunity to find themselves before the regular season gets going.
"Scott [Parkinson] keeps saying, it's still preseason. We have to figure out what's our identity, what's the best formation that suits us, what's working, what's not, and when it doesn't, what can we change," Torres explained. "There's been a lot of analysis and self-reflection."
For Torres, having the ability to get exposure to the game at the NWSL level has been an important part of her development and has given her confidence going into the regular season.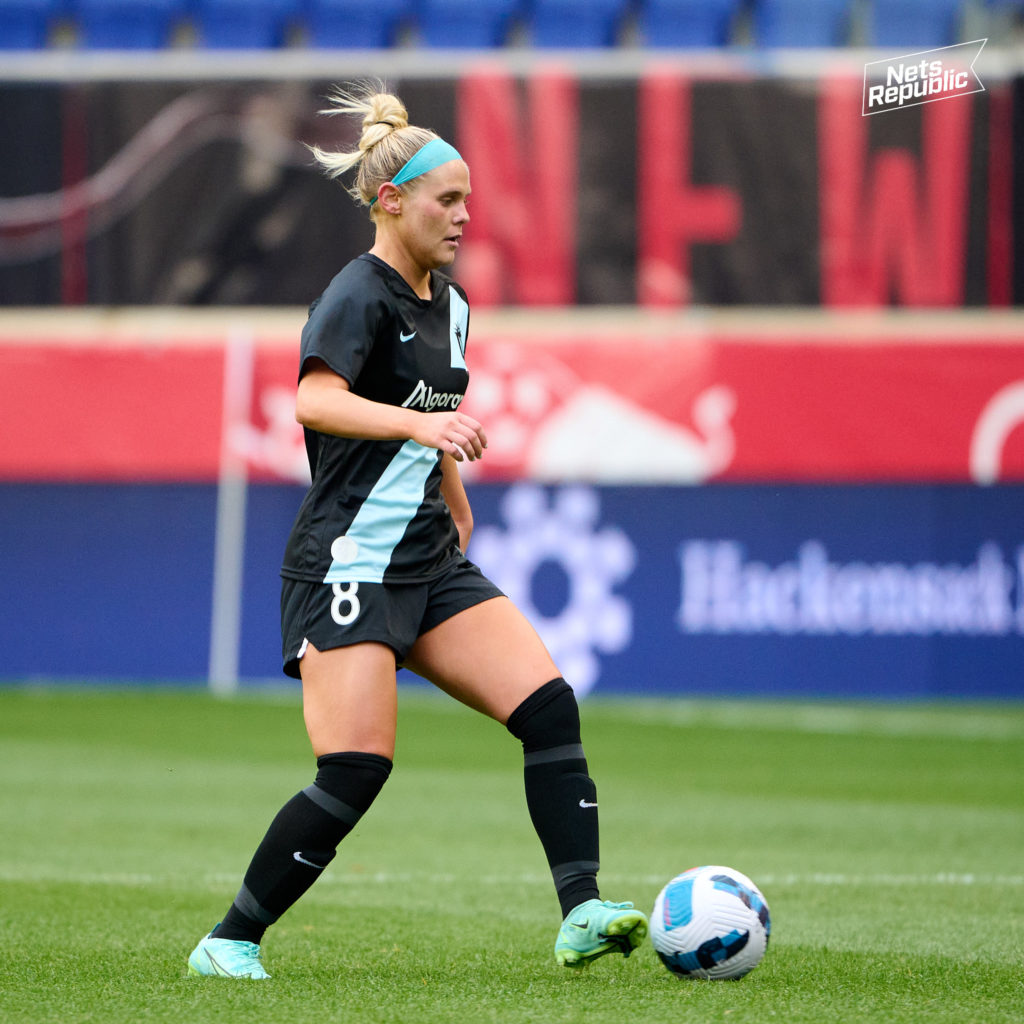 "If you don't get exposure now, then in the middle of the season, if you need some of these players and they never touched the field, it's a lot to be thrown into a situation like that without ever experiencing it," Torres said. "Now knowing I've been able to be on the same field as some of these amazing players, I know I can do it if my name is called."
In fact, Torres was able to prove to herself and to the fans that she could run in the big leagues right away. She made her debut against the Washington Spirit on March 25 and helped secure a 1-1 draw against last season's NWSL champions.
"I was so excited but very nervous. I don't really think I'm a nervous person when it comes to soccer, but when you're nervous that means you care a lot. You can channel those feelings towards getting out there, playing, and working hard," Torres said.
The speed and skill of the game were eye-opening for Torres, but after the match was over, she felt confident that she belongs here. "I can play at this level – that's good to know! I have so much to work on, and I took that to note, but I was able to get through it," she laughed.
Growth at Gotham
Overall, Torres has been enjoying her time in NJ/NY on a team full of veterans. "It's not an environment where I'm the best player – I've been completely humbled, and I knew that was going to happen," Torres said. "It's all about learning. I've done a lot of observing. I watch a player like McCall [Zerboni] to implement what she does in my game."
When it comes to criticism from the coaches, Torres takes it in stride. "You have to take that criticism and be glad they're telling me what I'm doing so I can get better," she said. "Players that can absorb that information are going to get better."
In order to get to her highest level, Torres sets tiny goals for herself every day. She tries to implement the feedback she gets from her coaches to put herself in the best position possible, but she doesn't let herself get too caught up in what the future might bring.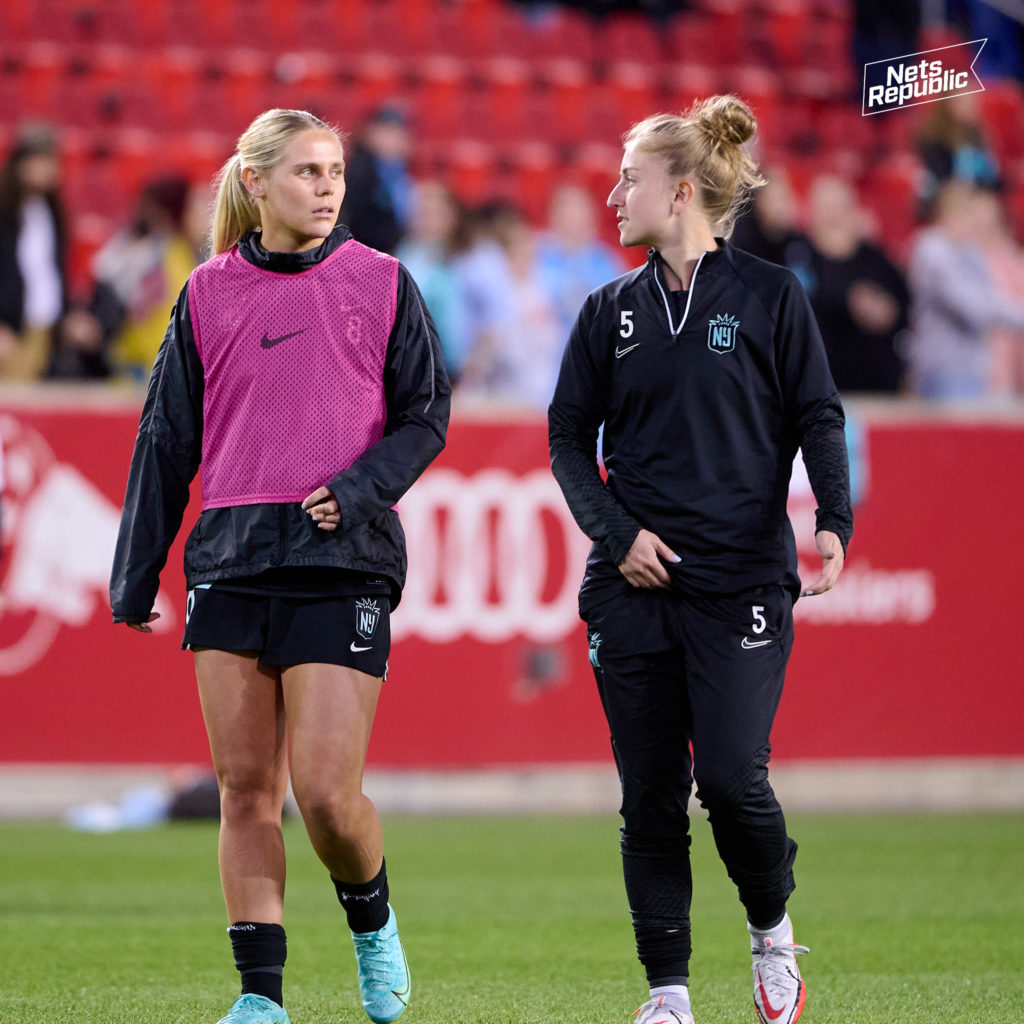 On a team level, Gotham FC wants to make the playoffs again, and Torres is excited to be part of that goal. "We want to win a championship for sure, but right now we're not doing as well as we would like," she said. "We are trying to fix that – and we're definitely making strides."
The 2022 Challenge Cup was a bit disappointing for Gotham FC who only won one of the six games. Despite these results, Torres feels confident that the team has what it takes to continue to grow.
"We are trying to get on the right track, and I think it will come together – we'll figure it out, start winning games, and hopefully make the playoffs and have a chance to win the championship," Torres said. "We want to win for sure."