June is Pride Month and to celebrate, Gotham FC is hosting their annual Pride Night match this Saturday. The club will take on defending NWSL champions the Washington Spirit in what is sure to be a high-intensity game, but the match is about so much more than soccer.
The month of June was designated as Pride Month to commemorate the 1969 Stonewall Uprising at the Stonewall Inn, a gay bar in New York City. The event has long been considered a "tipping point" in the fight for equal rights for the LGBTQIA+ community in the United States. The Stonewall Inn is now a designated national monument.
For many players and staff around the league, whether they are LGBTQIA+ or not, having NWSL clubs host Pride Nights is extremely important to not only show their support for players and fans but also to continue the growth of the sport.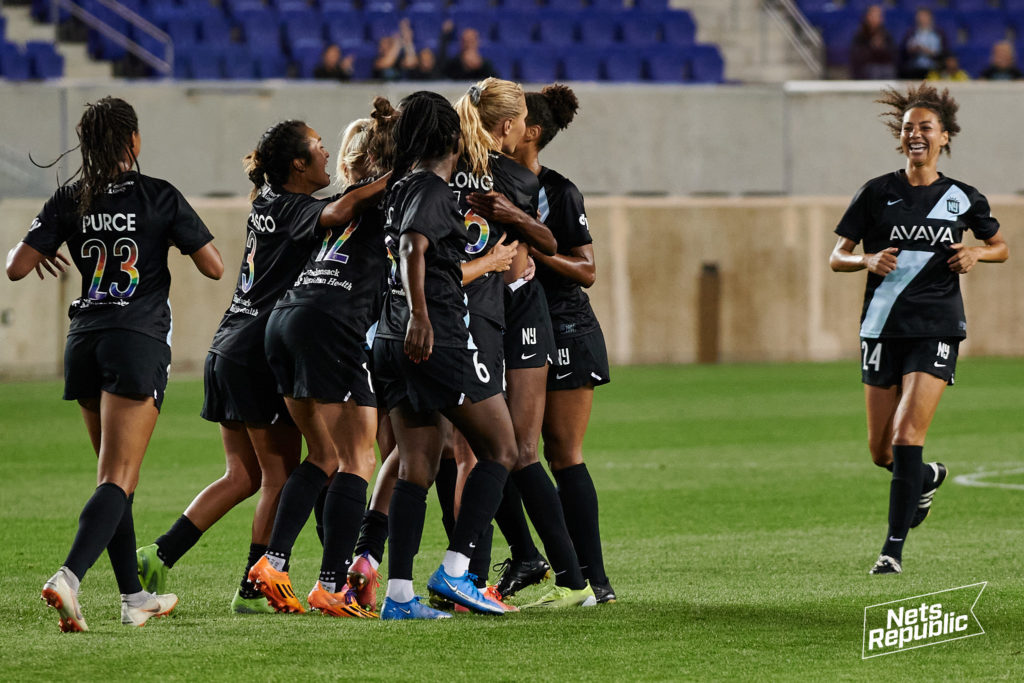 "Everybody should feel welcomed. Everybody should feel included to come to games to be a part of the league to be a part of each individual club," Gotham FC assistant coach Bev Yanez told Nets Republic during a pre-match press conference. "For me, inclusivity is so important to this league, its continued growth, and its continued visibility. These young girls, dreaming to be one of these players one day, can see someone like them in these positions, whether it's a coach, a player, a manager, a GM. I think it's really important that the message [of inclusivity] continues to be spread across the league and across the world to make the world a better place."
The LGBTQIA+ representation in women's soccer especially is unique compared to many other major sports, and hosting a Pride Night match allows Gotham to celebrate this, and show the importance of visibility and inclusivity.
Gotham FC is also launching a Pride Collection, with profits from one of their items going entirely to Athlete Ally, an organization that promotes LGBTQIA+ inclusion in sport.
The club is also partnering with their front-of-jersey sponsor Algorand to launch a series of NFTs focused on social impact. The first set of the #WHATWEDO collection is a Pride NFT with proceeds donated directly to Athlete Ally.
Both on and off the field, the players are aware of how special this night is, and they're taking extra steps to make it as memorable as possible for both fans and themselves.
"Me, personally, and everyone on the team is so excited [for Pride Night] and you can feel the energy in the locker room already," Gotham FC midfielder Taryn Torres told Nets Republic during a pre-match press conference. "People are preparing for our game day outfits and we're gonna go a little harder than usual and more special. It's just awesome to show our support for everyone and show that we love everyone no matter what. Our club and our team is so diverse and I really think it's awesome, especially with the platform that we have, to promote and support everyone."
Gotham FC's Pride Night Match will kick off on Saturday, June 4th at 7 pm at Red Bull Arena. Tickets can be purchased here, and the match will stream on Paramount+ in the U.S.