Rosters for the Event
Team World:
Guard: Bogdan Bogdanovic, Sacramento Kings
Forward/Guard: Dillion Brooks, Memphis Grizzlies
Center: Joel Embiid, Philadelphia 76ers
Guard: Buddy Hield, Kings
Forward : Lauri Markkanen, Chicago Bulls
Guard: Jamal Murray, Denver Nuggets
Guard: Frank Ntilikina, New York Knicks
Center/Forward, Domantas Sabonis, Indiana Pacers
Forward, Dario Saric, 76ers
Guard/Forward, Ben Simmons, 76ers
Team USA:
Guard: De'Aaron Fox, Kings
Guard: Taurean Prince, Atlanta Hawks
Guard:/Forward, Jaylen Brown, Boston Celtics
Forward/C, John Collins, Hawks
Guard: Kris Dunn, Bulls
Forward, Brandon Ingram, Los Angeles Lakers
Forward, Kyle Kuzma, Lakers
Guard: Donovan Mitchell, Utah Jazz
Guard: Dennis Smith Jr., Dallas Mavericks
The NBA Rising Stars game pit Team USA against Team World in an effort to showcase the next generation of NBA stars. Here's how they fared: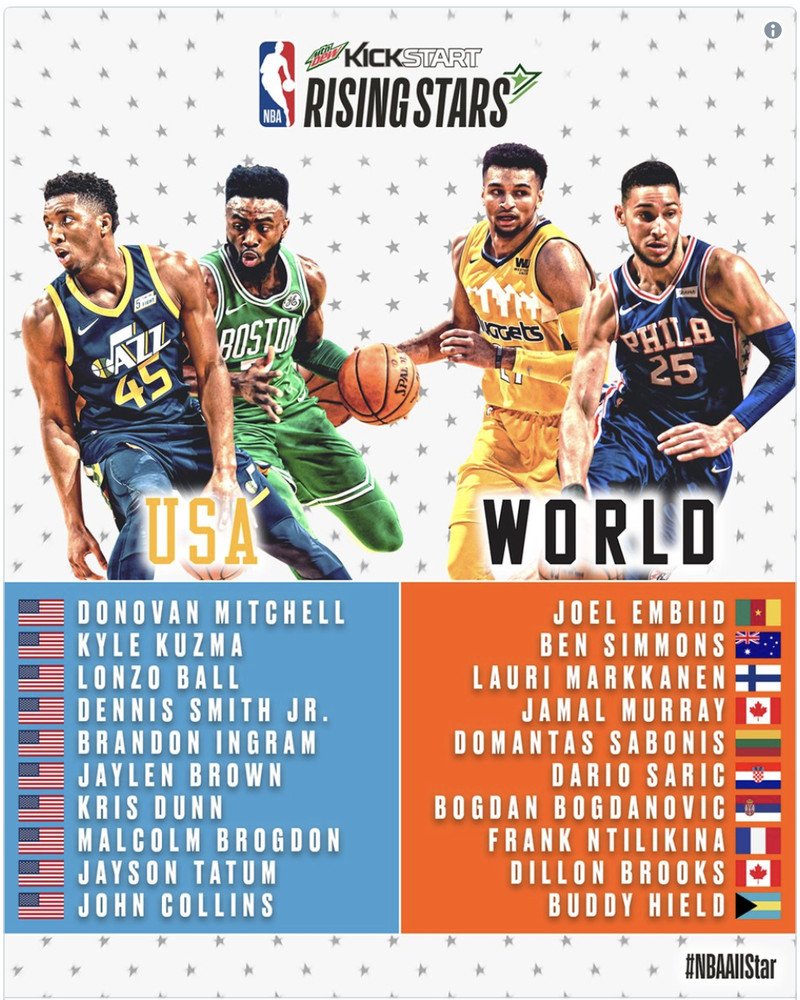 First Half:
The game began predictably, with each team trading quick buckets and playing little defense. Buddy Hield kicked things off for the World Team, hitting 2 threes before John Collins, Donovan Mitchell, and Jaylen Brown threw down thunderous dunks in transition for Team USA.
Jamal Murray and Joel Embiid each had trouble getting going for Team World before Murray hit a pull up three and layup both off of made USA buckets.
The young Bulls, Lauri Markkanen and Kris Dunn both showed out for short bursts, combining for 10 points in about two minutes. Dillon Brooks also heated up with two deep threes and a some quick buckets for Team world.
Hield, Simmons, and Markkanen dominated for Team World and were able to almost single-handedly out-duel Team USA.
Team USA went ice-cold for long stretches of the first half and weren't able to overcome the shot-making of Dario Saric and Buddy Hield.
You could really see the way the USA players are developed versus the way international players are developed. Team USA relied more on athleticism and power, while Team World relied on passing and threes overall.
Despite the Team USA dwarfing Team World athletically, Team World led by a decent margin at the break.
Second Half:
Team World kept the momentum rolling at the start of the second half with Joel Embiid throwing down a monster drunk off of a vicious spin move and Jamal Murray heating up from 3.
Both teams went dry midway through the third quarter and couldn't buy a bucket until Bogdan Boganovic splashed two straight threes from Steph Curry range. Note on Bogdanovic: I will now only be referring to Bogdanovic as the Croatian Threensation.
The Croatian Threensation finished the third quarter on fire, hitting 5 3's and perhaps more impressively, forcing team USA to actually defend him towards the end.
Saric came out firing in the fourth quarter, scoring 5 points straight before Kyle Kuzma roared back with 9 of his own.
Ben Simmons spent much of the game whipping incredible passes around and showcasing a wide array of skills.
Nearly 5 players for Team World had a real case for MVP of the game midway through the fourth quarter, which is a real testament to the growth of the game internationally.
The game was ended by 9 straight spectacular dunks from both sides.
This was one of the more entertaining Rising Stars games in awhile and the league should be excited about the future of the game both domestically and internationally.
Final Score: Team World 155, Team USA 124
MVP: Bogdan Bogdanovic, Team World